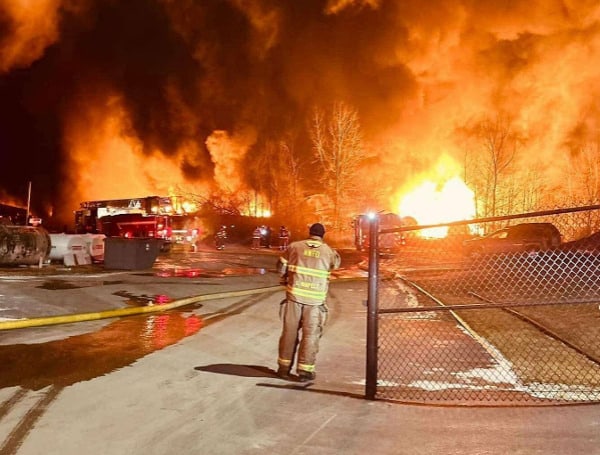 A train derailment Friday night sparked a massive fire in East Palestine, Ohio, a town about an hour from Pittsburgh, Pennsylvania.
Authorities had not said what the train was hauling, but the town's mayor said there appeared to have been no injuries, including among the train crew.
The derailment was reported at about 9 p.m. at a railroad crossing on the edge of the town, near the Pennsylvania line.
In the news: VIDEO: "Explosion In The Sky" Caught On Camera In Billings, Montana, After Military Jet Zooms By
The town's Facebook page said Mayor Trent Conaway had at first ordered residents near the derailment to shelter in place, then he ordered an evacuation of a one-mile area around the derailment. This is what the post said:
"The 1-mile evacuation remains in place for the areas of the village of East Palestine, east of Market Street from Highland Avenue to Jimtown Road. Residents outside of those areas are asked to stay indoors and avoid travel if possible. A shelter is open at the East Palestine High School and New Waterford Community Center. Hazmat teams continue to monitor air quality and have not detected any hazardous materials."
East Palestine is about 50 miles northwest of Pittsburgh and borders Beaver County, Pennsylvania.
Norfolk Southern Railway issued this statement, "We are aware of the derailment in East Palestine, and are coordinating closely with local first responders while mobilizing our own teams. We will share more details as they become available."
In the news: Four Female Purse Snatching Suspects Arrested After Running From Deputies, Crashing Into Tree
As the night wore on, Conaway said the evacuation order was no longer mandatory, but it "remains in place and is highly recommended," according to WKBN-TV in Youngstown, Ohio.
"We have multiple hazmat teams on the scene," Conaway said. "Norfolk Southern's here with its hazmat team, too, to determine the possible chemicals that were involved."
As far as health issues and air quality, Conaway said multiple agencies were monitoring the situation and,  "They have not got any bad air readings, so we're good," WKBN reported.
Concerning what the train was hauling, the mayor said, "We don't know 100% for sure." The train was comprised of tanker cars, box cars, and a car hauling automobiles.
The Norfolk Southern train, which totaled around 50 cars, derailed on the tracks that run east and west through the village.  As of 3 a.m., the fire was still burning but was said to be under control. There was talk about just letting it burn, WKBN reported.
Fifty fire departments from Ohio, Pennsylvania, and West Virginia responded to help fight the fire, including crews from virtually every fire department in Columbiana and Mahoning counties in Ohio, WKBN said.
The fire created so much smoke that meteorologists from the region said it was visible on weather radar.
Android Users, Click Here To Download The Free Press App And Never Miss A Story. Follow Us On Facebook Here Or Twitter Here.
Login To Facebook From Your Browser To Leave A Comment