For many around the globe, the pandemic of 2020 has been about more than just working from home, it has been about juggling more and more tasks that you didn't even realize that you were responsible for. From becoming a desk jockey from your home office to watching the kids as they complete virtual school, our world has changed – and it's not going anywhere anytime soon. So, have you found yourself lacking energy and focus? This solution will help.
Many of us find ourselves trying to figure out why we are more tired now than before, even though we have increased our caffeine and energy drink consumptions. Many have equated it to the "new normal" and the new ways of doing business that we were never used to. Our minds are cloudy and overwhelmed by learning new ways of life.
As an entrepreneur, I was selected to participate in a mentorship call with well-known businessman and entrepreneur Jeff Hoffman, who is chairman of the board for the Global Entrepreneurship Network. Hello Alice put this call together and had about 50-60 other business entrepreneurs from all over the United States that were being mentored by Jeff and listening to his recipe and advice for success through this pandemic.
Jeff Hoffman is a successful entrepreneur, proven CEO, worldwide motivational speaker, bestselling author, Hollywood film producer, a producer of a Grammy-winning jazz album, and executive producer of an Emmy Award-winning television show. In his career, he has been the founder of multiple startups, he has been the CEO of both public and private companies, and he has served as a senior executive in many capacities. He has been part of several well-known successful startups, including Priceline.com/Booking.com, uBid.com, and more.
Jeff now focuses on helping entrepreneurs all over the globe with launching their brands, especially during the pandemic where he has focused his efforts on helping small businesses survive this downturn in the economy.
During the call, Jeff mentioned that media relations and pitching the media was one of his recommendations to entrepreneurs as they look to get their brand out there in front of the world. Little did the attendees know that a journalist was on the call and ready to help tell their stories.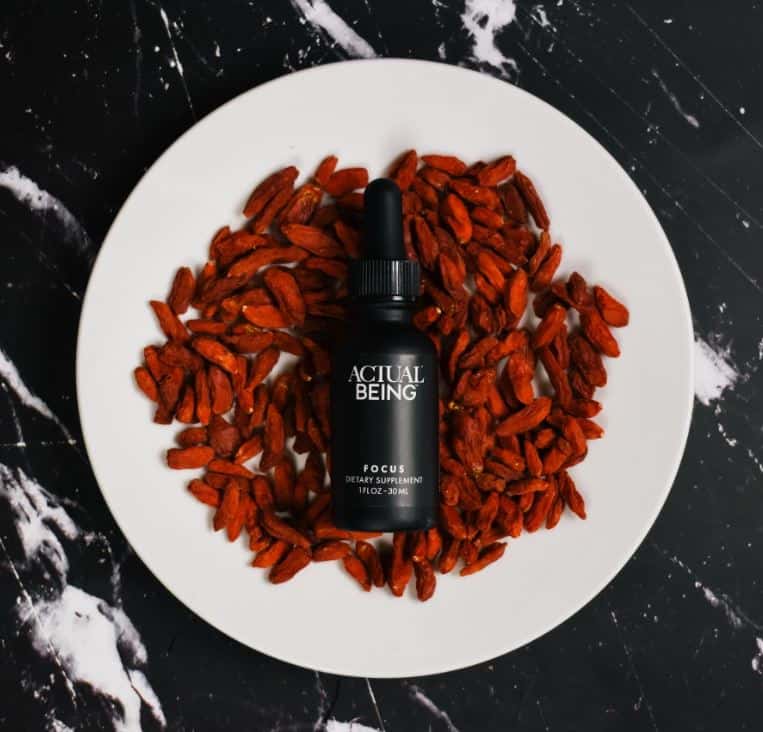 One of the attendees, Kristen Ding, who is an advisor for Actual Being, a Bruce Lee Family Company was very engaged in the call and shared a unique story about how Bruce Lee brought martial arts to Hollywood, and now through his legacy with Actual Being, they will make the benefits of eastern medicine more accessible to those seeking high-level performance and long-term wellness. After the call, I was able to get an order placed and get my hands on their FOCUS product.
A few days later my package arrived. I opened a beautiful and professionally packaged item that had instructions and a brief history on the product. I started taking the product, which is natural, and within a couple of days felt a natural difference. I must be honest; I have tried natural supplements before that claim to help with energy and focus and have been disappointed to not experience the results.
That was not the case here. After taking it for over 4 weeks now, I feel naturally more energetic and more focused, and in addition, I feel like my stress levels have been reduced. In addition to taking this product I have not changed anything else in my diet or workout routine but do notice that my endurance levels are better throughout the day.
I had the opportunity to talk with one of the founders of the product, Shannon Lee, about how the product got started and some of the history of why it works.
So why did Bruce Lee's family create this natural product that is based off eastern medicine?
Shannon, who is Bruce Lee's daughter explained, "I believe that my father's practices have a lot of value and can help people to lead a healthier and fulfilling life, and Actual Being is an outgrowth of that. My father utilized eastern medicine as part of his daily regimen, and we wanted to share the powerful benefits of those adaptogenic herbs and superfoods based on his use of eastern medicine."
Bruce Lee is a legend that most people, when you say his name, immediately recognize. But what is it about him that most people associate with his name? For me, when I think about him, I immediately think of dedication and honesty. And when I associate that with this brand, I can see the transparency of the products they use on the label and how they formulated them.
Who was responsible for coming up with the formula, and what studies have been done on the ingredients? 
"We collaborated with Dr. Mao Shing Ni, a 38th generation eastern medicine specialist, founder of Tao of Wellness and Yo San University, a NY Times bestselling author, and longevity specialist at Huffington Post and Yahoo! Health to formulate our plant-based supplements. There are many studies and independent tests readily available on the herbs and superfood ingredients (all FDA approved) found in Actual Being. And our chief formulator Dr. Mao and his family, have been providing these herbs to their patients for generations." she explained.
Why did you name it Actual Being and what do you hope this brand accomplishes?
"The name Actual Being stems from my father's philosophy of self-actualization, so it stands to reason that our mission is to inspire others to actualize the best version of themselves with our products. Actual Being is created for People In Practice – those constantly in the process to better themselves, their craft, and the world we live in. We are fortunate to have a wide range of consumers of our supplements — from professional athletes, actors, and musicians to tech programmers, students, and those working-from-home. But as with everything, I want people to be able to reap the benefits of interacting with my father's legacy in an as easy and accessible way as possible, so we created a great tasting, easy-to-use supplement!" said Shannon.
As you look for products to help you in 2021, I highly recommend that you check out Actual Being FOCUS. As a small business owner and reporter, I know the demands that come with the day to day hustle.
We all have to adapt, overcome, and find new ways to be productive and push through the challenges that we face – this product helped me, and I am confident that it will help you. To find out more information on Actual Being FOCUS, check out their website at https://www.actualbeing.com
Login To Facebook From Your Browser To Leave A Comment