Updated -May 27, 2020 the original story posted in Oct 2019
By Yvette C. Hammett
There are very few places Hillsborough County Community Resource Deputy Jeffery Merry can go to in Sun City Center without getting a nod, a thank you, or some acknowledgment.
After all, if there is a big event in this retirement community, he's there helping to organize it. If detectives are investigating for his seniors, he's tracking the case. And when it comes to fraud or extorting the elderly, Merry's their man.
"When these kinds of jobs come open, they get posted, and you can apply for them," Merry said. "I had no desire what-so-ever to apply for a community resource job, but my major suggested I apply. When I didn't, he suggested it again, so I knew he was sending me a message."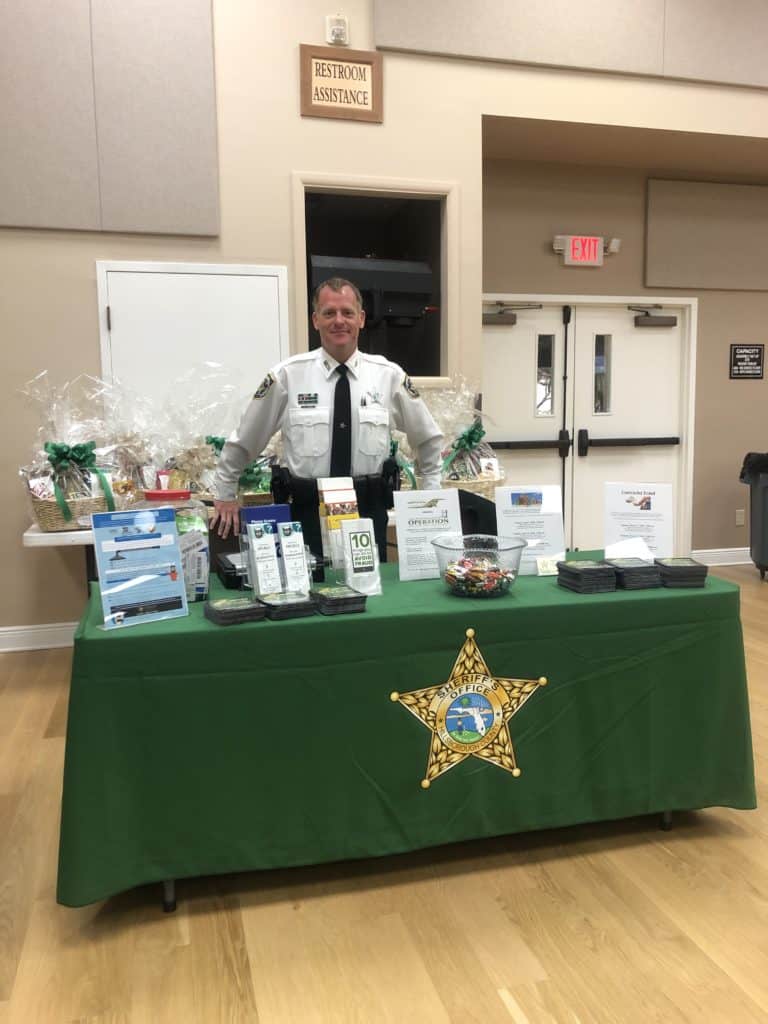 Merry's experience with a Georgia law enforcement agency and a stint with Homeland Security investigating and shutting down black market credit card sites made him a perfect fit for a community whose major crimes are schemes against the elderly.
"I have an extensive background in white-collar crimes," Merry said. "With that vast knowledge, my major knew I could help the people in Sun City Center with scams."
Merry, originally from Atlanta, has been in law enforcement since 1998 and with the Hillsborough County Sheriff's Office since 2011.
These days, he deals a lot with what he calls grandparent scams, where bad guys are calling the elderly to extort money, claiming either to be the grandchild or to be holding the grandchild for a crime.
There are also cases of identity theft and Internal Revenue Service scams, where the bad guys are stealing refund checks.
The crooks target the elderly, Merry said, because they know they have retirement savings and fast access to capital, unlike many younger people.
"I do a lot of education with Walmart, Publix, CVS, and Walgreens on what these victims look like" so they can be on the look-out and warn them they may be getting scammed, Merry said.
"Kind of the biggest thing I tell them is to know who they are wiring money to. That should trigger them to think about it for a moment."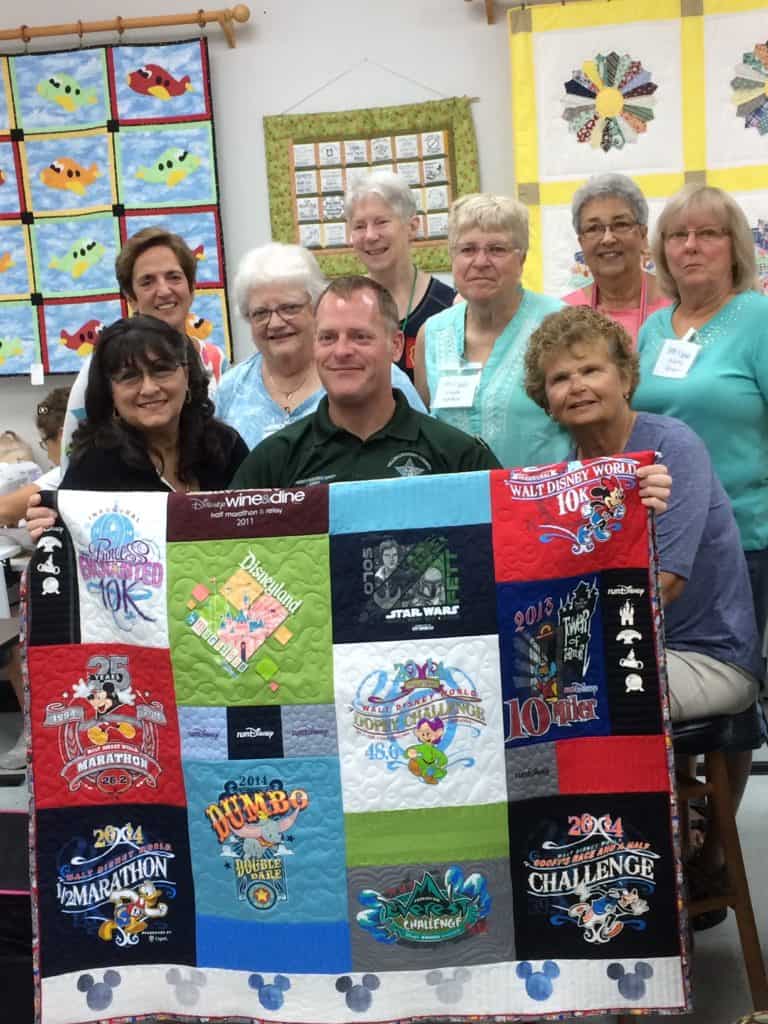 Today, the bad guys are trying to get their victims to send gift cards instead of wiring money to get around law enforcement warnings, he said.
Merry said he hosts at least three educational seminars a month. "I base it on whatever was hitting us hardest last month. This month, it was credit and debit card scams, and last month it was romance scams. In those cases, the bad guys usually befriend one of my seniors via social media through the Words with Friends online game or through Facebook. And usually, it is 'I am an American serviceman overseas with no access to funds.' They will ask for Walmart or iTunes gift cards."
In the small substation in Sun City Center, Merry said he probably takes at least a report a day on romance scams. "The bad part is I've gotten such a good rapport with our community; it actually reports more than the normal. Typically, 1 of 32 scams get reported."
Many seniors don't report because they don't want people to think they were duped or for their family to take away their independence, Merry said.
"They see me out in the community," which helps build trust, he said. "I go to all Homeowners Association meetings, large community events, like the golf cart parade where there are going to be a lot of people. I have an open-door policy, and they can come into my office and talk to me. I try to be as approachable as possible."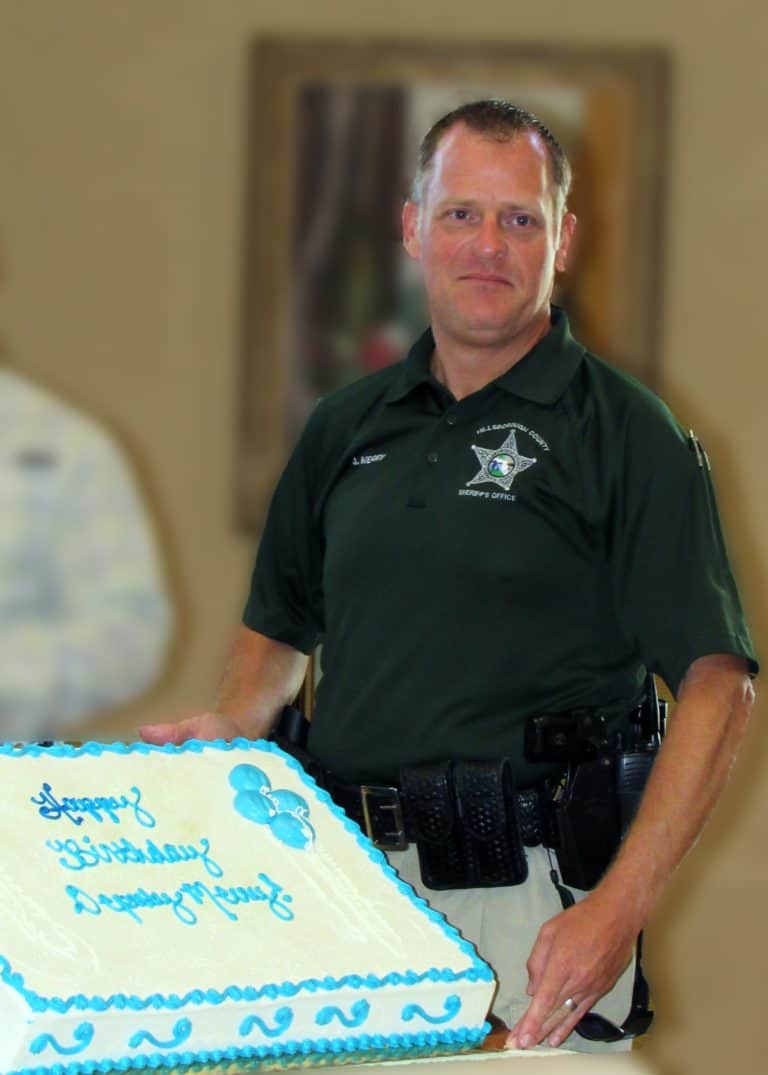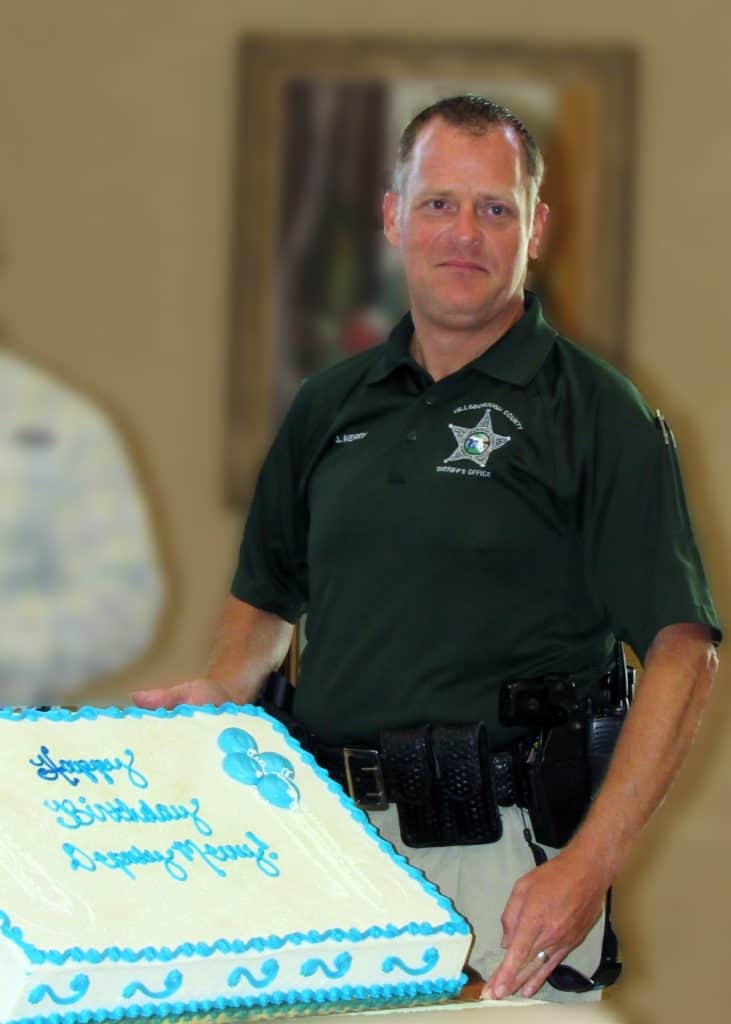 His wife, Candace, and daughters, 18-year-old Jasmine and 13-year-old Alexandria, often join into volunteer at community events.
And so does the Men's Club in Sun City Center, whose members see first-hand what Merry does for the community.
"For the past four years ever since Jeff came to town, the Men's Club has joined with him on several programs to benefit the community," said club member Art Smith. "We run consumer protection forums, and we've been able to bring in very knowledgeable speakers from the law enforcement community and other areas.
"Jeff is extremely personable, energetic, and very knowledgeable," Smith said. "We've had several resource deputies over the years I've been here, but none compare with Jeff in terms of the enthusiasm he brings to the community."
Smith said Merry knows everyone by name and is willing to lend a hand wherever it is needed.
Merry isn't alone. His assistant, Michelle Mortimer, is there to help him by answering phones at the substation, and starting reports he can pick up. His master's degree in public administration from North Georgia College helps him run the office, and his bachelor's degree in criminal justice from Valdosta State University carries him through the cases he covers.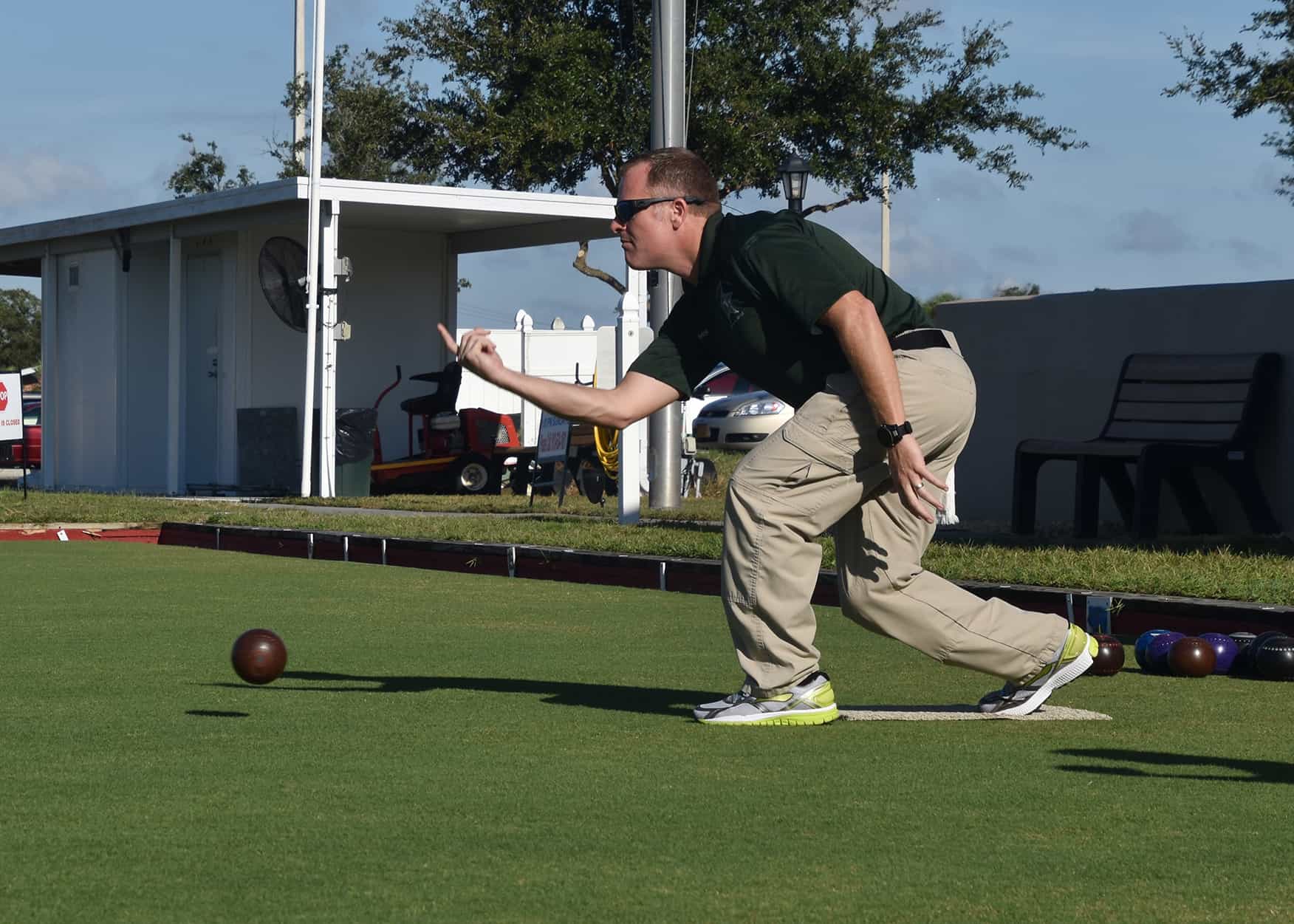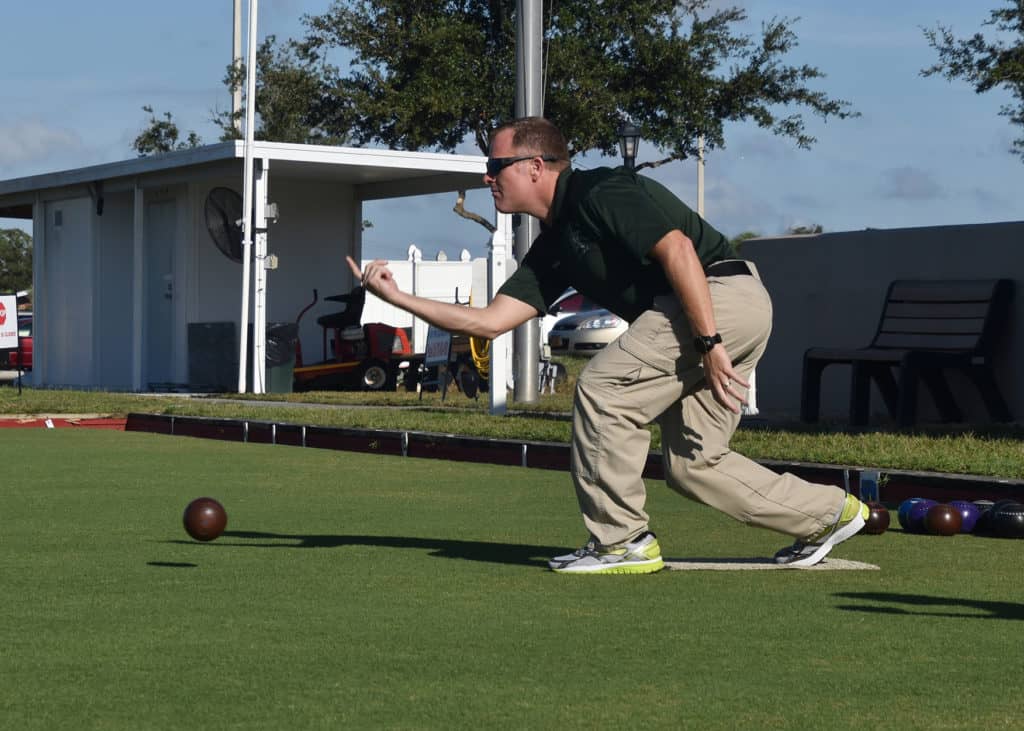 Merry's days are booked up, from 8 a.m. to 6 p.m., he said. "I am going to community events and meetings, putting together presentations. They see me, and if they have issues or problems, they will stop me," he said of his seniors.
"I like it because we are ahead of a lot of agencies with perception and with how the public perceives us," Merry said. "You go to a lot of different cities, and they have an us-versus-them mentality. With me on campus and regularly available and the face of the sheriff's office for Sun City Center and Ruskin, it harbors a lot more community involvement with what we need."
Login To Facebook From Your Browser To Leave A Comment