By TIFFANI SHERMAN
Shannon Dudley is only 22 years old and living her dream.
"I've always had a passion for baking. Ever since I was a child and could be in the kitchen, I was making stuff," she says. "As a teenager, I would go on social media and see pictures of beautiful cakes, and I was always like, 'Oooh, I want to bake those.' "
Now she is.
For just more than a year, Dudley has been baking all kinds of beautiful cakes out of her Apollo Beach home. Her business, Shannon's Sweets and Treats, keeps her busy full time doing about two wedding cakes a month, and filling the remaining hours with other cakes, orders for cake pops and other desserts, like her favorite, chocolate covered strawberries.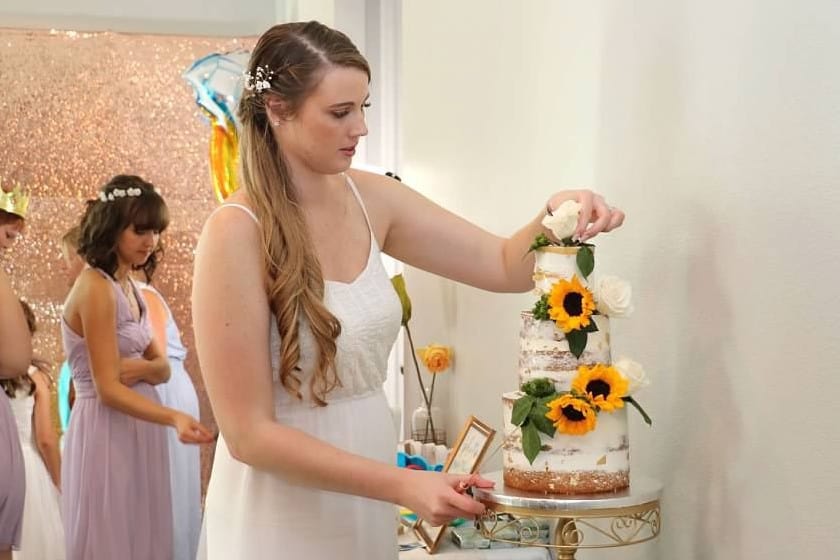 "The most rewarding is wedding cakes because of the whole process; you're so excited and doing the tastings, just the whole experience of it is really special," Dudley says.
Even more rewarding is baking your own wedding cake. Dudley did just that for her June 28 marriage to Curtis Walls. She says finishing the three-tier sunflower naked cake was challenging, but she was pleased with the outcome.
"It was slightly overwhelming making my own cake and trying to find the time to make it happen while managing all of the details of the wedding," she says. "It was pretty sweet to have 100% control over my cake and trust that it would turn out exactly how I wanted."
Brides and others have learned about the business mostly from social media. She says Shannon's Sweets and Treats is very active on Facebook and Instagram.
"You really just have to promote yourself, and social media is a huge part of it. You have to post content and get people's attention." Dudley says. "I made a brand, I put myself on social media, started following people and using hashtags. Then people would repost, and I would get new clients and new followers. In this day and age, social media is a huge part (of business)."
The latest cake style is a naked cake with a rustic look. A naked cake has a minimal outer layer of frosting.
Apollo Beach baker Shannon Dudley created this Jim Beam cake for the bourbon lover in your life. | Photo from Shannon Dudley

Shannon Dudley, 22, created this three-tier sunflower naked wedding cake for her wedding. | Photo from Shannon Dudley

A Pokemon birthday cake made by baker Shannon Dudley. | Photo from Shannon Dudley

An ocean themed birthday cake made by Shannon Dudley of Apollo Beach. | Photo by Shannon Dudley

A geode cake made by Apollo Beach baker Shannon Dudley. Geode designs use rock candy. | Photo from Shannon Dudley

This is Shannon Dudley's take on a "copper patina" styled cake, which she made for a couple's wedding. | Photo from Shannon Dudley

A cupcake rose bouquet offered by baker Shannon Dudley through her business, Shannon's Sweets and Treats. | Photo from Shannon Dudley
"And then there's always the trends with the geode and unicorn cakes that are popular right now, as well," she says. "I do like to have a very broad range of products to fit into any style, whether it's for a kid's birthday party or for a wedding or anniversary. I like to be able to offer anything a client would desire."
Dudley's baking skills are self-taught. "I just watched YouTube videos and a bunch of tutorials, and tested out a bunch of recipes until I found ones I liked," she says.
"I'm a perfectionist. I take my time. That's one of the biggest beauties of working from your home is that you really can give the time to what you're doing."
Dudley graduated from Brandon High School in 2015 and went to the University of Montevallo in Alabama on a volleyball scholarship. An injury ended her collegiate athletic career, but not her love for the game. When she's not baking, she's coaching the junior varsity volleyball team at Tampa Preparatory School and the Tampa United Volleyball Academy.
"I came back home because I couldn't play anymore, and then this (baking) kind of started. For every closed door, there is an open one. You just have to be patient and work hard for what you really want to do."
For now, she's doing exactly what she wants, except which is focusing on the part of baking she enjoys best, the decorating. Someday, Dudley said she would like to have a storefront where she can have employees to do the baking part.
"It's really art, sitting there and getting to decorate and create and bring your ideas to life. It's really rewarding."
Login To Facebook From Your Browser To Leave A Comment