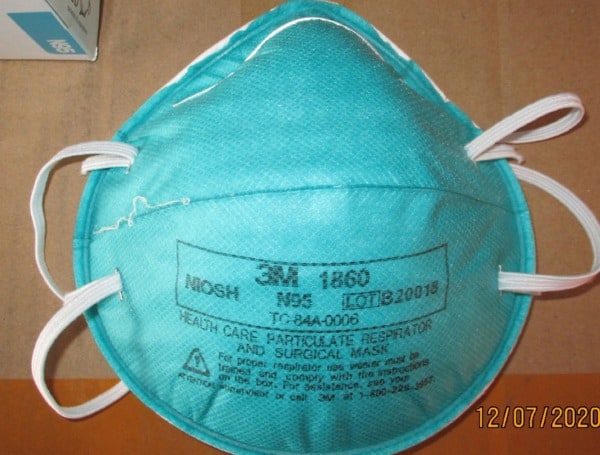 An Arizona man was sentenced on December 21, 2022, by United States District Judge David G. Campbell to one year of probation and ordered to pay restitution, including $8,028 in unpaid taxes and tariffs to U.S. Customs and Border Protection (CBP).
Cohn pleaded guilty to one felony count of Entry of Goods by Means of False Statements.
On October 29, 2020, Cohn fraudulently imported counterfeit 3M manufactured N95 masks into the United States from China using shipping labels and papers that falsely represented the merchandise.
The false representations disguised the merchandise as goods not subject to duties and inspection by the United States Food and Drug Administration.
In the news: Florida Man Gets 30 Months For Manufacturing And Passing Counterfeit Cash
Once the shipment arrived at a Phoenix mail facility, a box imported by Custom Glass and Synthetic was targeted for inspection as part of an enforcement operation conducted by Homeland Security Investigations (HSI) and CBP's Office of Field Operations officers. 
When the box was opened, HSI and CBP officers found masks branded as 3M with pixelated photos on the packaging. Working together, HSI and CBP officers scanned and transmitted images of the shipment of purported N95 masks to 3M.
On November 3, 2020, 3M advised the N95 masks were in fact counterfeit. Counterfeits create risks to the user because the seals can be ill-fitting and the masks less effective.
On November 23, 2020, Department of Veterans Affairs Office of Inspector General agents and a 3M representative inspected the masks located at a Veterans Affairs Medical Center (VAMC) warehouse in Minneapolis, Minnesota. 
In the news: Drunk Florida Man Steals Over $800 In Products From CVS, Arrested In The Parking Lot Pacing
The counterfeit masks were identified and seized before they made their way to front line workers. 
The N95 mask is designed for health care workers as the fit and seal minimize the transference of COVID. Cohn sold over 20,000 masks to a third-party vendor that supplied equipment to the VAMC warehouse in Minnesota. The third-party vendor did not know that the masks were counterfeit.
Android Users, Click Here To Download The Free Press App And Never Miss A Story. Follow Us On Facebook Here Or Twitter Here. Signup for our free newsletter by clicking here.
Login To Facebook From Your Browser To Leave A Comment