August 22, 2020
By: Staff Report
AUBURNDALE, Fla.- A person who tried breaking into someone's home was shot and killed by the homeowner, according to the Polk County Sheriff's Office.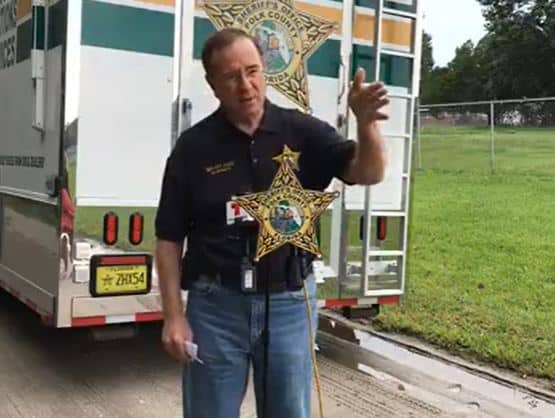 A domestic argument turned into a man breaking into his girlfriend's friend's house with a tire iron and being shot by the homeowner.
The man arrives at the residence and begins kicking and banging on the front door, demanding that his girlfriend come outside. No one answers the door. The man immediately runs back to his car to get a tire iron.
The man takes the tire iron to a window. Sheriff Grady Judd said, "It appears to be a bedroom window and he screams and hollers. If you don't let me in I'm knocking the windows out coming in. There's no response. He takes the tire iron he begins to break into the home."
The man then tears through the screen and breaks the glass with the tire iron and the homeowner shoots.
Sheriff Judd said, "And there's where he dies. At the scene, you can see the tire iron at his feet. He's deceased from his gunshot wound."
"This is another incidence where you just should have left," Judd said. "But when you came back to the house, that's not your home and you tried to break in to get a girlfriend who did not want to go with you that was a bad choice and it was the last bad choice he'll make."
Judd added that the current evidence shows that the homeowner was within their rights in the shooting.
Sheriff Judd said, "You have the right to protect yourself in your home and to be free from home invaders. Armed burglars, and certainly he was armed with a tire iron and making an attempt to come into the window. She's stopped him. She stopped him permanently."
Names will be released later today from the Polk County Sheriff's Office.
You can watch the entire press conference here:
Publishers Note: While The Free Press will always be free for our readers, and ad-supported, we are asking our loyal readers to consider a monthly donation of $3 to maintain our local journalism and help us grow, as we ramp up ad sales locally.
We thank you all for your consideration and for supporting local journalism.
Login To Facebook From Your Browser To Leave A Comment