May 26, 2020
By: Martin Fennelly
At first, I thought it was only because that as a citizen of one sports-starved nation, under God, anything will work at this point, up to and including exhibition golf.
I mean, over the past couple of months, I have watched corn hole, stone skipping, 2,019 replays of the 2019 the CFP championship game, college softball tournament finals, anything to keep the competitive juices flowing. The other day, I was riding my bike on a trail and I saw someone up ahead. I went full Lance until I ran them down. I looked back triumphantly, and saw blank looks, on both him and his mother pushing the stroller. I got game.
And then there was Sunday.
The rain-soaked, made-for-TV exhibition charity match that pitted Bucs quarterback (still sounds strange) Tom Brady and Phil Mickelson against Peyton Manning and Tiger Woods turned into something special. I mean, this contrivance was fun to watch, and not out of boredom, either.
Correction: It was damn fun to watch.
And maybe even instructive for Bucs fans who are wondering if their new No. 12 has any fire left.
I would answer in the affirmative,
Yeah, I know it wasn't for real. I know it wasn't a true golf match. I mean, a beverage cart didn't even come around. But it was for a very good cause, COVID relief, and it raised $20 million. Plus, it was real when it had to be.
And by that, I mean Brady real, straight off the GOAT ranch.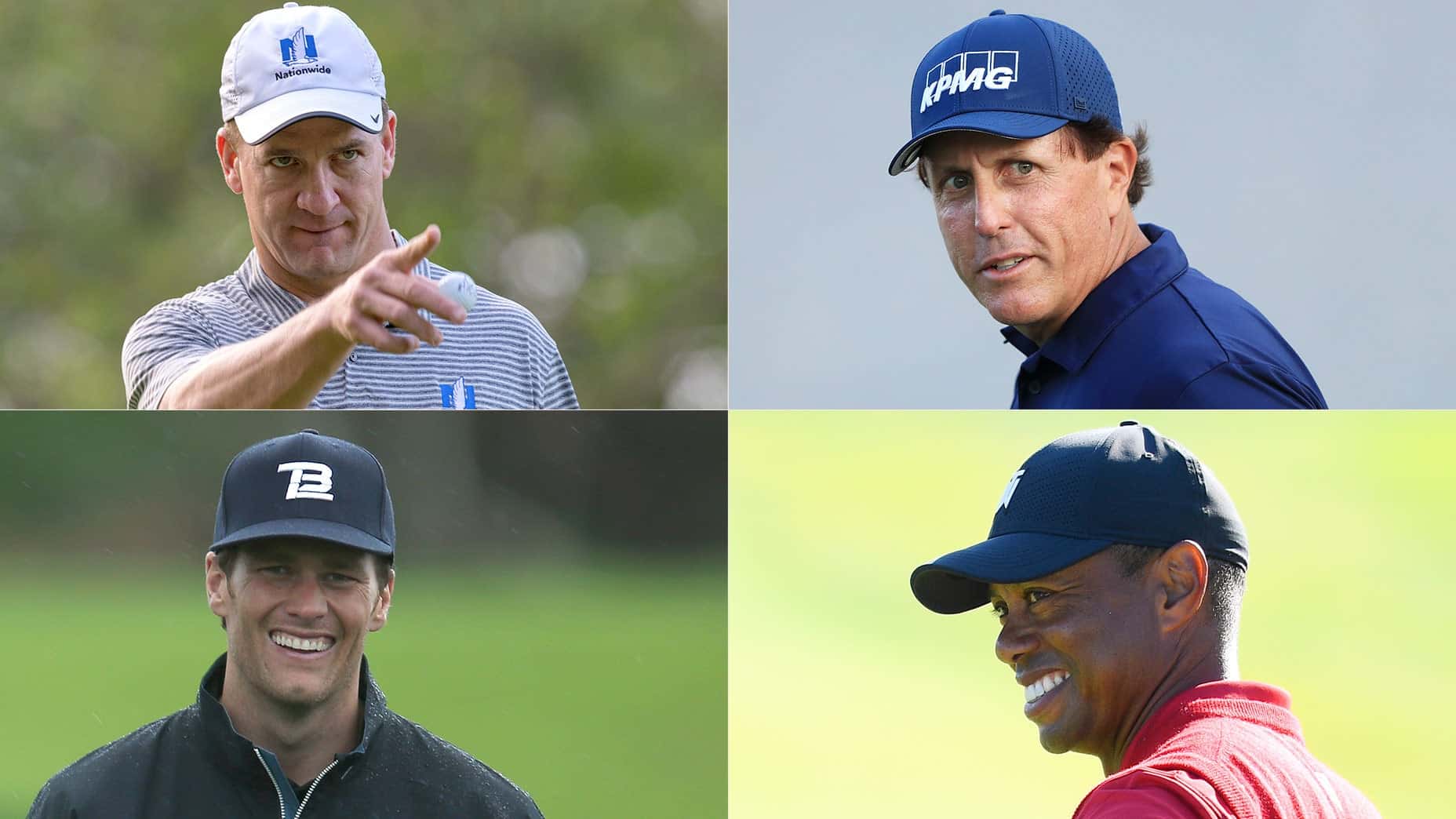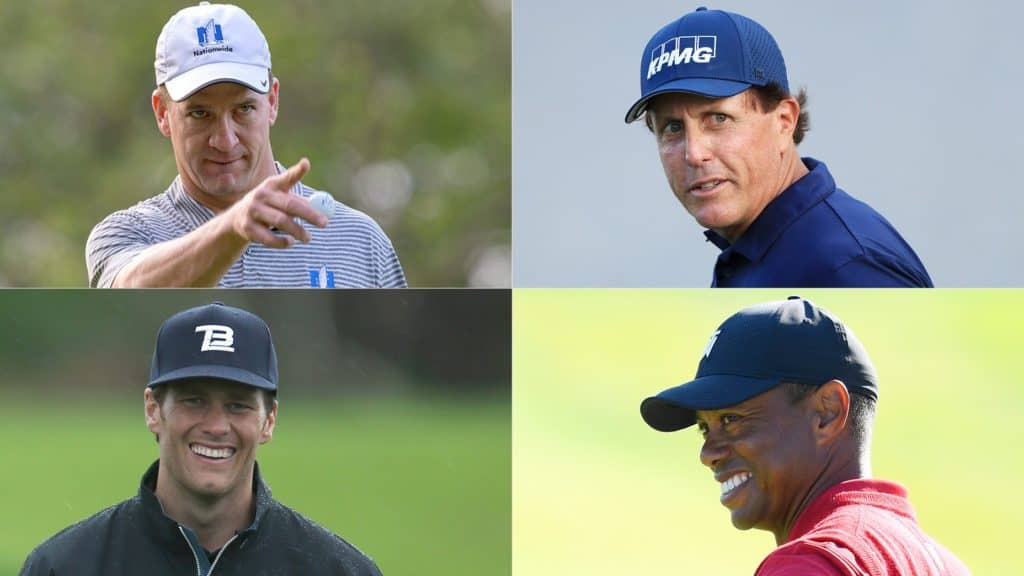 Some background: Brady was awful when this 18-hole match began. AWFUL. Easily the winner of worst in foursome. He was either in the woods, water or sand. He seemed living, in-living-color proof that just because you're great at one thing doesn't mean you're good at another.
It got so bad that guest commentator Charles Barkley, perhaps the worst golfing biped known to man, started making fun of Brady and offered up a $50,000 charitable donation if the wired-for-sound Brady could put it on the green from the fairway before the front nine concluded. Brady had grown strangely quiet as he flailed about. Could a perfect spiral of an eight-iron be far away? It was ugly.
Brady doubters and or haters took to social media. Some of them were the same ones who question whether a 43-year-old Brady can even play football anymore. I bet New England was grinning, too. To hell with Brady. At one point, even Tiger, tongue in cheek, congratulated Brady on hitting a fairway, even if it was the fairway next door.
People piled on. Brooks Koepka, a Brady fan and the third-ranked golfer in the world, took to Twitter and promised a $100,000 donation to coronavirus relief if Brady could make a par before the turn. Brady shanked another tee shot; Barkley chimed in with an update on his par wager: "Maybe it should be if he can keep it on the planet."
Brady's next shot, literally as Barkley finished up his chirping: a fairway wedge on No. 7 from about 100 yards out.
It bounced once on the groom, then rolled back. Into the hole.
"Shut your mouth, Chuck," Brady said into his mouthpiece.
And then: "Brooks owes me a little money."
The GOAT had spoken. Even with all the other GOATs out there, we heard him loud and clear. He had a new look in his eye, one that Flacons learned after they went up 28-3 on the Patriots in the Super Bowl, one that Bucs fans pray for if their team ever takes the field this season.
It didn't even matter that when Brady went to pick his ball from the hole, he split his pants. He later observed that his pants were practicing social distancing.
My man!
What great fun this was. Brady got fired up and dialed in. He and Mickelson climbed out of a hole, from 3 down, to make a run at Manning and Woods, with Brady sinking a long birdie putt on the back nine. He was feeling it. The comeback came up short, and Woods and Manning won the match 1-up.
And, oh, was it fun.
Anyone who has ever butchered a round must have fallen and risen with Brady. He was chatty after his big shot on NO. 7, just like we would be if we were awful, but then hit that one shot that we talk about the rest of the day.
He was one of us, even if he isn't.
Brady and Manning added some jam to Mickelson and Woods, who played a boring head-to-head showdown in 2018. This thing was fun. They ought to do it more and bring along Brady and Manning. But next time let's try flag football on the beach or something. You know, I'd probably watch. I bet a lot of people watched Sunday. They started out bored, and ended up interested, excited even. The camaraderie and competition seemed real enough.
Brady's narrowed eyes and fire in his belly were worth it, more than Manning's one-liners, or Woods rebuilt game of Mickelson's occasional golf-geek dissertations to Brady on ball-striking before a putt.
If you're a Bucs fan, you fell in love with Brady all over again.
Shut your mouth, Chuck.
This guy is never done, even on a golf course. The man will fight. It's the GOAT in him.
Now, save something for the football season.
If only Barkley could do TV for Bucs games, then we'd really be in business.
Login To Facebook From Your Browser To Leave A Comment