April 18 2020
By: Staff Report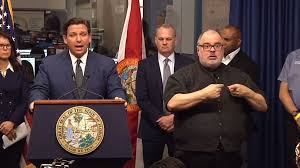 Florida Gov. Ron DeSantis is allowing some beaches in northern Florida to reopen, The Associated Press reported on Friday, with restrictions that include CDC recommended social distancing, limited activities; such as no beach towels or laying out. However, Florida has continued to see an increase in COVID-19 cases.
Florida had 1,413 new cases of COVID-19 Friday, the largest jump in new cases since the outbreak began, according to the state's Department of Health. They also reported 58 new deaths since Thursday evening.
Florida is nearing 25,000 cases as health officials reported the total at 24,753. The death toll is now at 726 statewide.
The increase follows three consecutive days of fewer than 1,000 new cases being reported, which hasn't happened since late March. The cause may be that thousands of private lab test results are still pending and test kits are becoming more readily available.
Friday evening, 634 more cases and 40 new deaths were announced by health officials, adding to those reported in the morning.
Take our poll below on if you think the beaches should be opened up state-wide or remained closed.
Login To Facebook From Your Browser To Leave A Comment