BY GEOFF FOX
APOLLO BEACH  – Jill Scott shook her head and laughed softly as Zelda, a 5-year-old tuxedo cat, splayed herself horizontally near the cash register at Bark & Purr Persnickety Emporium and began licking her paws.
Scott scratched Zelda's head and the two were soon nose-to-nose. Scott cooed while Zelda purred, relishing the attention.
Scott has run Bark & Purr, at 6138 U.S. 41 N., for about 18 months. Zelda is one of three cats fostered at the store. The others are Scarlett, an 8-year-old tortoise shell feline, and an anti-social one that rarely comes out of hiding.
Rescuing animals is what led Scott to open Bark & Purr.
"I took in a rescue dog and all his hair fell out," said Scott, a longtime entrepreneur, saleswoman and U.S. Air Force veteran. "He was all fluffy, fluffy, fluffy, then he was bald. I call him Buddy, he's a little Chihuahua-papillon-Maltese mix. I did a lot of research to see what kind of food he needed (to grow his fur back), and I learned all about pet food.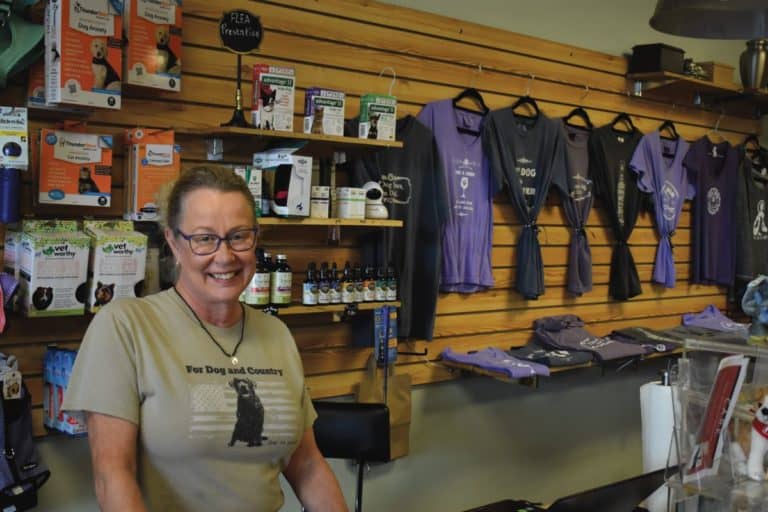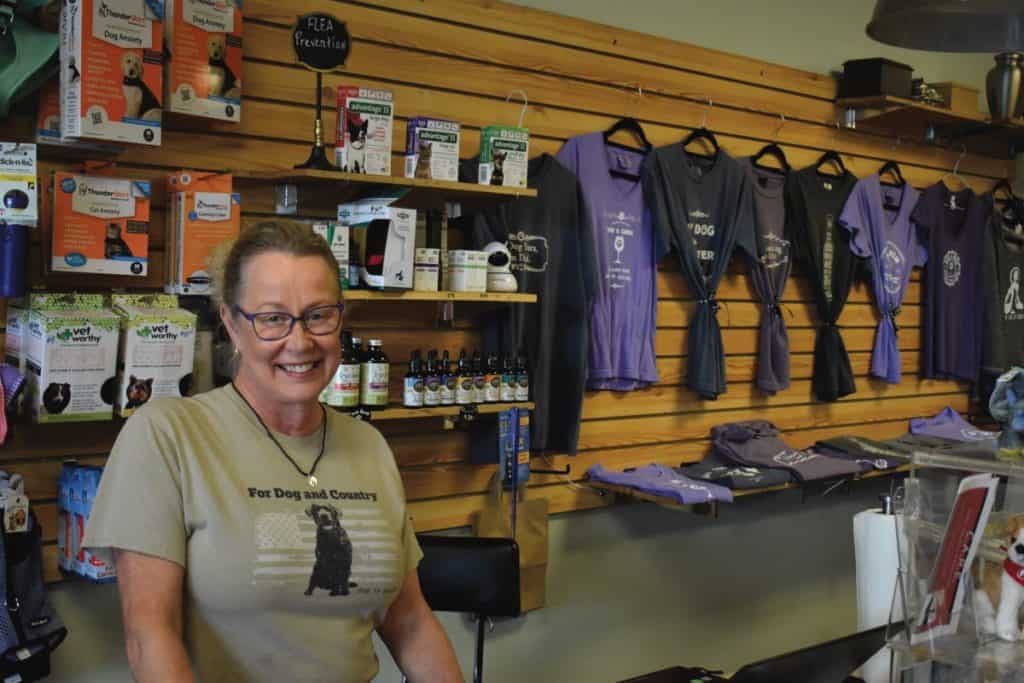 "I got five recipes down. He just needed the right kind of protein. I'd try one protein, and if he started scratching again after four days, I tried another one. Turns out, he can eat beef and buffalo; it's not cheap."
Bark & Purr caters strictly to owners of cats and dogs.
"People call and ask if I have reptiles," said Scott, who has lived in Apollo Beach with husband David, a retired U.S. Air Force major general, for about 30 years. "I say, 'Yeah, if they bark or purr.' "
The 1,400-square-foot store sells all manner of dog and cat food, pet toys, outfits, leashes, greeting cards, T-shirts and coffee mugs.
There is also an array of hemp- and CBD-infused products.
"It's human-grade, to be used for pets only," Scott said. "Like with humans, it helps ease an animal, and it's a great anti-inflammatory. I started using CBD a couple years ago because I have hip dysplasia, and now I'm off all painkillers. I've seen dogs' lives completely turned around" through hemp and CBD products.
In the back of Bark & Purr is a small kitchen, where Scott bakes tiny cookies and muffins for cats and dogs, as well as birthday cakes.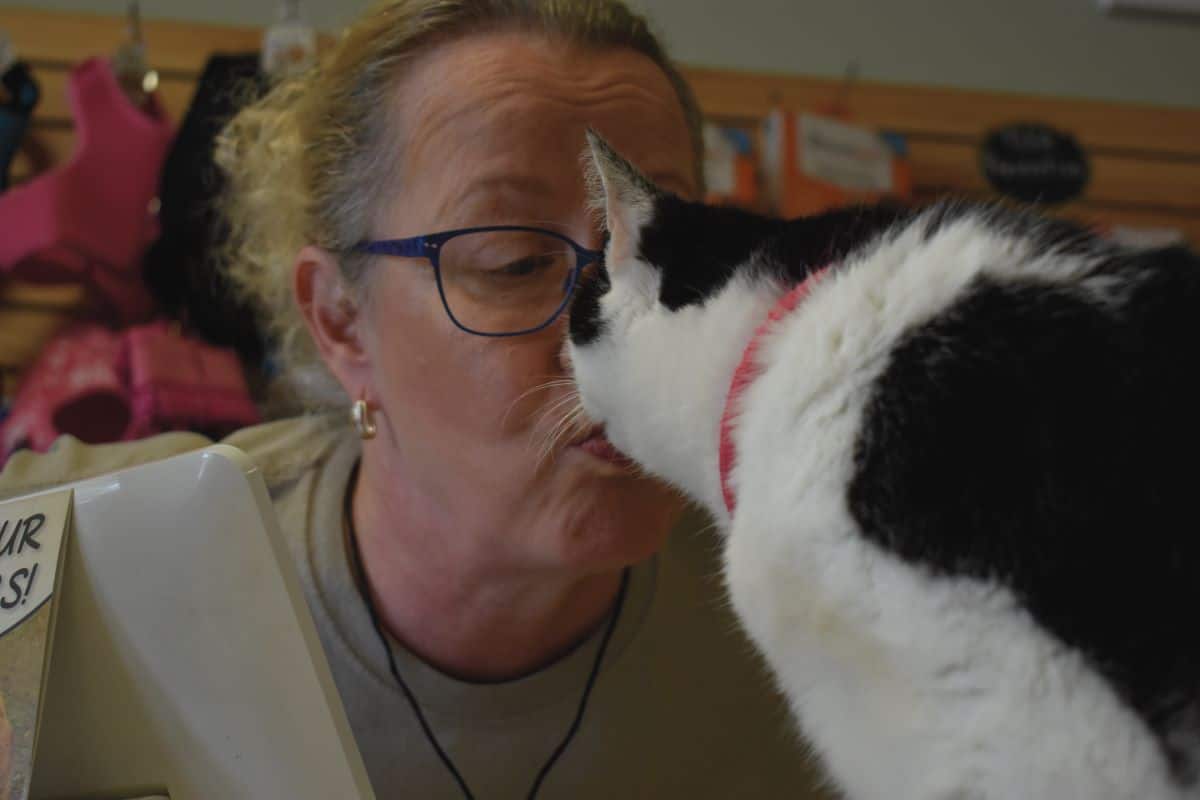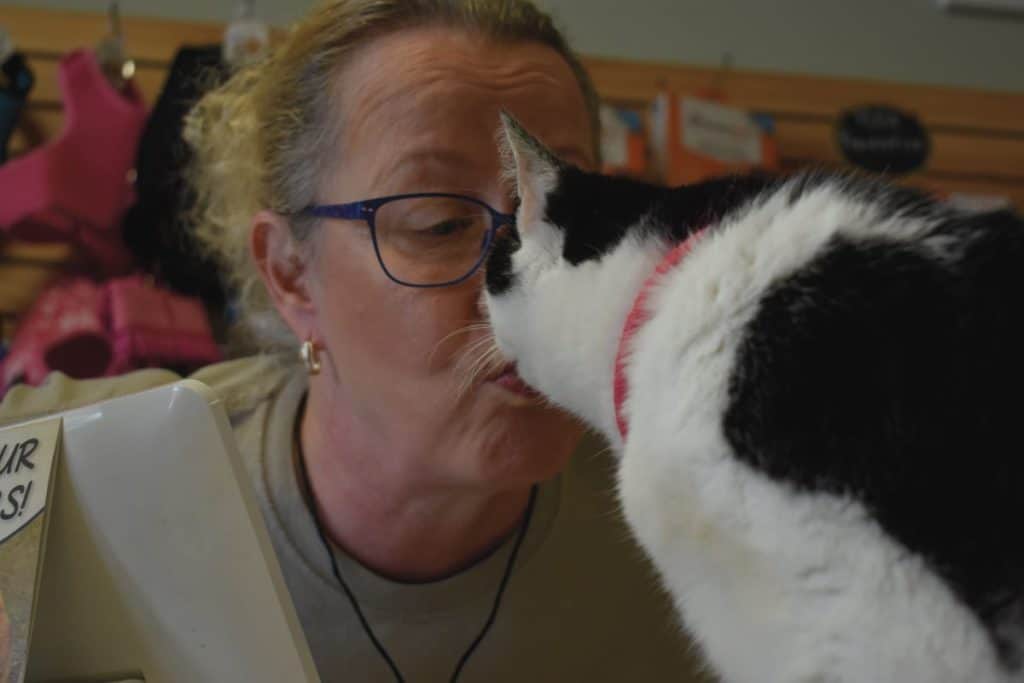 The emporium is tidy and unique, but Scott said business has been slow. The store is in the Waterside Shops plaza on the west side of U.S. 41. Two months after Scott opened Bark & Purr, the center's anchor, a Winn-Dixie, abruptly closed.
Scott said it was a nightmare come true.
She said she hopes Hillsborough County leaders will focus economic development efforts on the county's south side.
"I want Apollo Beach to be more inclusive," she said. "If you want a good meal, there are a few choices. There are a few more coming in, and Circles is amazing, but there should be more options. You can't force people to shop locally, but I'd like to know what would make people inspired to shop locally.
"I'm on top of my marketing. I've done direct mail. I've advertised in newspapers. I think we need a merchant's association."
Scott said she is approaching 60 and doesn't want to work for free past that age. She said business will likely pick up once the snowbirds return in mid-October.
"The snowbirds always bring their pets," she said. "There's always a noticeable difference in (business and road) traffic."
While she doesn't speak highly of the quality of the area's roads, Scott joked that can be a positive thing for local businesses.
"No one can get out of Apollo Beach," she said with a laugh.
For information about Bark & Purr, call (813) 773-7553 or visit barknpurr.biz.
Login To Facebook From Your Browser To Leave A Comment