SAFETY HARBOR, Fla. – Long before they moved into their steampunk esthetic café in the heart of Safety Harbor, Thomas and Cindy Bassano had a pay-it-forward philosophy.
Upon opening in June 2020, the first item established on their website, besides a shopping cart of delicious cheesecakes, was a place to showcase the selected charity that received a portion of the proceeds for that month. Giving back to the community is always a priority to the couple.
To complement the decadent cheesecake, the café features Teabella tea and Joffrey's coffee.With every cup of Joffrey's Valor brand, the company gives back to Veterans.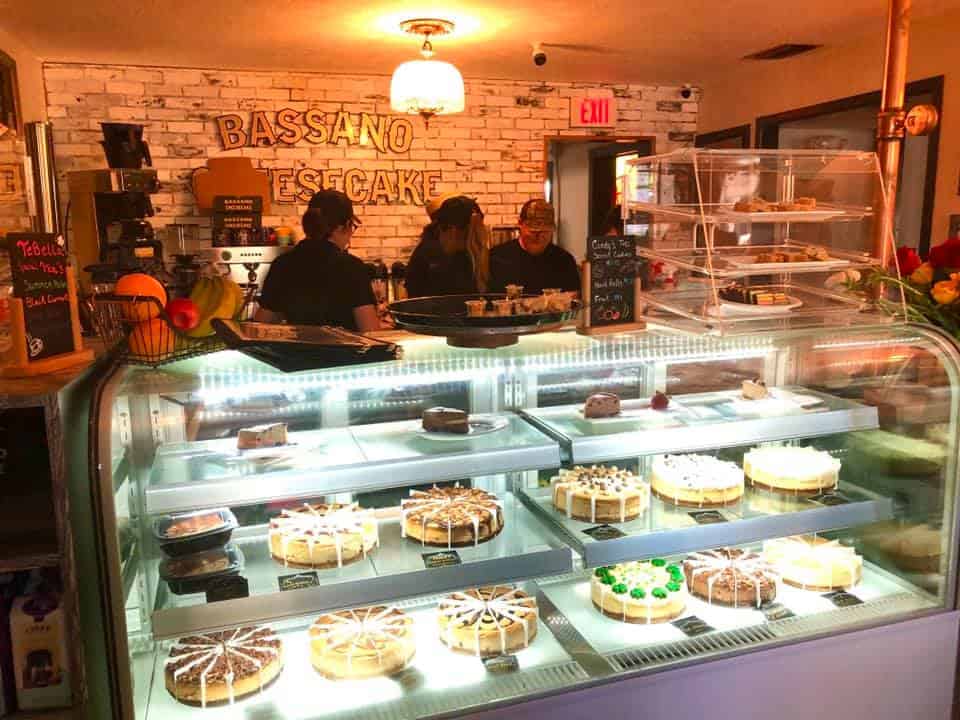 In the six months open, Bassano Cheesecake has helped several nonprofits struggling due to the pandemic. Grammatica Family Foundation, Calta Family Foundation, Heartstrings for Heroes, Celebrate Birthdays, Powerstories Theatre, and Mike Alstott Family Foundation have been recipients of their generosity.
Bassano Cheesecake won Authentic Florida's Top Ten Places to Get Authentic Cheesecake in Florida recognition, and the coveted Creative Loafing's Best of the Bay – Reader's Choice – "Best Dessert" for their handcrafted New York-style cheesecake.
Despite being named on social media 'the best cheesecake in Tampa Bay,' the couple are happy to stick with their tagline: 'second-best cheesecake 'cause don't disrespect your Mother, capisce!'
Like every good story, the birth of Bassano Cheesecake came by accident.
In June 2019, the couple searched for an authentic New York-style cheesecake and couldn't locate a company that would ship to Florida. When Cindy reproduced Tom's Aunt Clara's recipe to rave reviews of family and friends, the couple could never imagine how rapidly their life would change. It was unanimously agreed that the couple could sell their cheesecake. Their first test was a cheesecake delivered to Felice's Deli. As Cindy entered her home's front door, the phone rang with her first official orders.
In the twelve whirlwind months that followed, the husband and wife team outgrew a home-based business and a rented professional catering kitchen space and moved into their café designed by television personality Jay Rosenberg.
Their online shop and local café features over 20 different cheesecake varieties ranging from Charley Belcher's Caramel Macchiato cheesecake with an almond biscotti crust to the Thanksgiving favorite, Pumpkin Spice cheesecake with a gingersnap and graham cracker crust, and everything in between. The café also features a low sugar cheesecake and several gluten-free dessert options.
From the first taste-test in the family kitchen to opening their café just twelve months later, Bassano Cheesecake has earned consistent online rave reviews and found fans in local celebrities. These include Fox 13 TV host Charley Belcher, retired Tampa Bay Buccaneer Mike Alstott, and The Bone radio show host Mike Calta.
This Thanksgiving, besides the orders coming in from local and national customers, following their mission to give back to their community, Tom and Cindy are preparing 95 cheesecakes to donate to the Mike Alstott Family Foundation.
Each Thanksgiving, Alstott wakes up in the morning's wee hours and personally thanks the local firefighters in Hillsborough and Pinellas counties. He delivers Thanksgiving meals to firehouses, so firefighters who give up sharing the holiday with their families don't miss out on a special Thanksgiving dinner.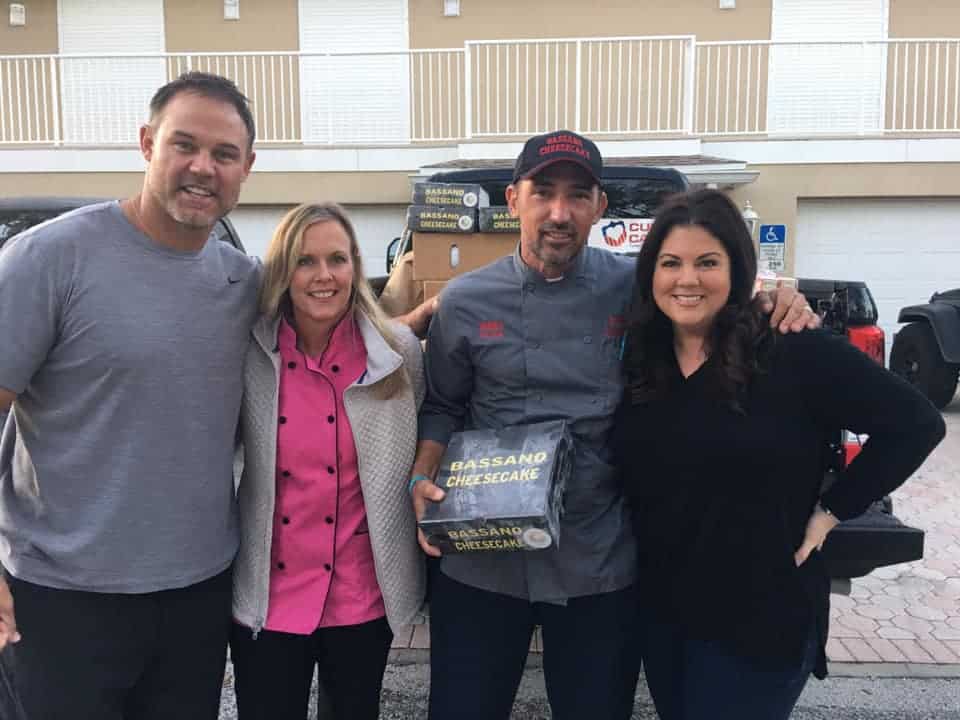 "When Mike first started doing this many years ago, I thought how nice that was, and I imagined that many of those firefighters might be new parents or have relatives who travel to be with them, but they sacrifice their time for our protection," said Thomas. "Not just for an 8-hour shift but for the entire day and night, and most people don't even think about it. We take it for granted. I always wished I could help with that, but at the time, I was a struggling father of 3 and could hardly afford my own Thanksgiving. When Cindy and I opened up Bassano Cheesecake, we immediately reached out and asked if we could help, and Mike and Nicole were kind enough to let us be a small part of their huge 'Thanks on Thanksgiving."
Open seven days a week, Bassano Cheesecake is located at 507 Main St, Safety Harbor, FL 34695. Customers can order online, and pickup at the shop or curbside delivery is available. Orders must be placed by November 16 to ensure Thanksgiving delivery.  For more information on charity recipients or to order your holiday cheesecake, visit www.bassanocheesecake.com.
Publishers Note: While The Free Press will always be free for our readers, and ad-supported, we are asking our loyal readers to consider a monthly donation of $3 to maintain our local journalism and help us grow, as we ramp up ad sales locally.
We thank you all for your consideration and for supporting local journalism
Login To Facebook From Your Browser To Leave A Comment