Give Twitter credit.
It takes some sizable cajones to run headlong into a full-force gale of hypocrisy.
Last week, CEO Jack Dorsey permanently suspended President Donald Trump's personal Twitter account, shutting him off from his 88.5 million followers. The ban was Twitter's punishment for Trump's alleged role in the Jan. 6 riot at the U.S. Capitol, even though Trump did not make any specific comments about encouraging the violence that occurred.
The move was so egregious that foreign leaders complained about Twitter.
A spokesman for German Chancellor Angela Merkel called the ban "problematic," adding that, "The fundamental right [of free speech] can be interfered with, but along the lines of the law and within the framework defined by the lawmakers. Not according to the decision of the management of social media platforms."
France's Finance Minister Bruno Le Maire, noted, "What shocks me is that Twitter is the one to close his account. The regulation of the digital world cannot be done by the digital oligarchy."
Thierry Breton, the commissioner of the internal market for the European Union, observed, "The fact that a CEO can pull the plug on POTUS's loudspeaker without any checks and balances is perplexing. It is not only confirmation of the power of these platforms, but it also displays deep weaknesses in the way our society is organized in the digital space."
British Health Secretary Matt Hancock said Big Tech was clearly "choosing who should and shouldn't have a voice on their platform."
How absurd is our world? Europeans are acting more "American" than Democrats do.
Nonetheless, it's now surfaced that Twitter was BSing people about what seems to be an ongoing purge of conservative voices.
For example, Byron York of the conservative Washington Examiner noted that in just hours on Jan. 8, the day Twitter banned Trump, he lost nearly 29,000 followers.
Similarly, after Twitter dumped Trump, conservative activist Matt Schlapp reported dropping 40,000 followers. Fox News analyst Brit Hume's count plunged by 50,000. Secretary of State Mike Pompeo dropped more than 36,000.
"This is how you create an echo chamber," Pompeo tweeted. Florida Republican Congressman Matt Gaetz quipped, "I wish I could lose weight as fast as I'm losing followers during this Twitter purge."
Two days ago, after these reports came in, Twitter tweeted, "In order to prevent spam, we regularly challenge accounts to confirm details like email and phone number. Until that info is confirmed, these accounts aren't included in follower accounts."
Right.
Then on Tuesday, the social media firm acknowledged that it had axed more than 70,000 accounts because they were "engaged in QAnon-associated content… and dedicated to the propagation of this conspiracy theory across the service."
But here's where @Jack gaslights us.
Uganda is preparing for its national elections. Twitter on Tuesday announced in a vaguely worded tweet that this week "in close coordination with our peers, we suspended a number of accounts targeting the election in Uganda."
Ugandan President Yoweri Museveni was accordingly concerned about the influence of social media on his nation's vote.
On Tuesday, the Ugandan government's official Twitter account tweeted, "The President warns that if the social media channels like @Facebook and @Twitter are not being friendly and equitable to some of the Ugandans, then there is no reason as to why we should have them operate here.
Twitter's response?
"Ahead of the Ugandan election," the company tweeted, "we're hearing reports that Internet providers are being ordered to block social media and messaging apps."
"We strongly condemn internet shutdowns," the tweet added. "They are hugely harmful, violate basic human rights and the principles of the #OpenInternet."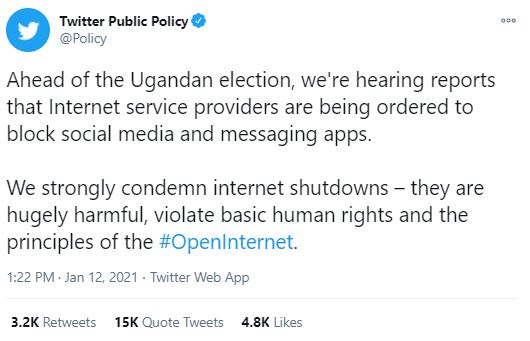 You don't say.
At @Jack's place it's apparently free speech for whomever he decides deserves it.
Login To Facebook From Your Browser To Leave A Comment