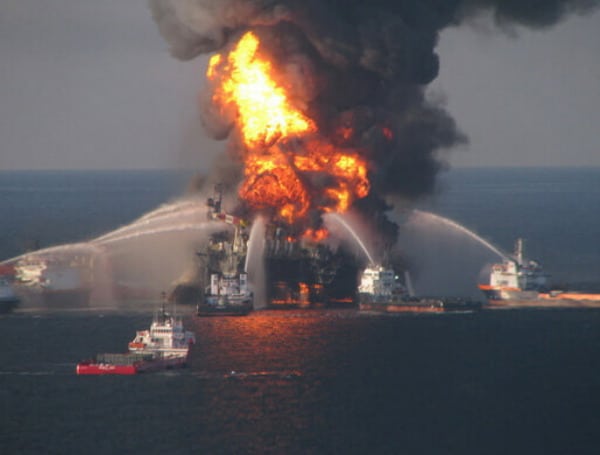 The Biden administration finalized stricter regulations Tuesday for complex devices used to prevent blowouts on offshore oil and gas drilling rigs.
These new rules reverse some policies put in place by the Trump administration and reinstate more rigorous regulatory measures that were adopted after the 2010 Deepwater Horizon disaster.
Blowout preventer equipment failure was a significant factor in the Deepwater Horizon disaster that occurred in April 2010. The disaster resulted in the loss of 11 workers' lives and caused a massive oil spill of around 130 million gallons into the Gulf of Mexico over a span of 87 days.
In the news: Biden Admin Drops Chinese Companies From Trade Blacklist As U.S. Official Touts Beijing Visit
Tougher safety regulations for offshore drilling were initially established in 2016 but were relaxed in 2019 during the Trump administration.
The oil industry supported this relaxation, but it faced legal challenges from environmental organizations.
The new rules from the Interior Department's Bureau of Safety and Environmental Enforcement focus on the conditions and pressures under which automatic well control devices operate.
They require that remotely operated underwater vehicles have the capability to manipulate key components of blowout preventers.
In the news: Supreme Court To Eye Online Free Speech, First Amendment Cases
Additionally, the regulations mandate specific timeframes for investigating failures and providing data on blowouts to regulatory authorities.
These measures aim to enhance safety standards for offshore drilling and prevent catastrophic incidents like the Deepwater Horizon disaster.
Android Users, Click To Download The Free Press App And Never Miss A Story. Follow Us On Facebook and Twitter. Signup for our free newsletter.
We can't do this without your help; visit our GiveSendGo page and donate any dollar amount; every penny helps
Login To Facebook To Comment