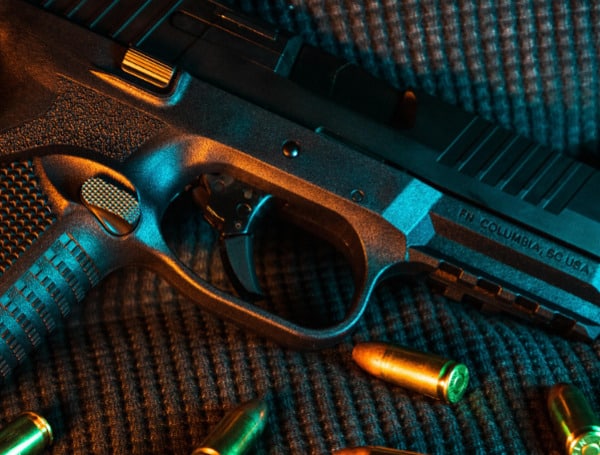 President Joe Biden used Thanksgiving Day as an opportunity to honor some firefighters and to call for a ban on millions of guns commonly sold in America.
Biden on Thursday visited a firehouse in Nantucket, Massachusetts, where he gave pies to the firefighters on duty.
Afterward, he told reporters that he would be working on new gun-control laws between now and when the Republicans take charge of the House in January.
Biden was responding to recent mass shootings at a gay nightclub in Colorado and a Walmart in Virginia.
"The idea we still allow semi-automatic weapons to be purchased is sick. It's just sick," Biden said. "It has no, no socially redeeming value. Zero. None. Not a single solitary rationale for it except profit for the gun manufacturers."
Biden then added, "I'm going to try to get rid of assault weapons."
Biden also said he would be working to strengthen federal red-flag laws — even though Colorado, where an alleged nonbinary shooter killed five people at a gay bar in Colorado Springs, already has a red-flag law, which apparently was not invoked, even though the shooter had a history of threatening violence.
All of which would do nothing to stop the problem that liberals claim they want to stop.
As for those horrible "semi-automatic" firearms, most gun owners understand this applies to a broad array of guns sold in America.
Semi-automatic simply means a gun that can fire one bullet with each squeeze of the trigger and reloads itself after each shot.
Almost a decade ago, the National Rifle Association estimated that half of all guns sold in the U.S. qualified as semi-automatic. Arguably, that ratio could be higher today.
As The Free Press reported in July, Democrats already tried such a ban this year.
Democratic Rep, David Cicilline of Rhode Island filed the Assault Weapons Ban of 2022 Act, which passed the House by a party-line 217-213 vote.
Yet the text of the bill undermined the claim, as Biden suggested on Thursday, that it would get rid of "assault weapons," which liberals usually cite to refer to military-style rifles.
Cicilline's bill would ban the sale or possession of nearly 200 different types of firearms, including rifles, pistols and shotguns.
Pushing the anti-gun narrative, headlines posted by CNN, ABC News, the Associated Press and others on Friday pushed Biden's comment about "assault weapons."
That, however, does not help his case.
For instance, the two recent shooters in Virginia — the perp behind the Walmart shooting this week and another earlier this month who allegedly killed three football players at the University of Virginia — reportedly used 9mm pistols.
As Republican Rep. Thomas Massie of Kentucky noted on Thursday, "Americans rejected [Democratic House Speaker Nancy] Pelosi's gun control schemes in the midterms, yet here is Biden saying he wants to ban modern firearms, and maligning most gun owners."
Visit Tampafp.com for Politics, Sports, and National Headlines.
Android Users, Click Here To Download The Free Press App And Never Miss A Story. Follow Us On Facebook Here Or Twitter Here.
Login To Facebook From Your Browser To Leave A Comment