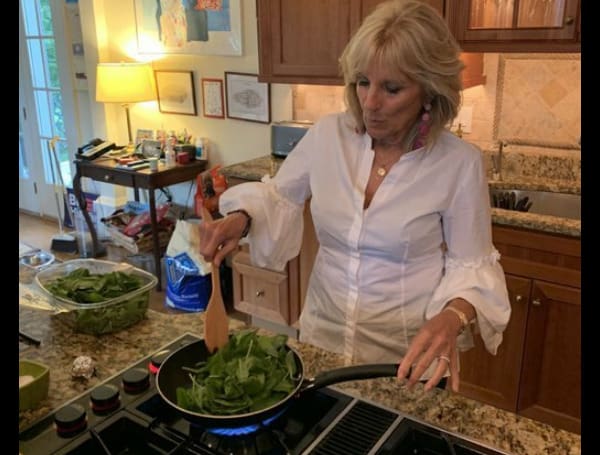 It's amazing how Republicans keep getting access to President Joe Biden's home to plant these classified documents.
At least that's what Democrats wish were happening — as Biden's lawyer announced on Saturday that even more classified materials turned up at Biden's home in Delaware.
As Biden himself once observed, "How anyone could be that irresponsible?" 
The latest chapter of the Biden saga involving government secrets emerged Saturday when White House Special Counsel Richard Sauber admitted five more pages of classified records were uncovered in Biden's home.
In the statement, Sauber explained that he traveled to Wilmington, Delaware, on Thursday to secure a document uncovered by Biden's personal attorneys on Wednesday. They backed away because they did not have security clearances.
In the news: Op-Ed: Are The Walls Closing In On Joe Biden?
As he was facilitating the transfer of that document to the Justice Department, Sauber said he found five additional documents. Those, too, were handed over to the Justice Department.
To recap, as NPR reported on Saturday, Biden's representatives found a stash of about 10 documents at his former office in the Penn Biden Center in Washington, a think tank sponsored in part by the University of Pennsylvania.
Those were found on Nov. 2 just before Election Day, and just after a special counsel was appointed to investigate whether former President Donald Trump mishandled sensitive government records.
Yet revelation of the discovery of those documents, while immediately known by Biden, was not disclosed until CBS News reported on it last week.
NPR pointed out that another trove of records was discovered at Biden's personal residence in Delaware on Dec. 20. Those also were turned over to the Justice Department.
Then, as Sauber noted, Biden's lawyers found one document on Wednesday as they double-checked to ensure Biden had not stashed more records there.
In the news: "The View" Co-Host Suggests Republicans Put Classified Documents In Biden's Garage
Then Sauber on Thursday found the other five pages that he referenced on Saturday, even as the White House was declaring that the search was complete with the one-page finding.
While Biden was acknowledging the first discovery, the second batch was not reported until the media kept asking.
Attorney General Merrick Garland has appointed two U.S. attorneys to probe Biden's mishandling of the records.
In its report, NPR noted that while Biden's case is not "identical" to Trump's dubious handling of government secrets, "both presidents have run afoul of those rules" governing the securing of classified records.
Yet Biden's situation is arguably more egregious because of his accusations against Trump. As he said of Trump in a September interview with "60 Minutes," "How that could possibly happen. How one — anyone could be that irresponsible. And I thought — what data was in there that may compromise sources and methods … And it's just — totally irresponsible."
In the news: Rep. Byron Donalds On Biden's Garage Documents "Most Idiotic Thing I've Ever Heard"
In an interview, Leon Panetta, former White House chief of staff for Democratic President Bill Clinton and secretary of defense under President Barack Obama, noted Biden's defense is pretty skimpy.
"It's both an embarrassment and damaging to the credibility of the White House because obviously, the president has criticized former president Trump and the way he handled classified documents at Mar-a-Lago," Panetta told NPR.
As two federal prosecutors investigate Biden's handling of these materials, Georgia Republican Rep. Marjorie Taylor Greene has called for Biden to be impeached over the security breach.
Android Users, Click Here To Download The Free Press App And Never Miss A Story. Follow Us On Facebook Here Or Twitter Here.
Login To Facebook From Your Browser To Leave A Comment