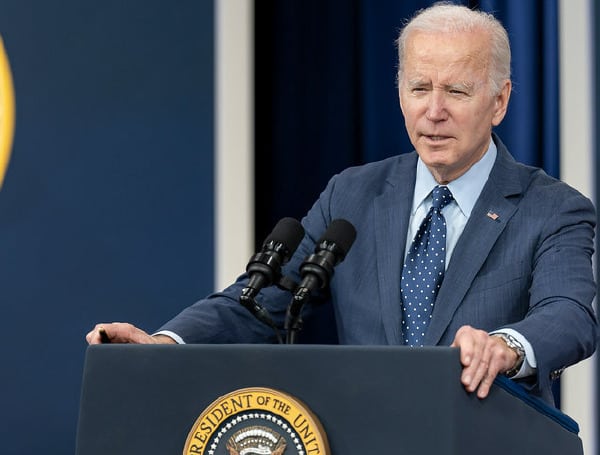 President Joe Biden's aides are gathering top Democrats to sit on a "National Advisory Board" to promote unity around the president as he moves towards an expected campaign announcement, according to The Washington Post.
The campaign board, through the Democratic National Convention, will be stacked with prominent governors and senators, as well as other well-known Democrats, rumored 2024 contenders of Biden, the Post reported.
They will be tasked with creating a unified effort behind the president to deter opposition by attending events, making television appearances, and traveling alongside Biden.
In the news: Gov. DeSantis' Comms Team Fires Back At Left-Wing Effort To Label Him "Misleading" On His Own Record
Over 20 prominent Democrats have already been chosen to lead the effort, including California Gov. Gavin Newsom, Illinois Gov. J.B. Pritzker, Michigan Gov. Gretchen Whitmer, Maryland Gov. Wes Moore, Pennsylvania Gov. Josh Shapiro, and New Jersey Gov. Phil Murphy.
Massachusetts Sen. Elizabeth Warren and California Rep. Ro Khanna have also been picked for the board.
"By pulling people into his campaign, he will show that he is going to tap the ideas, the passion, the energy of the next generation of Democratic thinkers and leaders," Khanna told the Post.
Many of those enlisted have been rumored to be possible 2024 Democratic contenders, namely Newsom and Pritzker, who have been keeping the door open if the president does not run.
Those close to the president told the Post that this campaign board is modeled after a similar coalition from former President Barack Obama's reelection. Still, they are starting it earlier than he did.
In the news: Agent Says FBI Moved To Target Pro-Lifers Under New 'Threat Tag'
Biden has not officially announced his run for president, but is widely expected to do so in April, despite most Democrats preferring someone else and nearly half of Democrats thinking he's too old.
Only one other Democrat has announced a run for The White House – author Marianne Williamson – who will formally enter the race Saturday. This will be Williamson's second presidential run, as she ran in 2020.
Android Users, Click Here To Download The Free Press App And Never Miss A Story. Follow Us On Facebook Here Or Twitter Here. Signup for our free newsletter by clicking here.
Login To Facebook From Your Browser To Leave A Comment