By PAUL CATALA
The enveloping white light that usually emanates from the rows of fluorescent bulbs is contained. The room is dark; silent solitude fills the hall as 13 women assume their positions – literally living, breathing sculptures of humanness.
With the flowing, relaxing melodies of soothing music just audible above the seemingly metered stillness, Laura Linton quietly, purposely leads the women – 55 years and older — in various yoga positions.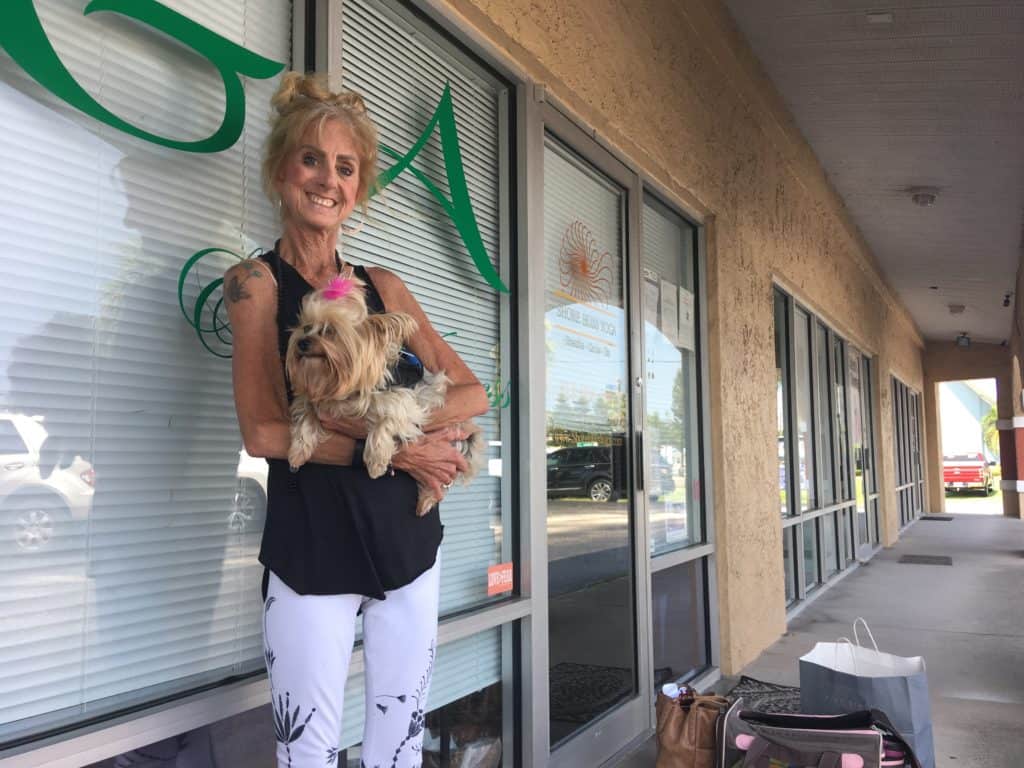 Called "asanas," those can include standing, sitting, reclining, inverted, and even backbends.
For some of the women in Linton's yoga therapy classes, the positions can be challenging but accessible as a way to physically and spiritually enrich their lives.
For others, not only is yoga a way to connect with one's physical, spiritual, and mental well-being – it's a therapeutic path to overall better health.
Linton is the owner of Apollo Beach's Shore Bliss Yoga and is a certified yoga therapist. And although she trains and holds classes in a variety of yoga therapies, she also specializes in yoga for people with disabilities or chronic health conditions through physical postures and breathwork.
During a Sept. 18 class in the Shore Bliss Yoga studio, 118 Flamingo Dr., student Genessis LaBato, now a Registered Yoga Teacher, listens attentively as she assumed a pigeon position. For ten years, the yoga teacher says she struggled with depression, suicidal tendencies, extreme social anxiety, and mild agoraphobia.
LaBato says she began yoga at the beach in 2016 and she finds the practice to have lessened the severity of her anxiety, decreased her bouts of depression subsided, and learned "to just breathe."
There are six other certified yoga teachers at Shore Bliss.
"I have been with Shore Bliss for over a year now, and it has continued to change my life. As a yoga teacher, I grow and learn every with my students," she states by email. "Currently, I am on the path to continuing my next yoga level certification as well as specialized certifications. This path is, happily, never-ending."
Among Linton's yoga training qualifications are prenatal, Silver Sneakers for those over 55, group exercise, restorative therapeutics, yoga for cancer survivors, meditation, yoga for cancer recovery, and yoga for healing emotional and physical trauma. She is also an experienced Registered Yoga Teacher certified and a Senior Yoga Specialist, among other qualifications.
Between classes at Shore Bliss, Linton prepares for her next session. As students put their shoes back on and prepared to enter the world outside the yoga studio box of tranquility, Linton adjusts the soft, somewhat "new age" music over the studio speakers.
The scarcity of yoga studios in the South Shore area, coupled with research which shows yoga, as a lifestyle, can enhance overall health and even prevent certain diseases, helped lead Linton to open the 1,000-square-feet Shore Bliss. More specifically, she says the benefit of yoga to those with disabilities and/or chronic health conditions helped spur her into her yoga studio.
"I think it's the best thing for everyone. It helps with balance, energy, and everything about your body," says Linton, who has been training in yoga since 2011.
Linton begins a Hatha 1 September class by ringing a small gong. On mats, the students take a moment to stretch and roll their knees from side to side before bringing their heads into the crooks of their arms.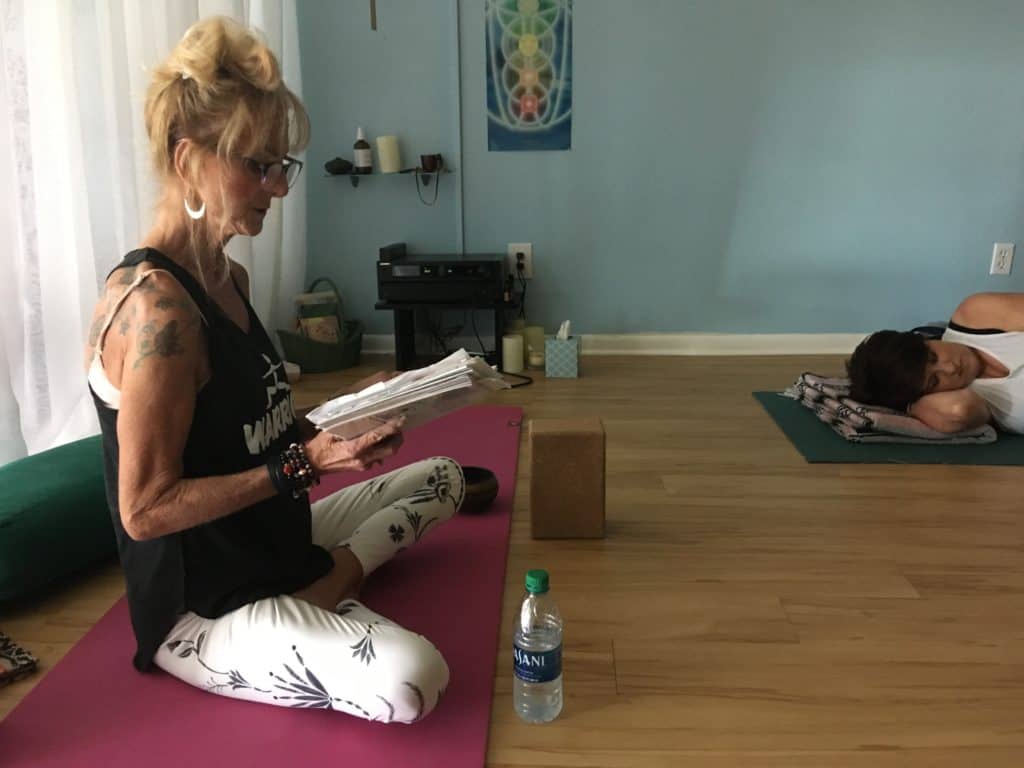 "There is amazing love and light with each of you," she says. "Say, 'Honor the love and light within me.'"
As the class continues, Linton – with a tranquilizing verbosity – guides her students into varying degrees of introspective relaxation and repose. Over her career, she has developed techniques through personal endeavors and experiences in the Prison Yoga Project, Tampa; Yoga of 12-Step Recovery, Atlanta; Yoga for Caregivers, Orlando; Mindful Yoga for Chronic Pain, Portland, Oregon, among others.
Although Linton's expertise and capabilities in properly teaching and practicing yoga are effective for anyone, some of her students say it's her ability to address serious emotional, mental, and physical concerns through yoga as an art form.
Following the 11:30 a.m. Wednesday class, the women began to gather their belongings from around the studio foyer. One of them, Bethany Hill-Anderson of Ruskin, put a towel in a tote bag. She says in 2011 while living in St. Louis, she was diagnosed with multiple sclerosis and began researching various types of therapies complementary to the condition.
A Mayo Clinic article Hill-Anderson read suggested yoga as a therapy, and Google led her to Shore Bliss. She says it has helped her with balance and strength.
"It was a very welcoming environment; I've seen a big difference within a few months. It has a very relaxing environmental component and brings me peace, despite my condition," she says.
Linton, 63, accredited in various types of yoga types, states doctors understand its benefits and patients need to study what type or types of yoga to take. She says her clients need to determine which type suits their needs.
"It's not the movements. It's the breathing, meditation, centering, and being present that they'll be able to let go of whatever is going on in their lives," she mentions. "The best thing is they take yoga off the mat and into the world —."
According to Yoga International, "yoga can reduce stress, anxiety, and fatigue in people living with chronic illness and it can improve immune function." The Honesdale, Pennsylvania-based organization also states yoga can help "calm the brain" while reducing anxiety, depression, and insomnia.
The physical improvements are palpable, says Shore Bliss client Christina Gargagliano. The real estate agent who lives in Apollo Beach with her husband, Theo, son Frank, 13 and daughter, Lola, 9, says three years ago she was diagnosed with spinal stenosis. The condition causes pain by compressing the small spinal canal, which contains the nerve roots and spinal cord, and that led her back into yoga.
"It helps alleviate a lot of the pain and pressure on my spine, and that helps me with my day-to-day activities by relieving a lot of stress," she says. "Laura (Linton) and her staff are amazing, caring and nurturing. It has helped 100 percent with my problem, and now I don't feel right unless I have yoga in my life."
Linton says it has been seeing the improvements in many of her students' mental, physical, and spiritual lives that have been most rewarding since opening Shore Bliss. She adds she works to stay on top of the latest developments associated with yoga and pain management, having attended a week-long yoga for chronic pain workshop in Portland, Oregon, in Sept. 2018.
"I'll continue to do this until the day I die; it's my lifeline," she says, preparing for her next Shore Bliss class. "Yoga has nothing to do with movement – anyone with any body type can do yoga. All that's required is breath, and as long as I have breath, I'll be doing yoga."
Besides Shore Bliss, for the past six years, Linton has also been working with Selah Freedom, a national organization focused on women involved in sex trafficking, working on getting them out of the lifestyle. She says she organizes a yoga retreat for them three times per year.
Login To Facebook From Your Browser To Leave A Comment