The House Oversight and Accountability Committee released documents showing the Biden family and its business associates created more than 20 companies and received more than $10 million from foreign nationals while Joe Biden served as vice president.
Some of these payments could indicate attempts by the Biden family to "peddle influence."
The Committee subpoenaed four different banks and received thousands of records in response. The Committee's bank subpoenas were tailored to specific individuals and companies that engaged in business activities with Biden family members and their business associates.
"When President Biden ran as a presidential candidate, he assured the American people his family received no money from China. President Biden recently claimed the Committee's bank records regarding his family's receipt of funds from China are "not true." The White House refuses to correct President Biden's dishonest statements. The lack of transparency surrounding the Biden family's foreign business deals raises serious national security concerns," said the House Oversight Committee.
The Committee has uncovered evidence indicative of influence peddling and financial deception warranting further investigation and legislative solutions.
In the news: Illegal Immigrant Charged In Florida Crash That Killed 2, Injured 5, Including High School Senior
On October 22, 2020, President Biden (then a presidential nominee) stood before the American people at a televised presidential debate and answered a question about whether there was anything inappropriate or unethical about his son's business dealings in Ukraine or China.
President Biden denied that his son or anybody else from his family received money from China and stated, "My son has not made money in terms of this thing about, what are you talking about, China. I have not had—The only guy who made money from China is this guy [Donald Trump]. He's the only one."
The bank records below refute President Biden's statement.
According to the committee, the Bidens and their business associates formed a series of companies in a relatively short amount of time; the overwhelming majority were created during Joe Biden's vice presidency.
The Committee has identified over 20 companies affiliated with certain Biden family members and their business associates, formed mostly in Delaware and Washington, D.C.
The services provided by some of these companies, the purpose for creating such a complicated corporate structure, and whether ethics/financial disclosure laws should require a public official to publicly disclose the identities of such companies remain under scrutiny by the Committee.
After assuming the vice presidency in 2009, records reveal Hunter Biden and his business associates formed at least 15 companies.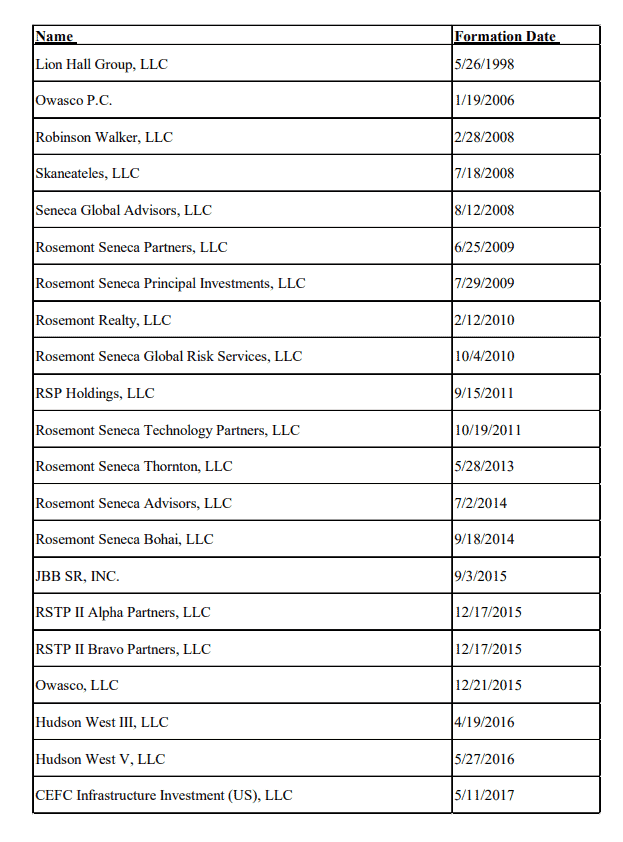 As part of its investigation, the Committee focused on several entities that received funds from foreign companies. These include Owasco P.C.; Hudson West III, LLC; Robinson Walker, LLC; and Rosemont Seneca Bohai, LLC.
The amount of money involved in these financial transactions is significant. The wires and money transfers range from approximately $5,000 to at least $3 million.
Many of the relevant wire transfers involve Owasco P.C., a professional corporation formed in Washington, D.C. Hunter Biden was the owner of Owasco P.C.
The documents released Wednesday focus on two groups of transactions involving financial activity in Romania and China. The transactions in Romania and China show related but separate issues identified by the Committee that raise serious questions about financial disclosures and risks to national security.
According to the committee, the Romanian transactions show evidence of influence peddling and a correlation between Biden family and their business associates' work and then Vice President Biden's responsibilities while in office.
The committee also provided additional information about the Biden family's troubling receipt of payments from China, particularly the individual Ye Jianming and his company, CEFC, to show what was from 2015 to 2018 a growing interest by people closely tied to the CCP in cultivating a relationship with the Biden family.
Rob Walker and James Gilliar are recurring individuals in the transactions described in this Second Bank Records Memorandum.
Their corporate entities—Robinson Walker, LLC, and European Energy and Infrastructure Group (EEIG), respectively—are also referenced throughout.
Rob Walker established Robinson Walker, LLC, a limited liability company, in Delaware in 2008.
The Committee's First Bank Records Memorandum and in detail below, from 2015 through 2017, Biden family members and their companies received over $2 million in payments through this account.
In 2017, James Gilliar was the president and managing partner of EEIG.12 EEIG routinely partnered with Hunter Biden and Rob Walker in international business deals. Below is an example of an EEIG business proposal: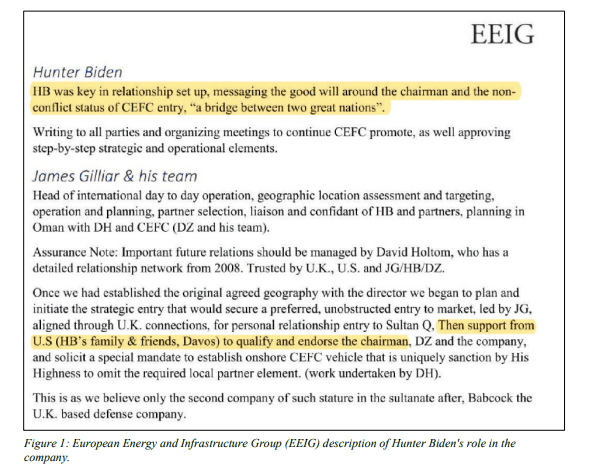 In addition to Biden, Walker, and Gilliar, there were additional recipients of foreign payments, that included James Biden, Hallie Biden, and other Bidens, according to the documents.
First Bank Records Memorandum showed Hallie Biden's receipt of $25,000 from Robinson Walker, LLC after it received the $3 million from State Energy HK.
Regarding the payments to Hallie Biden, several Democrats, and their allies responded that this development had "no context," and Robinson Walker, LLC had previously sent money to her before Robinson Walker, LLC received the wire from State Energy HK. Additionally, Committee Democrats claimed that "information [the Committee] released about Hallie Biden was incorrect. Mr. Walker had transferred money to her the month before any funds were received from the Chinese company…[the Committee's] memorandum said that Ms. Biden received the money about three weeks after the Chinese firm had wired funds to Mr. Walker."
The committee says these statements are misleading. Hallie Biden received two transfers of money from Robinson Walker, LLC. In its First Bank Records Memorandum, the Committee explained the source of funds for the second payment to Hallie Biden (the Chinese company, State Energy HK); this Second Bank Records Memorandum will describe the source of funds related to the first payment.
Prior to the wire from State Energy HK, Rob Walker, James Gilliar, Hunter Biden, and Hallie Biden received payments from a Romanian source, and many of the payments were made while Joe Biden was Vice President and working directly on the United States' official policy in Romania.
Robinson Walker, LLC received $3 million from Romanian Gabriel Popoviciu's Cypriot company and then made payments to the Biden family.
On May 21, 2014, then-Vice President Biden visited Romania and delivered a speech addressed to the Romanian Prime Minister, judges, prosecutors, and leaders of the parliament. During his speech, Vice President Biden stated the following:
"Corruption is a cancer, a cancer that eats away at a citizen's faith in democracy, diminishes the instinct for innovation and creativity; already-tight national budgets, crowding out important national
investments. It wastes the talent of entire generations. It scares away investments and jobs. And most importantly it denies the people their dignity. It saps the collective strength and resolve of a nation. Corruption is just another form of tyranny."
At the time of Vice President Biden's speech, one of the most high-profile corruption prosecutions in
Romania revolved around Gabriel Popoviciu. Romanian prosecutors charged and convicted Mr. Popoviciu with a bribery related offense, and there has been subsequent litigation in the United Kingdom related to this matter.
On September 28, 2015, Vice President Biden welcomed Romanian President Klaus Iohannis to the White House. A readout of the meeting stated, the "Vice President welcomed President Iohannis' focus on anti-corruption efforts and rule of law as a means to strengthen national security and promote greater investment and economic growth."
President Iohannis said the Vice President "voiced satisfaction over Romania's progress with the fight
against corruption."
Within five weeks of this meeting, Bladon Enterprises Limited (Bladon Enterprises) began making deposits into Robinson Walker, LLC's bank account. Bladon Enterprises is reported to be Gabriel Popoviciu's Cypriot company that he used to conduct business in Romania. From November 2015 to May 2017, Bladon Enterprises paid Robinson Walker, LLC, over $3 million.
Biden family accounts received approximately $1.038 million from the Robinson Walker, LLC account after Bladon Enterprises deposits. Sixteen of the seventeen payments from Bladon Enterprises to Robinson Walker, LLC were made while Joe Biden was Vice President.
Below are three examples regarding the Romanian transactions. In the first transaction, Walker transferred money from his business account to his personal account and then paid Hunter Biden in what appears to be an effort to conceal the source of the payment, which was Popoviciu's company. In the second transaction, Hunter Biden received the money to a bank account that was not his professional corporation, Owasco P.C., despite allegedly performing professional services. In the third transaction, it shows a wire where Hallie Biden received $10,000 after the deposit from Bladon Enterprises. Finally, we provide a chart showing all the financial transactions among Bladon Enterprises, EEIG, and the Biden family.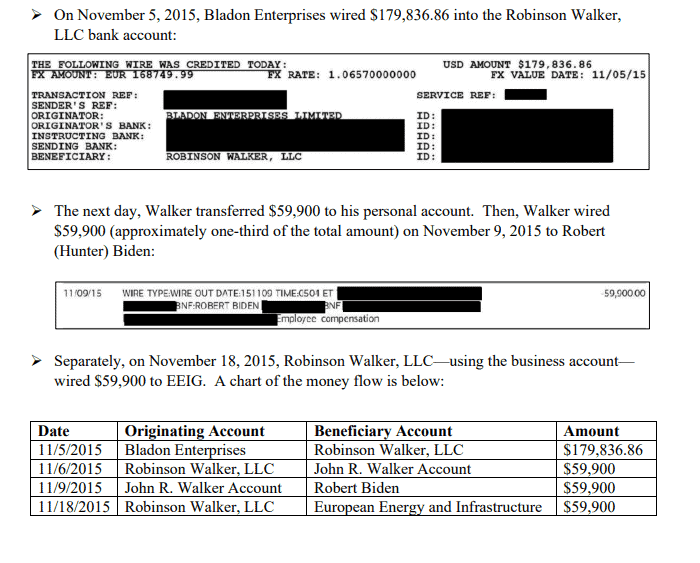 On December 4, 2015, Bladon Enterprises wired $179,310.02 into the Robinson Walker, LLC account. Then on December 7, 2015, the Robinson Walker, LLC account sent two wires: one to EEIG and a second to Robert (Hunter) Biden for $59,725 each (approximately one-third of the total amount).
From February 2, 2017, to February 27, 2017, Robinson Walker, LLC sent five wires to Biden-related accounts totaling approximately $84,000. The accounts receiving the money included Hallie Biden, Robert (Hunter) Biden, and an unknown "Biden" account. This is the source of the first payment to Hallie Biden previously undisclosed.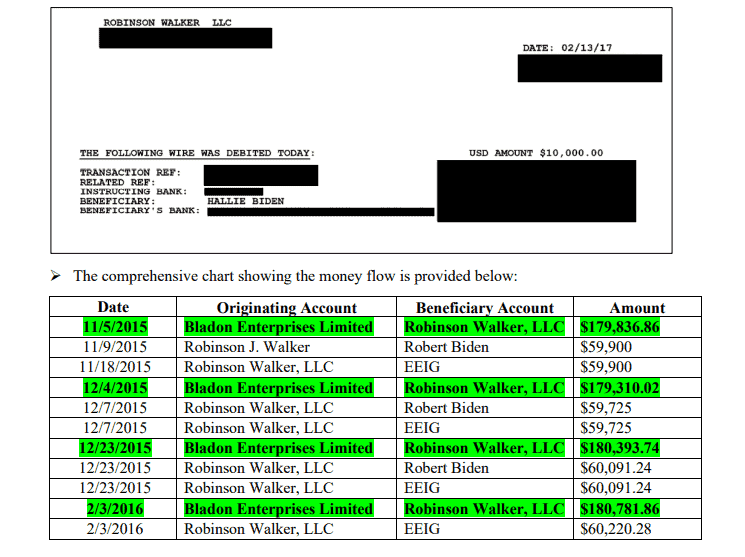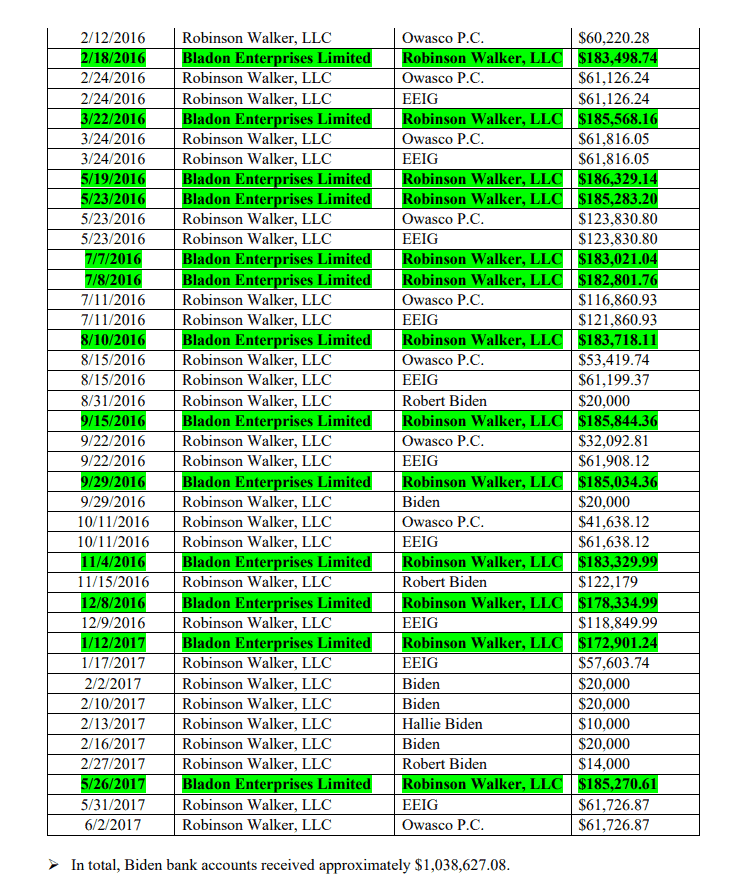 The Biden Chinese business partners and their connection to the Chinese Communist Party
Two individuals connected to CEFC—a Chinese energy company—with whom the Biden family had a business relationship were introduced in these findings, Ye Jianming and Gongwen Dong.
In December 2015, Vuk Jeremic—a former Serbian politician and United Nations official—
attempted to introduce Ye Jianming and CEFC to Hunter Biden and his business associates.
Although it does not appear the meeting occurred on that date, Hunter Biden and others would later develop a lucrative business relationship with Ye and CEFC. By 2017, Hunter Biden forged a partnership with Ye and planned to share office space with him and then former-Vice President Biden at the House of Sweden in Washington, D.C.
From 2003 to 2005, Ye reportedly was the deputy secretary-general of the China Association for International Friendly Contact (CAIFC), "an international outreach arm for the PLA [People's Liberation Army]," and "a platform for deploying undercover intelligence gatherers." CAIFC is "a front organization for the former General Political Department, [and] performs dual roles of intelligence collection conducting propaganda and perception management campaigns."
By the mid-2010s, Ye ran a Chinese business empire worth an estimated $44 billion and was using his company, CEFC China (CEFC), to implement China's Belt and Road Initiative. Ye founded CEFC and emerged as "a mysterious Chinese tycoon with big political ambitions."
According to the report, Ye used CEFC to bribe and corruptly influence foreign officials. One of Ye's agents in the United States and abroad—Patrick Ho—was convicted of international bribery and money
laundering offenses because of his work for CEFC in Africa. The U.S. Department of Justice referenced part of Ye's role in a bribery scheme related to Ho:
Ho also advised his boss, Ye Jianming, the then-chairman of CEFC China, to provide $500,000 in cash to [President of Uganda Yoweri] Museveni, ostensibly as a campaign donation, even though Museveni, had already been reelected. Ho intended these payments to influence [Ugandan Minister of Foreign Affairs Sam] Kutesa and Museveni to use their official power to steer business advantages to CEFC China.
The Committee is investigating the corrupt conduct of Ye—and others with ties to the CCP—who used CEFC and Chinese companies to entice Biden family members with millions of dollars in exchange for influence and legitimacy in the United States and abroad.
According to an email verified by the Washington Post and Hunter Biden, Gongwen Dong served as "Chairman Ye['s] CEFC emissary" in the United States.
Dong made headlines in 2017, when he purchased a $50.55 million home at 15 Central Park West in New York City, and then an apartment at 432 Park Avenue for approximately $33 million. Bank records indicate Ye Jianming transferred over $130 million to entities controlled by Dong from June through August 2017 alone.
In August 2017, approximately two months after the first wire above, Dong, through
Hudson West V, and Hunter Biden, through Owasco P.C., established a company—Hudson
West III, LLC. Dong and Biden were each 50 percent owners of Hudson West III.
Bank records show between August 2017 and October 2018, Hudson West III sent over $4 million
to Hunter Biden-related companies and over $75,000 to James Biden-related companies.
When Ye Jianming was apprehended by Chinese authorities in 2018, according to an email verified by the Washington Post, Hunter Biden knew his financial relationship with CEFC was problematic and attempted to distance himself from the Chinese associates and CEFC: "I am not in a [joint venture] with CEFC. I am not partners with CEFC. I am not employed nor funded by CEFC."
This statement was false, according to the committee.
The Committee has obtained a $100,000 wire directly from one of CEFC's subsidiaries to Hunter Biden's professional corporation in August 2017. As the Committee shows, Hunter Biden (and other Biden family members) were in fact "funded" by CEFC (and other foreign sources).
On May 11, 2017, Dong formed CEFC Infrastructure in Delaware as a limited liability company. Hudson West V—the same company described above that received a $24 million wire from Ye and formed a partnership with Hunter Biden—was the sole equity member of CEFC Infrastructure. Dong identified himself as the Director of Hudson West V and listed its address as Xicheng District Beijing, China.
Just one week later, on May 18, 2017, Hudson West V assigned 100 percent of its interest to Shanghai Huaxin Group (Hong Kong) Limited (Shanghai Huaxin), a company incorporated in China: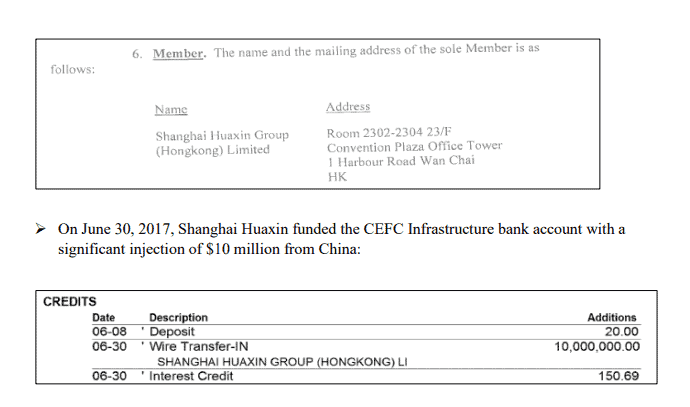 Approximately one month later—on August 4, 2017—CEFC Infrastructure wired $100,000 to Owasco P.C, Hunter Biden's professional corporation.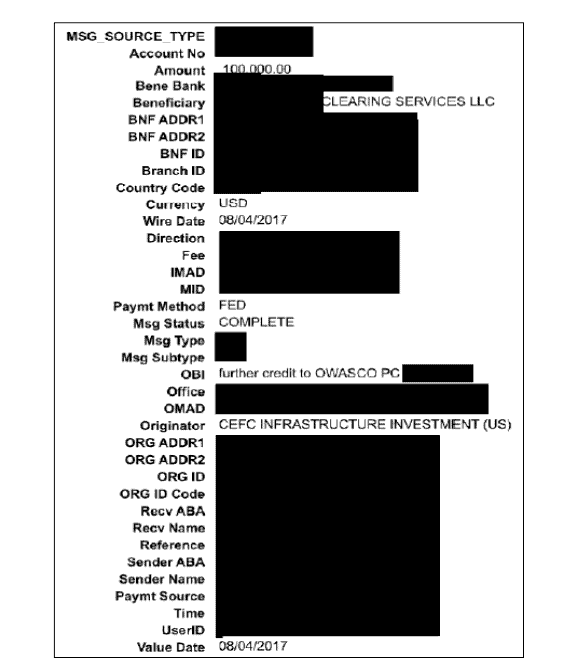 The bank records establish Owasco P.C., Hunter Biden's professional corporation, received $100,000 that was funded by Shanghai Huaxin in China. It also disproves President Biden's claim that his family received no money from China. Furthermore, corporate records obtained via subpoena also show Dong—Hunter Biden's Chinese business partner— attempted to hide the foreign source of the money by layering LLCs formed in Delaware.
State Energy HK and its financial connections to the Bidens
State Energy HK appears to be Ye's vehicle, at least in part, to launder money and purchase lucrative "gifts." Despite the company's name, many of the financial transactions are inconsistent with a company engaging in an energy business. The significant purchases of expensive jewelry, for example, are more consistent with a Chinese company laundering money and facilitating payments through luxury items that are difficult to trace.
For instance, from 2016 to 2017, the purported Chinese energy company made over $23 million in purchases from a retail diamond/jewelry business.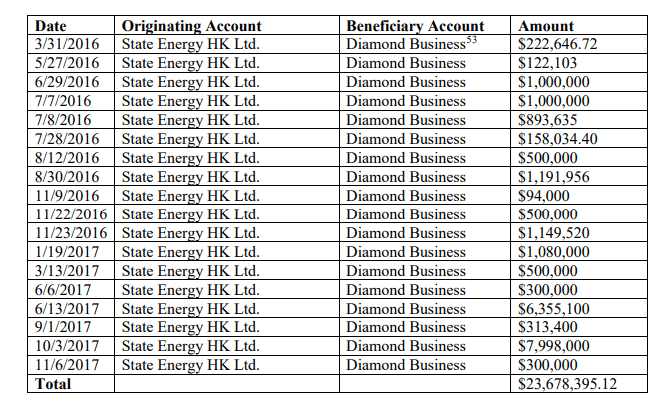 The timing of the diamond purchases is relevant to this investigation. In late 2016 and early 2017, State Energy HK made over $2 million in purchases from the Diamond Business.
These transactions align with when Ye sent a large diamond to Hunter Biden in Miami, Florida after a dinner. The New Yorker confirmed during an interview with Hunter Biden that in early 2017, Hunter Biden vmet with Ye in Miami, and Biden received a 2.8 carat diamond, which has been estimated to be worth up to $80,000.54 Hunter Biden claims he gave the diamond to an unnamed associate.
In addition to purchasing large amounts of valuable items unrelated to an energy business, State Energy HK made suspect donations to a think tank associated with Vuk Jeremic, an associate of Hunter Biden.
State Energy HK paid large sums of money to companies and individuals associated with the Bidens where the purpose of the payments does not appear to be energy related. From August 2015 to June 2016, State Energy HK made $3 million in payments to the Center for International Relations and Sustainable Development (CIRSD), a public policy think tank registered in Belgrade and New York. Vuk Jeremic, a former Serbian politician and President of the United Nations General Assembly, is president of CIRSD.
Jeremic developed a business relationship with Hunter Biden and his associates, and he sought to introduce Hunter Biden to Ye and CEFC. The payments from State Energy HK to CIRSD can be seen below.

The timing and purpose of these payments is being investigated by the Committee. According to the CIRSD website, "[i]n 2016, Mr. Jeremic participated in the official election for UN Secretary General. After six rounds of voting in the UN Security Council, he finished the race in second place.
Evidence indicates Hunter Biden and his associates sought to help Jeremic with this campaign by leveraging their connection with the Office of the Vice President (OVP). In an email dated June 16, 2016 (one day after the third payment above), Jeremic wrote Hunter Biden and Eric Schwerin (a Biden family associate) asking if he could "meet with VPOTUS National Security Advisor Colin Kahl" related to the elections for UN Secretary General.
Eric Schwerin wrote to Hunter Biden, "Think about how you want to respond."
According to the committee, a Biden administration official met with Jeremic to discuss the UN Secretary General election at the direction of Hunter Biden and/or his business associates. State Energy HK made $3 million in payments to CIRSD around the timeframe of Jeremic's campaign, and soon after Vice President Biden left public office in 2017, the same company—State Energy HK—made a $3 million payment to Robinson Walker, LLC—and over $1 million of that amount then went to the Bidens.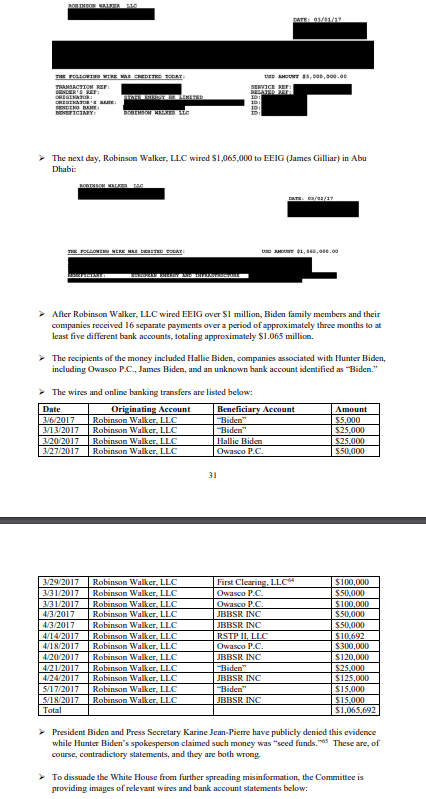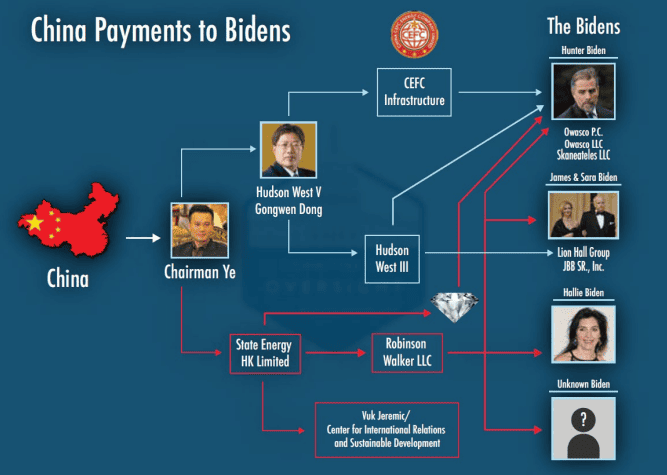 According to the committee, the Biden family and associates' activities in Romania bear clear indicia of a scheme to peddle influence from 2015 to 2017. While Vice President Biden lectured Romania on corruption and ethics, Hunter Biden received—through Biden associate Rob Walker— over a million dollars from a company controlled by a Romanian individual accused of corruption (Gabriel Popoviciu).
The Biden family and associates' activities in coordination with Chinese nationals and their corporate entities appear to be an attempt to engage in financial deception. To be clear, multiple Biden family members received money from the Chinese after it passed through the Robinson Walker, LLC account. Additionally, Hunter Biden received money directly into his company's account from a Chinese-controlled entity, according to the report.
Android Users, Click To Download The Free Press App And Never Miss A Story. Follow Us On Facebook and Twitter. Signup for our free newsletter.
We can't do this without your help; visit our GiveSendGo page and donate any dollar amount; every penny helps.
Login To Facebook To Comment