TAMPA, Fla. – On Tuesday, October 6th, 2007, investigative reporter Kimberly C. Moore was waiting by the doors of the Orange County Jail in Orlando when astronaut Lisa Nowak walked out following her arrest a day earlier for attacking a romantic rival for the affections of another astronaut and possibly using diapers during a 900-mile trip from Houston to Orlando.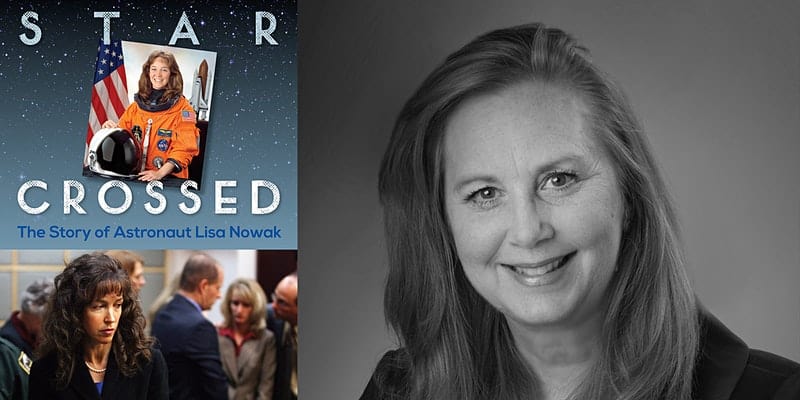 The shocking details of the NASA astronaut's crime are now a best-selling book by Moore — "Star Crossed: The Story of Astronaut Lisa Nowak," published by University Press of Florida.
"I was fascinated by this from the moment I heard about it — how could an astronaut, of all people, descend to the level of mere mortals and commit a crime of passion?" said Moore, who covered the case from her jail release to her other-than-honorable dismissal from the U.S. Navy. "In investigating further, I found that while NASA has made changes in how it handles mental health among the astronaut corps, the astronauts still face danger on long-term missions."
The case made headlines worldwide after Nowak's arrest, particularly because an Orlando Police Detective said she told him that she used diapers on her cross-country trek so she wouldn't have to stop. While her attorney denies the diaper use, Moore and the detective, Chris Becton, both have concluded that she actually used them to reduce the chances of being seen at rest stops, gas stations or fast food restaurants on the trip because they believe she wanted to kill the victim, U.S. Air Force Captain Colleen Shipman.
After 13 years of digging through thousands of pages of documents, books, and reports, Moore has written a 266-page definitive account of the incident. Moore also obtained Nowak's never-before-seen psychiatric evaluations, which were supposed to remain private. They show that Nowak has been on the Autism spectrum since childhood, is socially stunted and had planned with her husband to divorce years before she and fellow Astronaut William Oefelein began an affair.
Moore is a veteran reporter, covering everything from the first Gulf War as a television anchor and reporter in Israel, to Congress and the White House during the Bush and Clinton years, and military unrest in Haiti and Iraq in 1994. She also covered the controversial U.S. presidential election in 2000. She currently works as an investigative, education and general assignment reporter for The Ledger in Polk County.
Following the Nowak incident, NASA made fundamental changes in how they handle astronauts' mental health.
"But the agency's own reports show that there is at least a 53-percent chance that an astronaut on a crew of six will have a major mental health crisis while on board a long-duration mission to and from Mars," Moore said. "What's even more stunning is that they have little to no plans on how to handle that kind of situation. You can't just turn around and come home."
The book shot to the top of Amazon's new releases in the aeronautical and astronautical category the week it was released in September, and reviews have been positive. Publishers Weekly, an industry bible for what's hot, said that Moore "explains in her gripping debut how Nowak, a decorated astronaut and mother of three, could risk everything for love…This is must reading for true crime fans."
Moore will be reading from the book and signing copies at Oxford Exchange in Tampa on Sunday, October 4th, at 3 p.m. Masks will be required.
Information and reviews on the book: https://upf.com/book.asp?id=9780813066547
To buy the book, go here: https://www.amazon.com/Star-Crossed-Story-Astronaut-Nowak/dp/0813066549
Moore's Linkedin page: https://www.linkedin.com/in/kimberly-c-moore-15aa356/
To buy $5 tickets to the reading and signing: Kimberly Moore STARCROSSED: The Story of Astronaut Lisa Nowak
Publishers Note: While The Free Press will always be free for our readers, and ad-supported, we are asking our loyal readers to consider a monthly donation of $3 to maintain our local journalism and help us grow, as we ramp up ad sales locally.
We thank you all for your consideration and for supporting local journalism.
Login To Facebook From Your Browser To Leave A Comment