by: Chris Ingram
TAMPA, Fla. – Tampa Mayor Jane Castor is taking action against several bars and restaurants that the city claims have repeatedly ignored the city's COVID-19 restrictions. Yet Castor herself has repeatedly violated her own order.
The "do as I say, not as I do" mayor's action follows reports of maskless New Year's Eve revelers at several establishments around South Howard Avenue in Tampa. The city asserts the restaurants and bars in question failed to follow the restrictions by allowing their patrons to be present without social distancing or mask-wearing being enforced by the proprietors.
As a result, the mayor is taking action by pursuing the suspension or revocation of the liquor licenses of those bars or restaurants that have two or more citations from the city. The owners say they did the best they could do, and that patrons on the street not wearing masks are not their responsibility. The Tampa City Council will have the final say on the liquor licenses.
According to a press release from the mayor's office, Castor is quoted as saying, "…while the vast majority of residents are acting responsibly, we can't allow a few bad actors to compromise and lengthen the recovery efforts for the entire community."
The vast majority of residents may, in fact, be acting responsibly, but Mayor Jane Castor is actually a bad actor. Since instituting strict COVID-19 restrictions in the spring of last year, Castor has been photographed at public and private events where she is not wearing a mask and clearly violating her own order.
Additionally, the city, under Castor's "leadership" has permitted large gatherings of people without enforcing social distancing restrictions as she did following the Tampa Bay Lightning's Stanley Cup victory in September. Without a word about COVID-19 restrictions, Castor allowed a boat parade, a large public celebration at Raymond James Stadium, and gatherings of fans outside Amalie Arena.
You can bet your bottom dollar the city has not threatened the Tampa Bay Lightning for allowing fans to gather outside Amalie Arena without masks.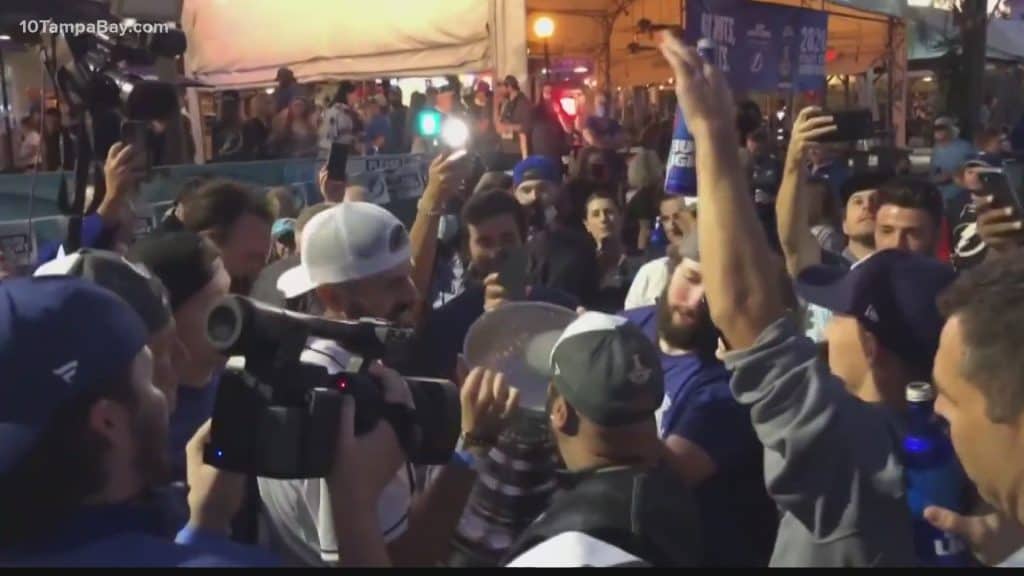 The most disconcerting fact about all of this is that while at the time of those celebrations the city had a mask order, Mayor Castor was surreptitiously photographed not wearing a mask at several of those Lightning celebrations.
Then on October 10, 2020, Castor attended an installation dinner for the Rough Riders Gasparilla Krew leadership. Castor mingled about the event which had over 100 attendees not wearing a mask, not social distancing, and posing for photographs.
Meanwhile, behind closed doors, Castor and her staff reportedly flaunt the rules according to the wife of a police officer who had a meeting with Castor in her City Hall chamber.
The woman who asked to remain anonymous for fear of retribution said, "[I] had a meeting with Jane Castor just three weeks ago and she does not wear masks inside her office or meeting rooms. Neither does any of her staff. Lies."
Mayor Castor is like so many liberal Democrat politicians who pass unnecessary orders that infringe on the rights of citizens while hypocritically ignoring those orders for herself. That she is now threatening the livelihood of hardworking business-owners is indicative of Castor's character: a fascist hypocrite with zero credibility.
Tampa deserves better than this "Calamity Jane" as its mayor.
Chris Ingram is a communication, political, and media consultant in Tampa. Follow him on Twitter at @IrreverentView or send him an e-mail to chris@tampafp.com.
Login To Facebook From Your Browser To Leave A Comment