Ever since Republican Glenn Youngkin won the Virginia gubernatorial election last week by talking about schools, liberals have tried to maintain that public education in itself isn't inherently an exercise in left-wing indoctrination.
In their typical fashion, they've argued this by claiming parents who objected to such efforts were "racists" – even when the issue was not the anti-white Critical Race Theory, but things like overly permissive transgender locker room policies and mask mandates and locked-down schools.
Now, however, right on time, a California school has revealed the truth.
A high school history teacher at Whitney High School in Rocklin, California, offered the following question on a quiz:
Students were asked to identify "a group of complete idiots."
Their options: a) "KKK"; b) "all of Florida"; c) "Fox News"; d) "Texans."
A student took a screenshot of the quiz question, and a family friend of the student, Jessica Krissovich, posted it on social media.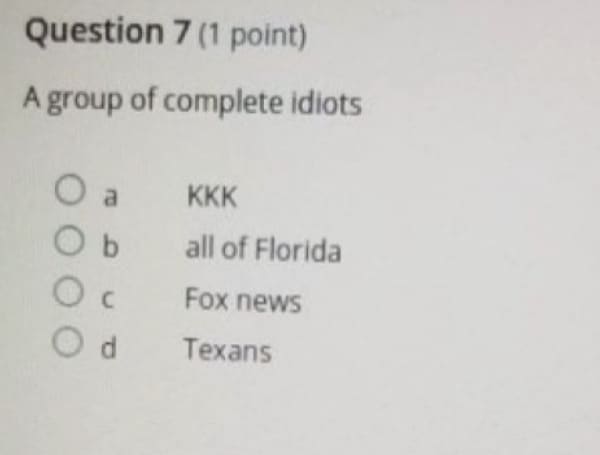 "I do believe that the intent of the questions on the test were to ridicule students who had conservative beliefs and make them feel bad for feeling that way," Krissovich told the local media in Sacramento.
And then proving that liberals are thoroughly versed in the tactics of Hitler's brown shirts, the local media added, "The student's family has said they do not want to talk on camera because they fear their child could be further targeted."
Post Millennial added that Krissovich hoped teachers would leave their politics at home after seeing how upset some parents were over this matter.
Principal Justin Cutts sent parents a letter pledging disciplinary action:
"Whitney High and Rocklin [County] United [School District] is committed to providing each student, family, and staff with a safe and welcoming environment. While personnel matters will remain confidential, appropriate disciplinary steps will be taken," Cutts wrote.
"As always, Whitney High School is committed to investigate any campus incidents that may make a group of students feel uncomfortable so the Wildcat family can grow from them as we continue to become a strong family through shared experiences."
Another parent, who also wished to remain anonymous, expressed hope that the principal would follow through since this was not the first time the same teacher has shown an anti-Republican bias.
"The question on the test is really blatant obviously and that's out there," the parent said. "This has been the first time it has been looked at of him crossing the line."
Support journalism by clicking here to our GoFundMe or sign up for our free newsletter by clicking here
Android Users, Click Here To Download The Free Press App And Never Miss A Story. It's Free And Coming To Apple Users Soon
Login To Facebook From Your Browser To Leave A Comment