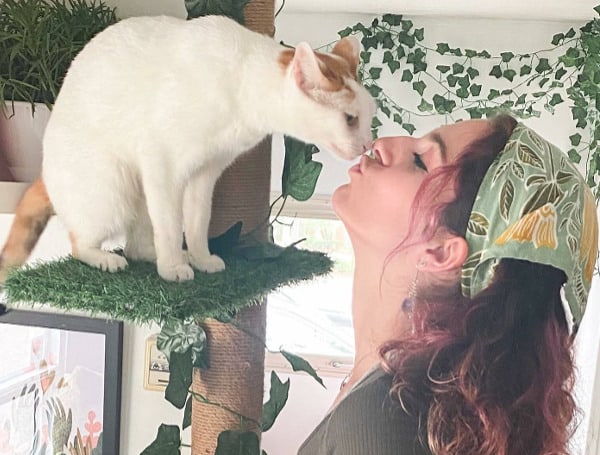 LAKELAND, FL. – Janette Deloach, the owner of Botany Cats, based out of Lakeland, Florida, is a cat enthusiast, plant hobbyist, and first-time small business owner. What started as a visit to an Orlando cat café has launched into something much bigger.
"I got my first cat when I was four, and ever since I've been in love with cats and just a huge cat mom. I didn't have a lot of cats growing up, but I always had a cat," said Janette.
Right out of high school, Janette went into the Veterinary Medicine field. "So, I was a vet tech for a few years—about five. I loved it. I loved helping cats and dogs. It is a lot of work, and I applaud anyone who does it long-term because it's exhausting emotionally and physically," said Janette.
"I still wanted to help animals, but I was starting to get a little burnt-out with, you know, every cute animal that comes in I have to poke and prod at and we can't be besties like I would like," said Janette.
So I started brainstorming, "What can I do other than this because this is all I know for my whole adult life, and then I went to a cat café, and I was like, 'This is such an awesome experience for both the humans and the cats.' And the next day, I was like, 'I'm going to bring this to Lakeland, but I didn't want to deal with coffee, so I switched out the coffee for plants, and then I made it mobile so that I could go to coffee shops because there are so many in Lakeland," said Janette.
The original plan was to open Botany Cats as a brick and mortar, but taking Botany Cats mobile allowed her to cut back costs and open Botany Cats debt-free.
In March of 2021, Janette started thinking about a business plan right after attending the cat café. "And I was like, 'I'm going to open this by my birthday next year, and my birthday is in February,' so I did," said Janette. Botany Cats opened on Feb. 9, 2022, but before that, Janette did pop-up events with her cat, and once she bought a camper, she did some pre-renovation events to see how everything would go.
It's a one-woman show. My partner helps me a lot. She has a background in social media and a degree in English, so she does a lot of my Instagram posts and stuff like that, and with the busy events like the Farmers Market and Buena Market, she helps me out… Other than that, it's just me, "said Janette.
Janette also has a three-year-old "human child," which Janette said for clarification. I'm juggling mom life and trying to have a social life and also starting a new business, but I love all of it. It doesn't feel overwhelming, sometimes yes, but most of the time it's great, "said Janette.
A typical day with Janette would entail waking up and getting her son ready for the day, who sometimes tags along for the day or attends daycare. Janette then comes to the camper to feed the cats in the morning. For bigger events like Buena Market or the Farmers Market, Janette picks up the camper at 6 a.m., packs up all the plants and cats, and then heads downtown to set up. The farmer's market is from 8 a.m. to 2 p.m., and the Buena Market is from 5 p.m. to 10 p.m.
"The cats do great," Janette said. Every hour, for the last 15 minutes of that hour, the cats get a break to reduce stress for them.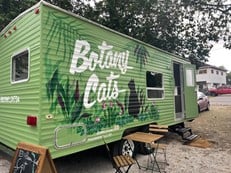 "I try to have the camper in one spot for a few days at a time because traveling can get stressful for the cats. All of them get used to it pretty fast, all the ones I've gotten so far anyway, but still, I want to keep it as stress-free as possible for them, "said Janette.
"It's nice to see how excited people get. They walk up to the camper with the same face almost every time, like 'Oh, what is this? Do you have cats? ' And they get so excited, it's also great therapy. I would love to go to all the colleges around me and have a finals week thing like that, where you can come in for a study break and hang out with some cats because there's nothing better than that, "said Janette.
Botany Cats doesn't just provide a space to chill with cats and cool plants, but also allows you to adopt any of the cats in the camper. "There are always so many cats that need homes, and I saw that a lot being in the veterinary medicine field," said Janette.
I know it's small, just a 23-foot camper, but I go through cats fast. I've been open a little over a month and I've had 11 adoptions, "says Janette. "I hope I'm making somewhat of a difference by getting these babies some homes," said Janette.
Visit Tampafp.com for Politics, Tampa Area Local News, Sports, and National Headlines. Support journalism by clicking here to our GiveSendGo or sign up for our free newsletter by clicking here.
Android Users, Click Here To Download The Free Press App And Never Miss A Story. Follow Us On Facebook Here Or Twitter Here.
Login To Facebook From Your Browser To Leave A Comment