May 14, 2020
By: Tiffany Razzano
As part of the Tell It, Tampa creative writing series, the city of Tampa has launched the Haiku from Home initiative. Organized by the Division of Arts & Cultural Affairs and designed by local poet and educator Gianna Russo, the city will collect haikus about the COVID-19 crisis.
The program is open to Tampa residents as well as those living outside the city. Those submitting their work are asked to reflect on "a distinct moment in time during the pandemic," Russo said.
For those not familiar with the haiku format, it is a short, three-lined poem with a specific syllable count – five syllables in the first line, seven syllables in the second line, and five syllables in the third line.
This style of poetry appeals to writers of all skill levels and experiences, Russo said. "It's so easy for people to do. You don't need to have any training to count syllables."
The haiku is an ideal format for reflecting on current events, she added. Haikus, one of the oldest poetic forms, often contemplate nature and the outdoors.
"I have seen this on social media, and also based on people I talk to, that one of the things that are bringing us some comfort right now is noticing what's happening in nature and nature imagery is an integral part of the haiku," she said.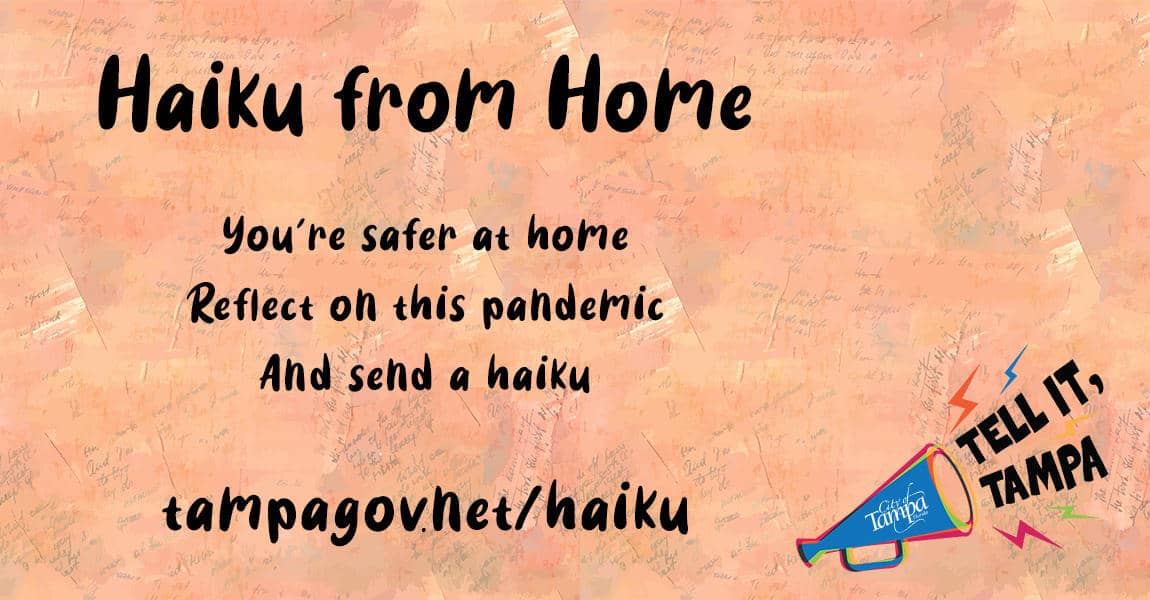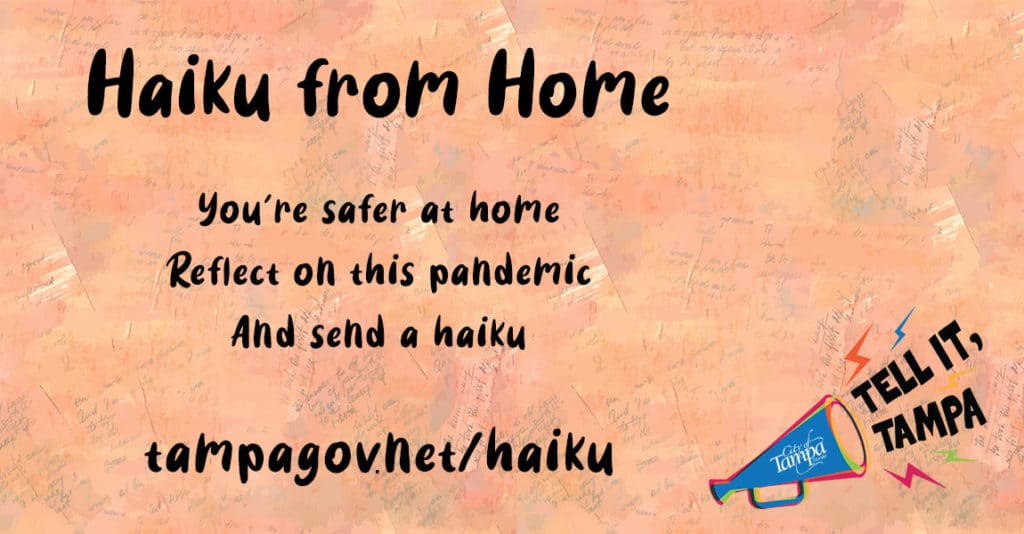 Also, as people are forced "to slow down a bit" due to stay-at-home orders and social distancing, Russo said. "A lot of us are noticing small moments that in our pre-coronavirus days we would have overlooked because we would have been very busy or maybe even distracted by the things we need to tend to in our professional and daily lives."
This is an opportunity to be "more attentive to these small discrete moments," she said, which is fitting for the haiku format.
Haikus from Home developed after Robin Nigh, the city's manager of arts and cultural affairs, reached out to Russo.
"We have such a creative community in Tampa," Nigh said. "We're trying to find ways to reach people. You can't reach out and hug and touch people. Words are all we have right now. This program underscores the power of language."
The program launched Monday and the city have already received around 300 haikus. Submissions will be accepted through May 22 at tampagov.net/haiku.
Russo will select her favorite poems, which will be shared on the city's social media pages and possibly read publicly by Mayor Jane Castor.
The haikus could also be used as part of future art projects, Nigh said. "We're not sure what that might be just yet, but this is a real moment in time and we want to hold on to these (poems.)"
Login To Facebook From Your Browser To Leave A Comment