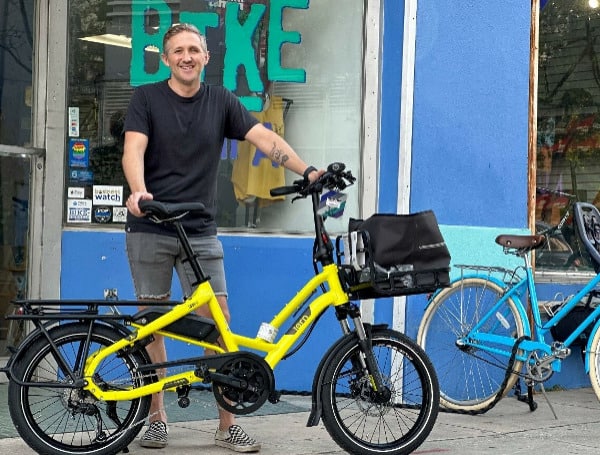 TAMPA, Fla. – The City of Tampa will launch a new e-Bike voucher program by the end of March, aimed at providing reliable, low-cost transportation options to residents, Mayor Jane Castor announced today. The program's goal is not just to reach people with financial constraints, but to offer a wider range of options for anyone looking for efficient and sustainable ways to get around the city.
The City of Tampa is currently accepting applications from local bike shops through March 9, but interested individuals can go to tampa.gov/ebike to learn all about the program, what they will need to do to qualify, sign up for updates for when the resident application opens, and inform themselves of existing Florida State Statutes related to bicycle operation.
The e-Bike voucher program is designed to reduce the number of vehicles on Tampa's roads, support sustainable transportation, and incentivize residents to adopt micro-mobility transit. 
In the news: Deputies Search For Missing, Runaway 16-Year-Old Last Seen In New Port Richey
This program also offers City of Tampa residents and businesses a unique way to celebrate Florida Bike Month by getting more e-bikes on Tampa's roadways. 
The program will provide qualified and approved applicants with an upfront discount toward purchasing a new e-Bike, supporting local businesses, and promoting economic growth.
E-bikes provide a greener and more convenient way of traveling. With the added assistance from the electric motor, riders can travel longer distances and explore new terrain. At the same time, the pedal assist option allows them to go the extra mile with less effort.  
"The e-bike is a great alternative to traditional cars. By reducing the number of cars on the road for shorter trips like errands or commutes, we are not only helping to keep our air cleaner, but we are also promoting a healthier community," Mayor Jane Castor said. "Each e-bike on the road means fewer people are relying on cars." 
With a program budget of $170,000, the city will offer e-Bike vouchers across four different voucher categories to eligible applicants, based on their household income and e-Bike preference. The vouchers range from $500 for a standard Class I e-Bike to $2,000 for an income-qualified e-Cargo Bike.
In the news: More Charges For Suspect Who Shot And Killed Florida News Reporter And 2 Others
The city is partnering with local brick-and-mortar bike shops that sell e-Bikes and provide basic on-site maintenance services. Each voucher recipient will receive a helmet at no cost. 
Kevin Craft is the owner of City Bike Tampa and has helped develop the voucher program and have applied to participate. He said e-Bikes are a becoming an in-demand item as people look for transportation alternatives. 
"Tampa's cycling community and infrastructure are growing in leaps and bounds and we are proud to be as big a part of that as we can," said Kevin Craft, the owner of City Bike Tampa. "The e-Bike voucher program will provide new and seasoned cyclists with better connections to jobs and opportunities. We are so excited to take part in this." 
The applicant selection process will be based on a "lottery" system, randomly selecting voucher recipients from each voucher type. The application window will be open for two weeks near the end of March. Applicants must live within the City of Tampa boundaries, be 18 or older, and pledge to replace vehicle trips with an e-Bike.   
E-bikes can be operated anywhere a bicycle can be operated, including bike lanes, streets, and other multi-use paths, and are no longer required to be registered with the state. Riders do not need to take out auto insurance or be licensed in any way, making it a hassle-free option for those looking for a sustainable mode of transportation. 
Android Users, Click Here To Download The Free Press App And Never Miss A Story. Follow Us On Facebook Here Or Twitter Here. Signup for our free newsletter by clicking here.
Login To Facebook From Your Browser To Leave A Comment