April 29th 2020
By: Deborah Childress
The City of Tampa's PIPES (Progressive Infrastructure Planning to Ensure Sustainability) program has been underway since November 1, 2019.  The water/wastewater master plan, initiated to renew old main lines, service lines, and other plumbing systems, comes with a hefty price tag of $3.18 billion.
The question is, will the City of Tampa's over 600,000 water customers notice better water quality out of this project, or will they just get squeaky clean, new pipes that won't burst and flood the streets?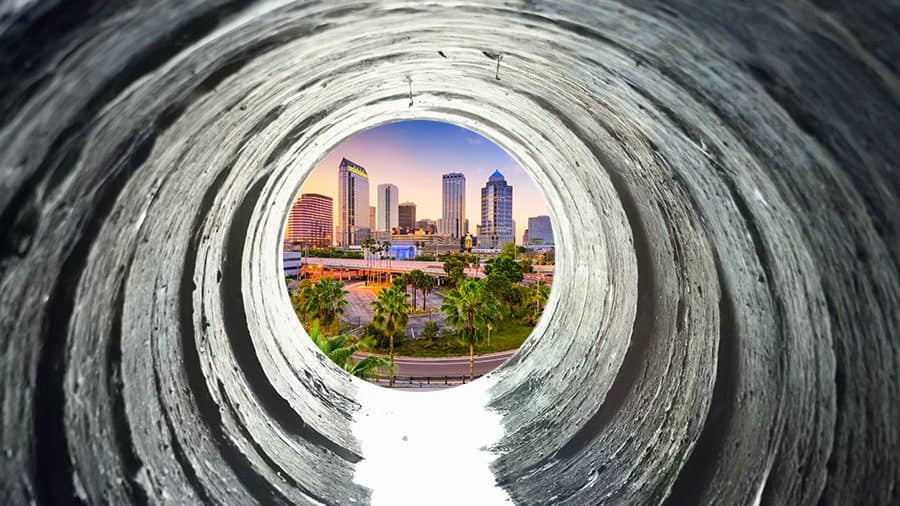 Chuck Weber, the City of Tampa's Water Director, said yes, water quality will improve.
Weber cited improvements to water filtration of bacteria and viruses, water discoloration, and nitrification problems.
"Our water treatment system is very good," he explained. We are not looking at changing it. But $450 Million in PIPES is set aside to renew original filters we still use – some that have been modified over time – and possibly add more filters. So we will have better filtration."
Weber added, "We are also going to conduct an ion-exchange pilot project to hopefully reduce high levels of organic carbons that create decay, which turns the water a brown color.  Water discoloration demands that we increase both ozone and chloramine treatments.  If the pilot project succeeds, we will use less disinfectant and save $1 Million every year."
The chloramine disinfectant used is known to produce carcinogenic by-products called trihalomethanes and haloacetic acids which remain in the water and are transported to homes and businesses.
 Weber said new pipes will also reduce "nitrification," which consists of nitrates and nitrites that devour important chlorine residue and cause bacterial growth.  The current de-nitrification process is complex, time-consuming, and expensive.  "The new pipes will make this treatment process more effective, as well as reduce nitrification activity itself."
When asked if the PIPES program will reduce arsenic, chromium 6, or radium present in the water, Weber stated he wasn't aware of any expected reductions.  The Environmental Working Group, headquartered in Washington, D.C., claims the city's levels of these contaminants are excessive.  The EWG is considered a liberal-leaning, non-profit organization with an activist twist, whose studies have been scrutinized for credibility.  When asked his opinion of the group, Weber said, "I don't know a lot about EWG's study methods, but I support the EPA's approach.  It is science-based risk reduction, which is sometimes a slow process, but it's thorough and balances the cost of treatment with the risk.
The EWG could not be reached for comment on the city's PIPES program or contaminants.
Login To Facebook From Your Browser To Leave A Comment