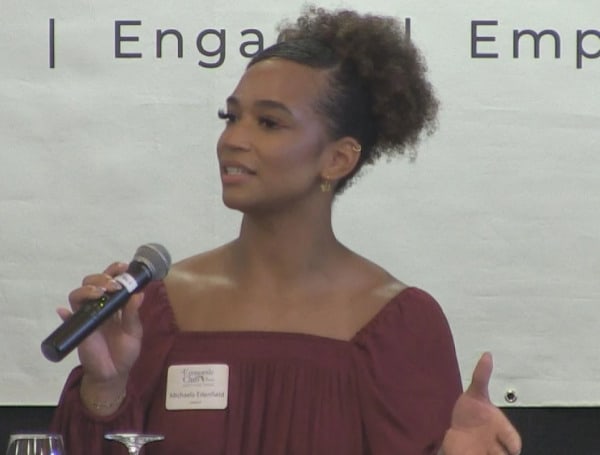 A Florida law that took effect in February allowed colleges and universities to help steer endorsement deals toward student-athletes and made coaches "more comfortable" navigating conversations about athlete pay — but a patchwork of laws across the country continues to lead to states trying to one-up each other.
Florida in 2021 was among the first states to pass what is known as a name, image and likeness, or NIL, law, which allows college athletes to profit from such things as endorsement deals. But Florida's law was seen by some as too restrictive compared to other states' laws.
As a result, the Legislature early this year passed a new law that included repealing a prohibition on colleges and universities causing "compensation to be directed" to athletes.
In the news: With Trade Deadline Looming, Rays Head To New York Following Series Win In Houston
The Economic Club of Florida on Thursday held an event to delve into the subject, bringing together a star player on Florida State University's softball team, an expert from the University of Florida on name, image and likeness policies and an attorney who deals with NIL issues.
Ben Chase, director of NIL strategy at the University of Florida, told The News Service of Florida after the event that the new law has helped address coaches' ability to discuss NIL-related issues with athletes and potential recruits. Chase also referred to guidance the NCAA published in October to clarify how schools can get involved in NIL deals for athletes.
"Florida was, in a sense, just catching up to the NCAA and opening the doors for our coaches to open the doors for our athletes to meet companies and businesses," Chase said. "Now, our coaches are more comfortable in the space."
In a description of the updated rules, the NCAA said "schools can inform student-athletes about potential NIL opportunities and can work with an NIL service provider to administer a 'marketplace' that matches student-athletes with those opportunities. They cannot, however, engage in negotiations on behalf of an NIL entity or a student-athlete to secure specific NIL opportunities."
The guidelines also allowed schools to support athletes directly by "providing stock photos or graphics to either a student-athlete or an NIL entity or arranging space on campus for an entity and student-athlete to meet."
While Florida this year relaxed its NIL law, rules vary among states. Congress has not passed a federal law that would preempt the states' varying approaches to athlete pay, said attorney Will Hall with the Dean Mead law firm.
In the news: Trump Uses State Rural Land Development Budget Veto To Attack Florida Gov. DeSantis
But Hall said potential federal legislation is in the works.
"You're seeing more and more states try to compete with each other, to give their schools a (leg) up. I think that's why you are starting to see the federal government talk more and more about getting involved in this, trying to level the playing field," Hall told the News Service.
Hall said the changes passed in Florida this year moved the ball forward on athlete pay, but he said the NIL issue continues to evolve.
"Florida has tried very hard to stay on the cutting edge, but the edge kind of keeps getting more cutting. You see that a state like Texas has basically made it illegal for the NCAA to enforce its laws. Missouri has basically said that only kids who sign with in-state schools, who are in high school, can sign NIL deals. So, there's a reason why you are seeing this race toward federal preemption of this issue, because states keep trying to one-up each other," Hall said.
Michaela Edenfield, who plays catcher for the national runner-up FSU softball team, described during a panel discussion Thursday how her social-media presence has grown after this year's softball College World Series and how that exposure — and the ability to make money from endorsements — has benefited her.
NIL opportunities can particularly help athletes playing sports such as softball, Edenfield said.
"It's very rare to ever see a full-ride (scholarship) with softball, just because of the amount of people that you have on the roster. You get roughly 12 full scholarships that cover 22 girls, roughly, depending on how many people you want on the roster," Edenfield told the News Service in an interview.
"NIL gives us the opportunity. I, personally, don't want to come out of college with debt. So, being able to make a little bit of money on the side will help my parents out and help whoever is helping me out," she added.
Chase said what's good for the athletes is good for their schools and communities.
"The well-being of our schools in these communities, Tallahassee, Gainesville, even Orlando, when the schools do well, the communities do well. Staying above and in front of the NIL race, if you will, impacts that," Chase said.
Android Users, Click To Download The Free Press App And Never Miss A Story. Follow Us On Facebook and Twitter. Signup for our free newsletter.
We can't do this without your help; visit our GiveSendGo page and donate any dollar amount; every penny helps
Login To Facebook To Comment