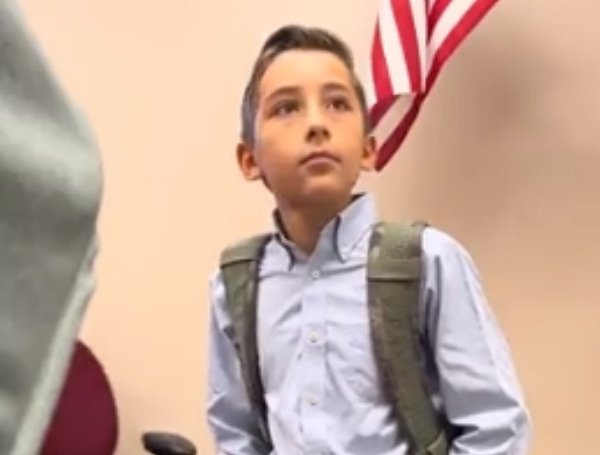 A school board in Colorado voted to override a decision to remove a student from class over a Gadsden flag patch on his backpack, according to a report by The Gazette.
Jaiden Rodriguez, a 12-year-old student at The Vanguard School in Colorado Springs, Colorado, was removed from class on Monday after bearing a patch on his backpack with the Gadsden flag — a historic flag dated back to 1775, during the American Revolution.
The school board called an emergency meeting on Tuesday and voted to allow Rodriguez back to class with the flag on his backpack, according to The Gazette.
Related: Colorado Governor Defends Boy Who Was Kicked Out Of Class For Revolutionary War Flag Patch
"The Vanguard School recognizes the historical significance of the Gadsden flag and its place in history. This incident is an occasion for us to affirm our deep commitment to a classical education in support of these American principles," wrote the board in an email to the community, according to The Gazette.
School authorities told the boy's mother that "the reason we do not want the flag … is due to its origins with slavery and slave trade," according to the video that captured the conversation, which was widely criticized on social media. In a follow-up email to his mother, the school's director wrote that the Gadsden flag had ties to "the Confederate flag and other white supremacy groups," according to a screenshot shared on Twitter by Connor Boyack, an education activist.
The Gadsden flag was designed by Christopher Gadsden in 1775, depicting a coiled rattlesnake rampant on a yellow field with the motto "DON'T TREAD ON ME." It borrowed from a popular depiction of the 13 American colonies by Benjamin Franklin, first produced in 1754.
In the news: Trump World Sees Haley Catching Up With DeSantis, Ramaswamy Post-Debate
"The Gadsden flag is a proud symbol of the American Revolution and an iconic warning to Britain or any government not to violate the liberties of Americans," Democratic Gov. Jared Polis of Colorado wrote on Twitter in response to the incident. "It's a great teaching moment for a history lesson!"
The Vanguard School is a charter school and claims that its staff "are virtuous [and] educated in the classical liberal tradition," according to its website.
The school did not immediately respond to a request for comment.
Android Users, Click To Download The Free Press App And Never Miss A Story. Follow Us On Facebook and Twitter. Signup for our free newsletter.
We can't do this without your help; visit our GiveSendGo page and donate any dollar amount; every penny helps
Login To Facebook To Comment