June 11, 2020
By: Staff Report and Press Release
Tallahassee, Fla. — Today, Agriculture Commissioner Nikki Fried held a press conference to announce the June 15 reopening of the Florida Department of Agriculture and Consumer Services' Tallahassee regional licensing office.
In addition to the reopening, the FDACS Division of Licensing online portal for concealed weapons license applications will return on June 15, as fingerprint services will be available at the Tallahassee regional office. Commissioner Fried was joined by Steve Hurm, Director of Licensing for FDACS.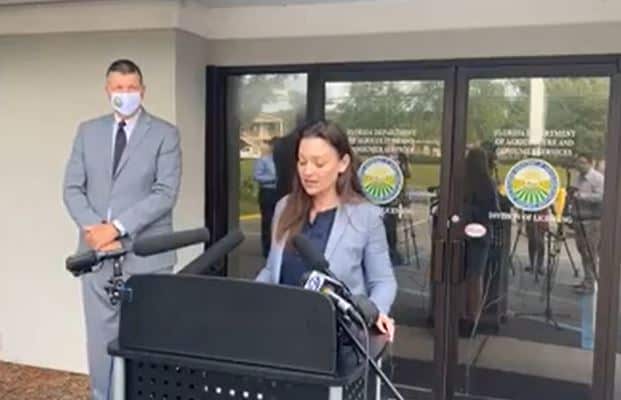 "COVID-19 has created many challenges, forcing businesses and the government to change how they operate. Since March, our 4,000 employees have continued to work hard every day at their jobs," said Commissioner Fried. "Even during this historic pandemic, we still have a responsibility to serve the people of Florida and provide services to taxpayers, and it's now time for the next step. I'm pleased to announce that with enhanced safety measures, we will reopen to the public our Tallahassee regional office on Monday, June 15, and reopen our online portal for concealed weapons license applications."
In March, FDACS closed nine regional offices due to public health concerns from COVID-19. Despite regional offices closing, the department has continued processing license applications throughout the pandemic. Since March 1, FDACS has processed 100,579 concealed weapons license applications and has issued or renewed 84,192 concealed weapons licenses, with an average initial review time of just 1-2 days, a 98 percent reduction from wait times under the previous administration.
"As we begin to reopen, safety is our first priority for staff and customers. In order to accommodate as many customers as possible, appointments are required for all business," said Steve Hurm. "We're excited to have the Tallahassee regional office be our first FDACS state office to reopen, and we hope to reopen additional offices on a rolling basis throughout the state."
Enhanced Safety Features: The Tallahassee regional office features new, enhanced safety precautions such as Plexiglas barriers at fingerprinting stations; licensing employees will wear masks, gloves, and face shields when taking fingerprints. Customers will be seen by appointment only and wearing of masks will be required. Customers may find more information and make appointments by visiting FDACS.gov/Consumer-Resources/Concealed-Weapon-License.
Reopening of Additional Offices: Commissioner Fried and FDACS will continue with a cautious, methodical approach for reopening additional regional offices, including consideration of county-level COVID-19 data. The department plans to announce additional office openings in the coming weeks.
Login To Facebook From Your Browser To Leave A Comment