Mary Margaret Olohan


A San Diego based company is selling crocheted prosthetic penises for "trans youngsters" to pin onto their underwear.
Stitchbug Studio sells "soft packers" sewn or crocheted by owners B Amborn and Ruth Rigney, according to the company's website, which describes the owners as "professional artists and crafters coming together to deliver top quality designs."
The site sells a number of different crocheted prosthetic penises in different sizes, colors, and weights, including a $6 "soft packer" for children, called the Bitty Bug.
"Bitty Bug® soft packer is a custom prosthetic packer in youth sizes, made from soft durable yarn and polyester filling," the product's description reads. "It is easy to wear pinned to underclothes or tucked in a packing pouch, and can be felt by the wearer without being visible externally (shown in a pair of undies to demonstrate)."
"Silicone prosthetics do not come in sizes appropriate for smaller bodies, and can create unsightly and age-inappropriate shape," the product description continues. "The Bitty Bug® is lightweight, comfortable, low maintenance, and can be tossed in the washing machine."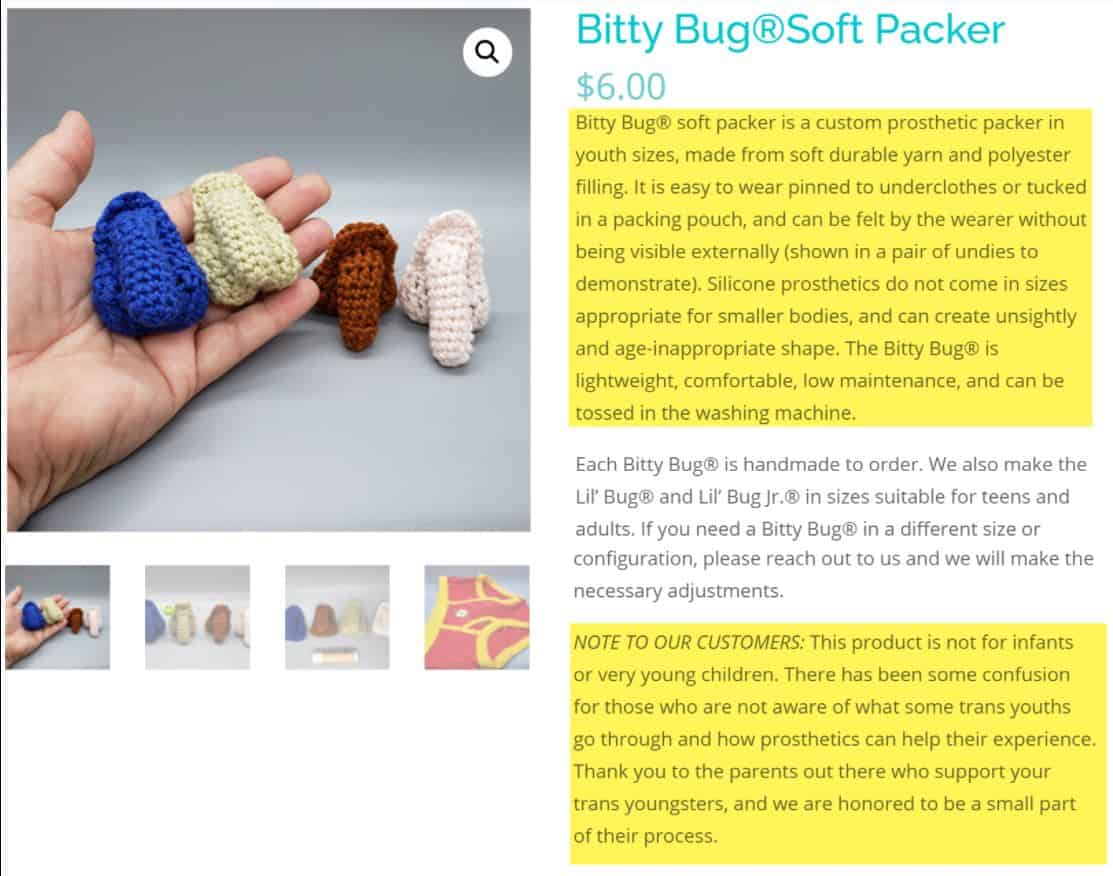 The Bitty Bug prosthetic penises come in colors pink, barley, hummus, brown, chestnut, black, white, blue, and purple. Stitchbug offers multiple different lengths for the prosthetic penises: 1 inch, 1.5 inches, 2 inches, and 2.5 inches.
Following criticism on social media, Stitchbug added a note to customers that the Bitty Bug is not for "infants or very young children," though the site differentiates between the Bitty Bug and sizes "suitable for teens and adults," called the Lil Bug, and Lil' Bug Jr.
"There has been some confusion for those who are not aware of what some trans youths go through and how prosthetics can help their experience," the note said. "Thank you to the parents out there who support your trans youngsters, and we are honored to be a small part of their process."
Stitchbug did not immediately respond to a request for comment from the Daily Caller News Foundation.
Conservative pundits criticized the prosthetic penises on social media Sunday and Monday.
"This is not love," journalist Megyn Kelly tweeted Sunday. "It's abuse. And it's infuriating."
Content created by The Daily Caller News Foundation is available without charge to any eligible news publisher that can provide a large audience. For licensing opportunities of our original content, please contact licensing@dailycallernewsfoundation.org.
Login To Facebook From Your Browser To Leave A Comment