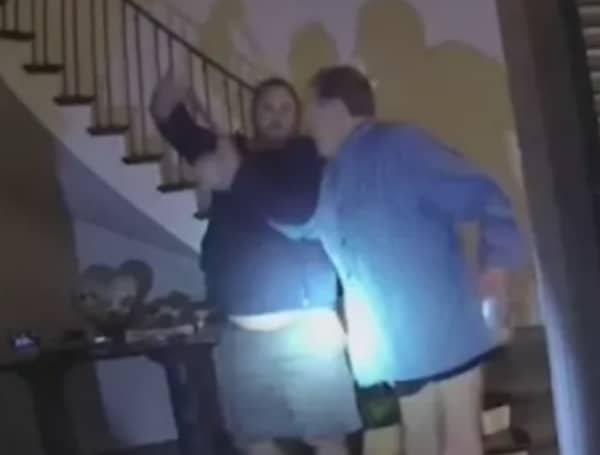 The release of San Francisco police body-cam footage of the hammer attack on Paul Pelosi, husband of former Democratic House Speaker Nancy Pelosi, almost raises more questions than it answers. 
And one of those questions is: Why was NBC reporter Miguel Almaguer punished for apparently reporting the truth?
To recap, Almaguer was the first reporter to offer fresh details of what happened when police arrived at the Pelosi home last October.
In the news: VIDEO: Paul Pelosi Hammer Attack Video Released
In his Nov. 4 report for "Today," Almaguer noted, "The front door was opened by Mr. Pelosi. The 82-year-old did not immediately declare an emergency or try to leave his home. But instead [he] began walking several feet back into the foyer towards the assailant and away from police."
Almaguer then reported that the assailant, David DePape, smiled and told cops, "Everything's good."
"But instantaneously, a struggle ensued," the reporter continued, adding that police "clearly" saw DePape "strike Paul Pelosi in the head with a hammer." Alamguer went on to note that cops immediately tackled DePape and arrested him.
The video supports every detail of that account, except perhaps Almaguer's comment that Pelosi stepped back. The video shows Pelosi and DePape jointly grasping the hammer and standing calmly in front of the cops.
---
---
Yet Almaguer was suspended for a month after NBC claimed his report "did not meet NBC News reporting standards." Apparently, that meant it was accurate.
As Fox News reported on Friday, "Almaguer's report contradicted the mainstream narrative and was quickly scrubbed from the internet by NBC News without an explanation aside from a brief line about it not meeting standards."
When he did resurface, Alamguer's first story last month was a weather report.
In the news: Jury Convicts Jan. 6 Rioter Who Posed At Nancy Pelosi's Desk For Photos
On the conservative website Twitchy.com on Friday, a prominent question followed the observation: "Where's NBC News' apology to Miguel Almaguer for suspending him over report on Paul Pelosi attack?"
"Another question that the video raises and doesn't even come remotely close to answering, and this one actually isn't about what happened to Paul Pelosi. No, this question is about what happened to NBC News reporter Miguel Almaguer, who was suspended by the network after detailing — accurately, as it turned out — the scene that greeted police when they first showed up at the Pelosis' home," Twitchy noted.
"Why did NBC News punish Miguel Almaguer?"
Twitchy then answered its own question.
"In light of the footage that we've seen today, it's entirely understandable why so many people out there were wondering if NBC News was trying to shield the Pelosis from potential embarrassment back when Almaguer got suspended. Maybe that's exactly what NBC News was doing."
Android Users, Click Here To Download The Free Press App And Never Miss A Story. Follow Us On Facebook Here Or Twitter Here.
Login To Facebook From Your Browser To Leave A Comment