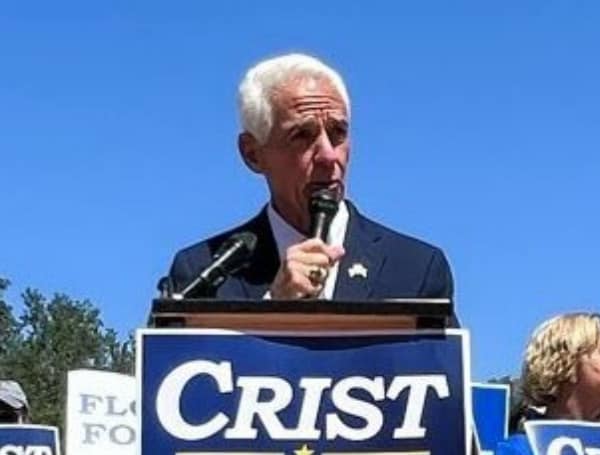 In 2012 Hollywood legend Clint Eastwood. mocked then-President Barack Obama by talking to an empty chair at the 2012 Republican convention in Tampa.
Ten years later, Democrat Charlie Crist is running as an empty suit.
Crist, the Democrats' gubernatorial nominee, seems to be banking on the left-wing media carrying water for him against incumbent Republican Gov. Ron DeSantis.
But as shown on Thursday, sometimes the media remembers to do its job.
And it didn't go well for Crist.
Reporters asked Crist about DeSantis' plan to ship illegal immigrants to Martha's Vineyard, an enclave for rich white liberals in Massachusetts. Martha's Vineyard is also a self-proclaimed sanctuary city, meaning its authorities will not cooperate with federal officials who seek to deport illegals.
In the news: Newsom Urges DOJ Investigation Of 'Shipped Migrants' As Tweets Remind Him Of What Started It All
DeSantis confirmed Wednesday that he shipped two planeloads, with a total of about 50 illegals, to the site.
Crist, apparently seeing an opportunity to virtue-signal, called a press conference to denounce DeSantis, whom Crist, despite being a self-asserted "uniter," has referred to as "DeSatan."
"It's amazing to me what he's willing to do for sheer political gain and to use people in this way," Crist told reporters. "When you are this inhumane in how you treat human beings, you're not qualified to be governor of anything."
Amazing how far to the left the man, who when he was a Republican state senator in the 1990s, was known as "Chain Gang Charlie" because he advocated that dangerous prisoners be shackled when in public.  
Then came the remarkable part: Liberal reporters actually asked Crist what he would do if he was governor.
Crist first showed how deceptive and oblivious he is.
One reporter asked Crist what he thought of Biden's open-border policies. "What I do have an opinion on," Crist said, sidestepping the question, "is what the governor is doing."
"If he had a problem with any kind of policy of the Biden administration, he can voice it," Crist added.
Apparently, Crist missed the time when the state of Florida sued the Biden administration for not enforcing immigration law.
"The Biden administration has not only consciously refused to enforce immigration laws, but it has also developed an operation to secretly resettle illegal aliens into communities across Florida and the rest of the United States," DeSantis said back in February.
Crist also apparently slept through the times when DeSantis said, only half-jokingly it seems, that he would send illegals to President Joe Biden's home state of Delaware or, as he is now, Martha's Vineyard, where former President Barack Obama owns a $12 million mansion.
But Crist was not done.
Another reporter asked Crist what the "appropriate measure" is in response to hundreds of thousands of illegal streaming across the border.
"Well do it in a humane fashion," Crist replied. "I mean, this is inhumane. This is inappropriate. This is wrong. This isn't right versus left. This is right versus wrong. And if the governor isn't smarter than this, we have a real problem in the governor's mansion, and it's Ron DeSantis. … He's awful. Absolutely awful."
The same reporter tried again. Yet Crist still didn't explain what he would do if he was in the governor's mansion. Instead he just again criticized DeSantis and then quoted the Bible, specifically about Jesus telling followers to help the less fortunate.
Somehow, in the minds of Democrats like Crist, sending poor people allegedly looking for a better life in America to one of its wealthiest communities to find opportunity, amid people who promised to welcome them with open arms, does not qualify as treating them well.   
In the news: Florida AG Moody Again Calls For Fentanyl To Be Declared A WMD, With 17 fellow AGs Behind Her
Crist also at one point ridiculously argued that "this is the kind of stuff [Fidel] Castro would do." Of course, because Castro was well known for opening the door to let disgruntled Cubans flee to America – although Castro did that once when Jimmy Carter was president, and did so by opening his jails and insane asylums to ship people to Florida.
Still, one more reporter took a crack at making Crist explain what he would do, twice asking for "specific solutions" that are different from DeSantis' plan.
"I would have kept them in Florida and treated them humanely and given them comfort and make sure that we're fed and nourished and treated like human beings. I would do the opposite of what he's done," Crist replied.
Naturally, he didn't say where they would go, who would pay for their aid and shelter, or why he would reward people who broke the law.
Visit Tampafp.com for Politics, Sports, and National Headlines. Support journalism by clicking here to our GiveSendGo or sign up for our free newsletter by clicking here.
Android Users, Click Here To Download The Free Press App And Never Miss A Story. Follow Us On Facebook Here Or Twitter Here.
Copyright 2022 The Free Press, LLC, tampafp.com. All rights reserved. This material may not be published, broadcast, rewritten, or redistributed.
Login To Facebook From Your Browser To Leave A Comment