Opinion By L. A. "Tony" Kovach
"Forget what they told you. If you want the truth, follow the money," said author Roxanne Bland. On the one hand, the American Dream is alive, with numbers making their case in favor of that belief. On the other hand, millions believe the American Dream is under attack and that access to that idealistic dream is limited and uneven at best. Ironically, politicians from the left and right – including Democrats, Republicans, Independents, and others – have said four simple words describing the current scenario in the USA. That four-word description? "The system is rigged." Senators like Elizabeth Warren (MA-D), Bernie Sanders (VT-I-but self-proclaimed Democratic Socialist who has run for president as a Democrat), or deposed President Donald J. Trump have said those precise four words, "the system is rigged." But how is it rigged? What can be done about it? This report, analysis, and commentary aims at conveying simple concepts that can be used like a key to unlock the door to the truth behind often confusing, misleading headlines. The reason headlines from the left, center, or right can be bewildering has been described by the Capital Research Center (CRC) as "Deception and Misdirection."
Let's unpack every item mentioned in the headline in a systematic fashion. Later this week, we'll examine these concepts in real world situations that are in the headlines impacting you and your loved ones.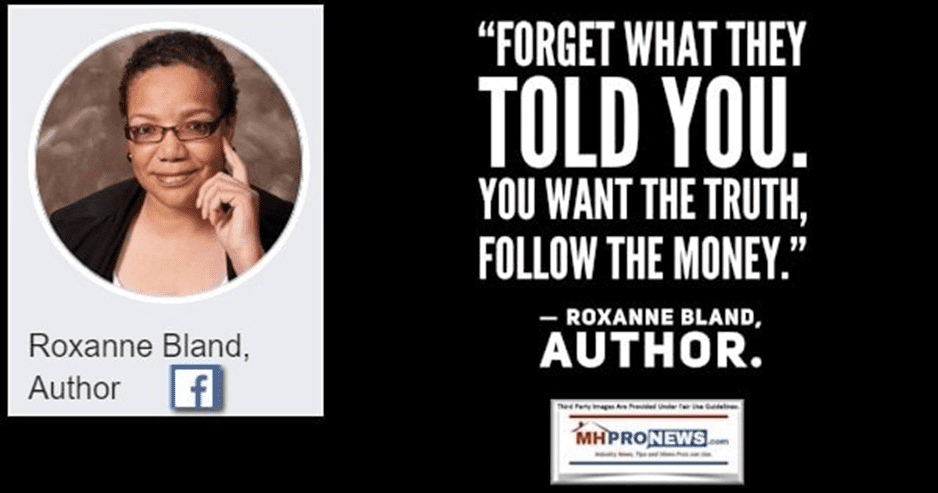 John Solomon from Just the News for years was an investigative reporter with the Washington, D.C. based The Hill news publication. Solomon said there are two things he learned from the late Senator William Proxmire (WI-D) that helped him in investigations. Those two insights Solomon credits Senator Proxmire sharing: "There are no coincidences in Washington [D.C.]" and "follow the money" which the lawmaker said are the keys to understanding American politics.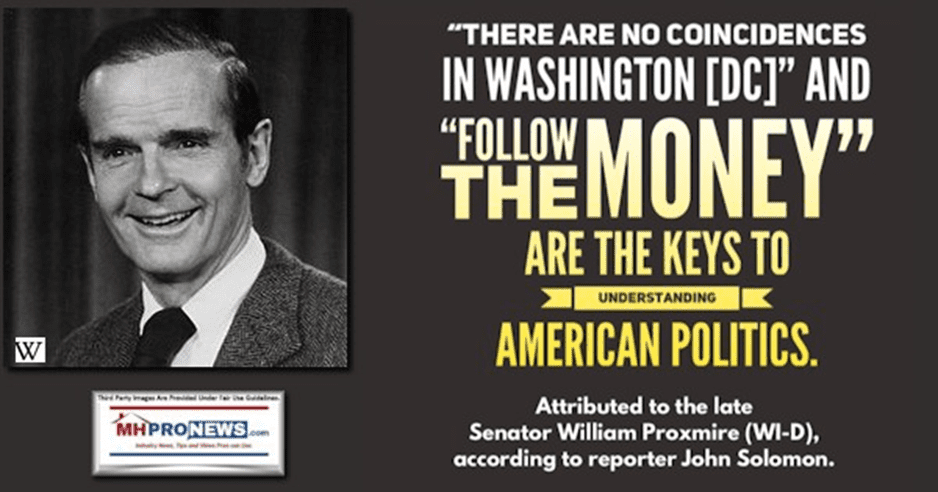 Another centuries old tool for investigators is summed up in two Latin words: "Cui Bono?"
Cui bono means "who benefits?" from a given situation. Rephrased, who benefited from a situation being investigated to help determine the guilty person or group? "Cui bono" is a search for the possible motive behind a crime or troubling circumstance.
So, when peeling back the truth behind the "tapestry of lies" or "deception and misdirection" that often emerges from some news sources, politicians, business leaders, do this. Imagine you are an honest detective or reporter. Then, objectively ask yourself:
cui bono? Who benefits from this picture?
Then, while what someone says may sound good, it may also be paltering or deceptive.
So, to further peel back the motivations, follow the money trail.
If patterns emerge, on disconnects between statements, behaviors, or actions, there may be good reasons to believe, said Proxmire, that an emerging pattern(s) may not be coincidental.
Armed with such useful notions, let's look at the war occurring in the U.S.A. involving the American Dream of a business, trade, or career that earns someone enough money to have your own home and niceties that go along with someone's "home is his castle" ideal.
"The War" Billionaire Warren Buffett Proclaimed
Left-leaning Wikipedia says that in 2008, billionaire and Berkshire Hathaway Chairman Warren Buffett became the world's richest man. Citing Forbes, the stats.areppim.com said that in 2006, William "Bill" Gates III – a close Buffett friend and ally – was the world's wealthiest man, with Buffett himself at #2.
Due to his success, Buffett has long been followed by investors. He is still in the top ten list shown below, per Visual Capitalist (VC) that cites Forbes, Bloomberg, and other sources. In an analysis of the following infographic on MHProNews, that source noted that Russia's leader Vladimir Putin and Iran's supreme leader, Ayatollah Ali Khamenei were credited with some $200 billion in net worth each. So, the list that follows is useful, but is ever shifting and should not be considered perfect. That VC infographic shows Buffett as currently #5 in the world, with Bill Gates at #4.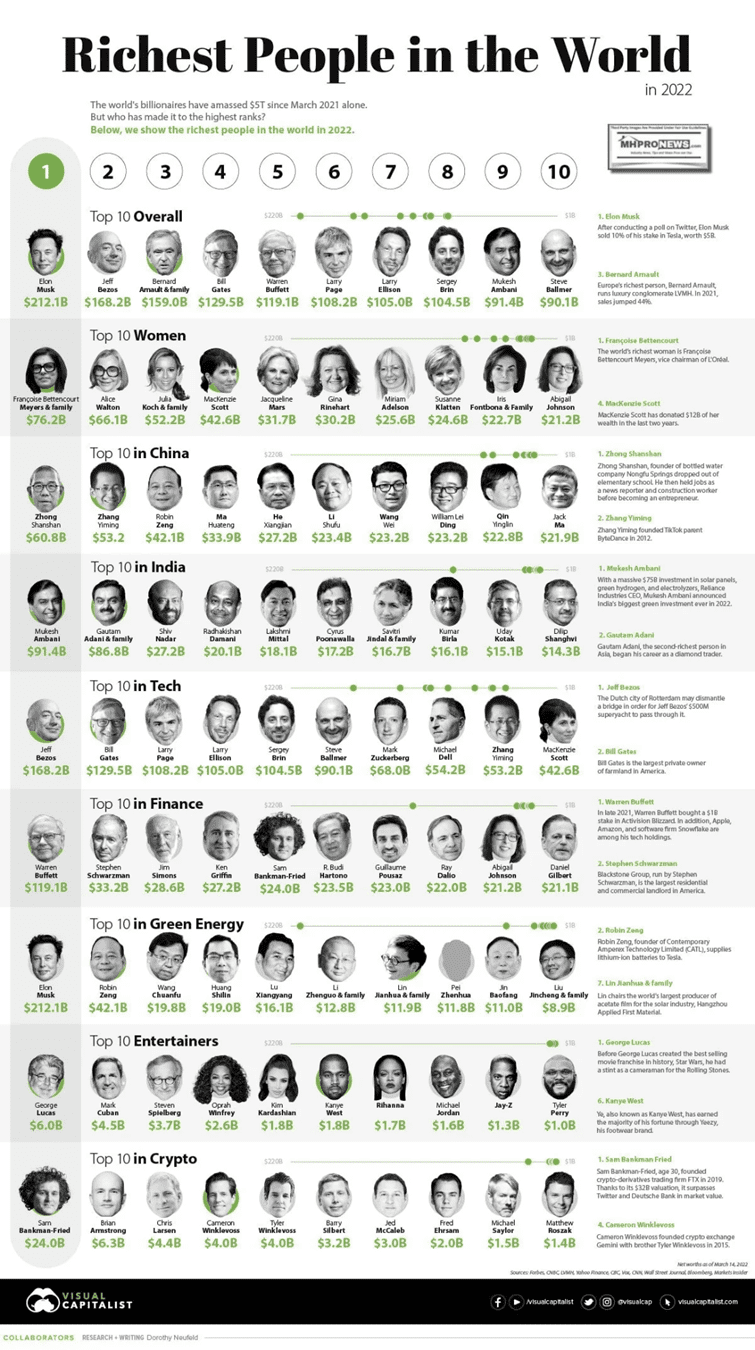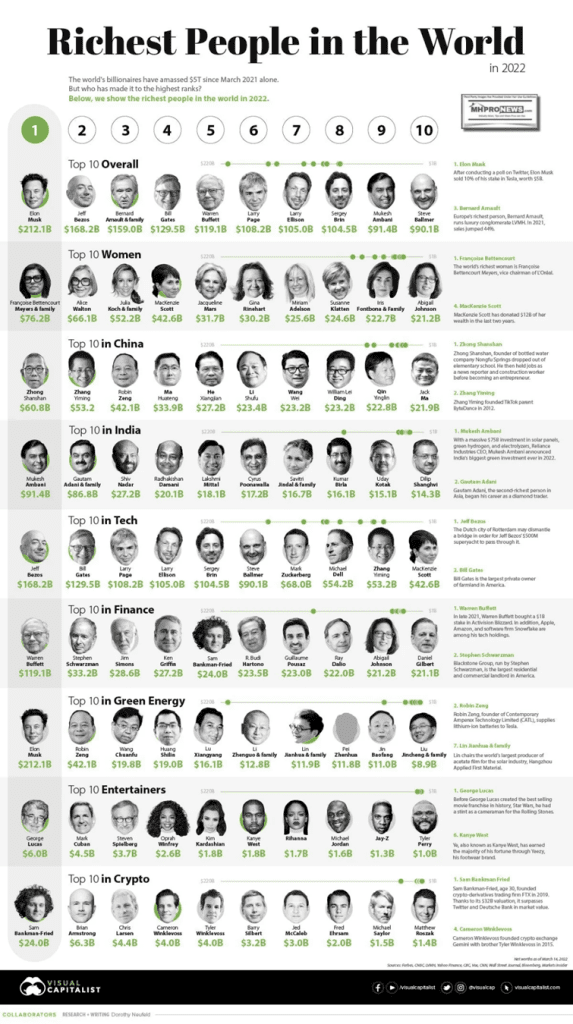 In 2006, Buffett told the New York Times that there is class warfare and that his class, the wealthy class, was winning.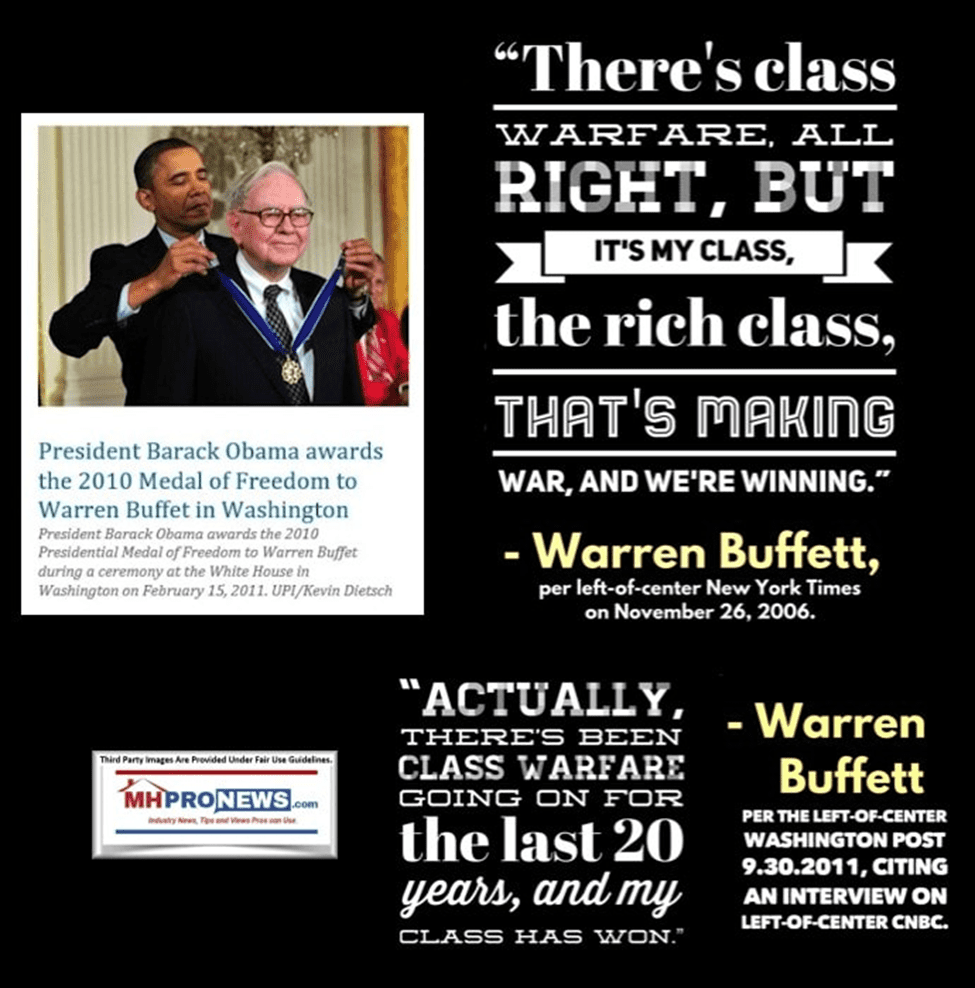 The case can be made that Buffett wasn't joking about "class warfare." Knowing his words are carefully followed by investors, politicos, regulators, media, and others, Buffett doubled down and went further on his class warfare statement in 2011. According to the Washington Post. "Actually, there's been class warfare going on for the last 20 years, and my class has won," Buffett said. Note: as a quick segue, to help with media bias, the following infographic from award-winning investigative reporter Sharyl Attkisson is useful. Note that the case can be made that some, like Fox News, have drifted more toward the left since her infographic was first published.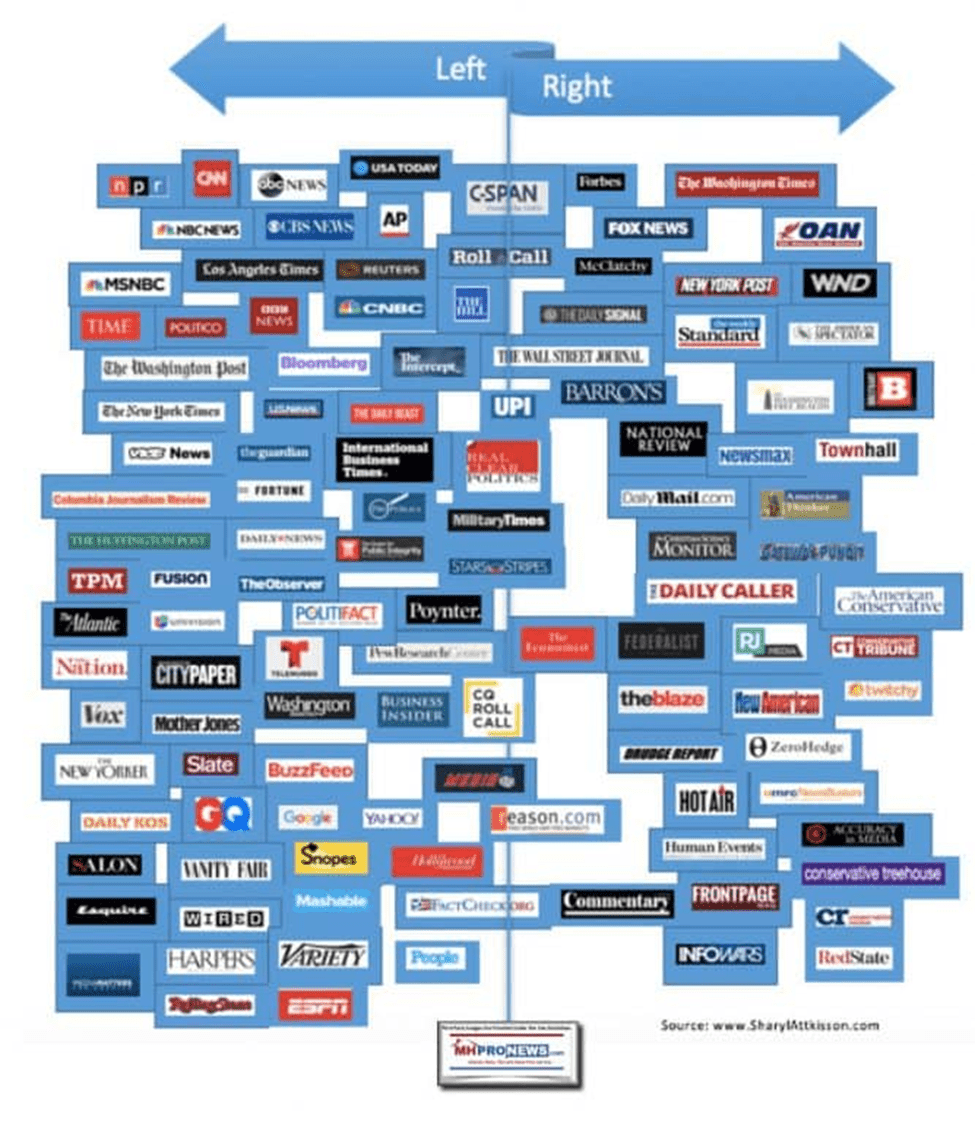 Back to Buffett and his bold assertion that the rich have been at war with the bulk of American society, in a "class warfare" struggle. While Buffett has contributed to the political campaigns of some Republicans, it should be noted that a look at Federal Election Commission (FEC) data reported by Open Secrets indicates that for years, Buffett has supported Democratic or "progressive" candidates. An objective investigator and truth-seeker should ask. Why is Buffett supporting those that claim they want higher taxes on the wealthy, like himself?
Hold that thought, because it is part of what Capital Research Center (CRC) reveals as "deception and misdirection." Buffett sometimes says one thing, but he may deceptively mean something else. But there are times that Buffett – and arguably others left-leaning billionaires like Bill Gates, George Soros, Mark Zuckerberg, etc. – mean precisely what they have said.
During the Obama-Biden Administration years, left-leaning Politico published an op-ed by another (lesser) billionaire, Nick Hanauer. Hanauer warned that if something wasn't done about wealth inequality in America, that either a police state would rise, or there would be an uprising.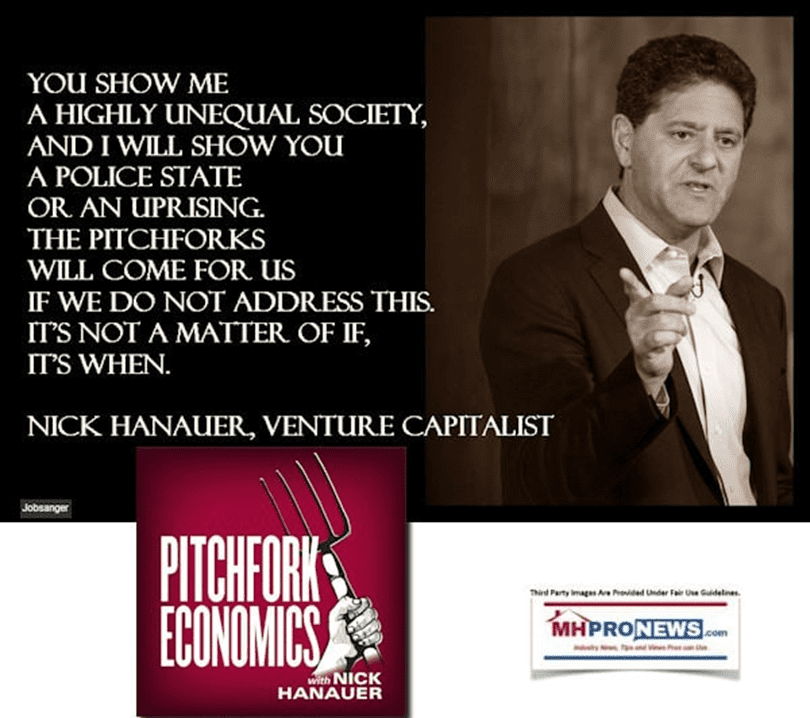 Hanauer's column was entitled, "The Pitchforks Are Coming… For Us Plutocrats." It said lots of nice-sounding things about a higher minimum wage as a way of avoiding "pitchforks" – an uprising – by the working classes against the ultra-wealthy.
To Hanauer's point, one should recall that American history has witnessed such battles of the working classes vs. the wealthy before. One example is during the so-called Gilded Age and the era of the "Robber Barons." At times, large numbers of police or even military units were needed to quell the unrest. So, Hanauer wasn't just using hyperbole or exaggeration to make a point.
None of these three short videos are ideal. But they each shed useful light on the Gilded Age, the Robber Baron era, and how Americans organized to fight back against this pattern in prior eras. They also illustrate Hanauer's point about 'pitchforks' coming for billionaire oligarchs and plutocrats if they aren't careful.
So, one takeaway from these factoids is this. Buffett and his fellow "oligarchs and plutocrats" are quite aware of this history. Buffett has said he has long been interested in studying history. Indeed, the case could be made that before Buffett invests in or buys a firm, what he is doing is studying the 'history' or performance and financial data about a given operation and its management. Now, put yourself in Buffett's or Gates' shoes. If you became wealthy beyond your wildest imagination, how would you protect your wealth from the possible 'pitchfork' type uprising that Hanauer and history inform us about?
The answer is simple yet sobering. It is to employ deception and misdirection. It may require posturing without doing.
Visit Tampafp.com for Politics, Tampa Area Local News, Sports, and National Headlines. Support journalism by clicking here to our GiveSendGo or sign up for our free newsletter by clicking here.
Android Users, Click Here To Download The Free Press App And Never Miss A Story. Follow Us On Facebook Here Or Twitter Here.
Login To Facebook From Your Browser To Leave A Comment