July 12, 2020
By: Staff Report
BRADENTON, Fla. – Governor DeSantis held a press conference Saturday from Blake Medical Center in Bradenton with a COVID-19 update.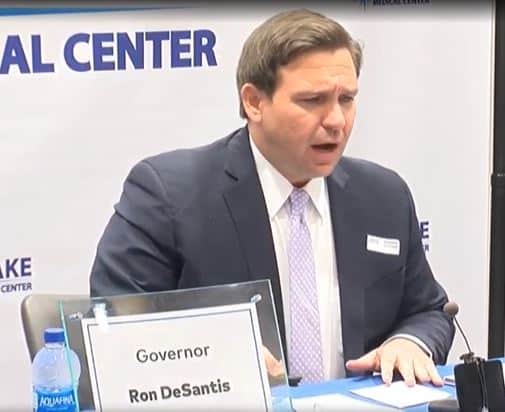 DeSantis defended the shut down of bars with the growing number of cases in the state, "When we were getting reports of them just having packed party-type situations — that was not part of the guidelines. It was like whack-a-mole where you have all that."
Discussing the reopening of schools, DeSantis says despite the increase in the spread of the virus it doesn't impact children the way it has impacted adults.
"The risk of corona, fortunately, for students is incredibly low. The CDC will show the statistics, under 18 much more likely to be hospitalized for seasonal influenza," DeSantis said.
On Saturday, DeSantis said that Florida may be flattening the curve, although the state has seen record numbers in the last week and reporting a new record with 15,299 COVID-19 cases in the last 24 hours.
AdevntHealth told CBS News, "We're much better prepared in July than we were in March," said AdventHealth CEO Terry Shaw, who was interviewed before the release of the new figures. "Our length of stay in our ICU for COVID patients has dropped in half. The number of people coming into our hospital with COVID that need a ventilator, we've also been able to cut that in half, and because of those things, our death rate has also been cut in half over that time period."
DeSantis also touched on the fact that the drug Remdesivir will be making it's was to Florida hospitals."Today, hospitals throughout Florida will be getting additional shipments of the therapeutic Remdesivir," said DeSantis.
According to Governor DeSantis, the COVID-19 problem areas are within the nursing homes and longterm care facilities.
"In Manatee county, as of today or as of this morning 138 COVID-related deaths, 91 of them have been related to long-term care facilities. So that's 66%. In Sarasota County… they've had 100 'Corona-related fatalities, 65 of them are residents of long-term care facilities", explains DeSantis.
"Yes you had more cases but that was kind of what you'd expect, you know, if you test 200,000 people at a 3% rate, you're gonna get more cases then if you test 100,000 people."
"We may be seeing some decline in this part of the Tampa Bay area, some of the other areas particularly north, in places like Pasco, you know, you may be seeing more positivity but this is something that we're looking at very seriously," Desantis said.
Publishers Note: While The Free Press will always be free for our readers, and ad-supported, we are asking our loyal readers to consider a monthly donation of $3 to maintain our local journalism and help us grow, as we ramp up ad sales locally.
You can click here to support us.
We thank you all for your consideration and supporting local journalism.
Login To Facebook From Your Browser To Leave A Comment