May 4, 2020
By: Martin Fennelly
This doesn't have a lot to do with Tampa Bay sports, but everything to do with the heart and soul of these games we miss.
It's this wonderful story about Don Shula, the winningest coach in NFL history, who died Monday at the age of 90. But not from COVID 19. We have to note that, because there is a lot of dying going on these days, too much, too much sadness, too much grief. We will find a way out of this. But it's nice to smile as we say goodbye.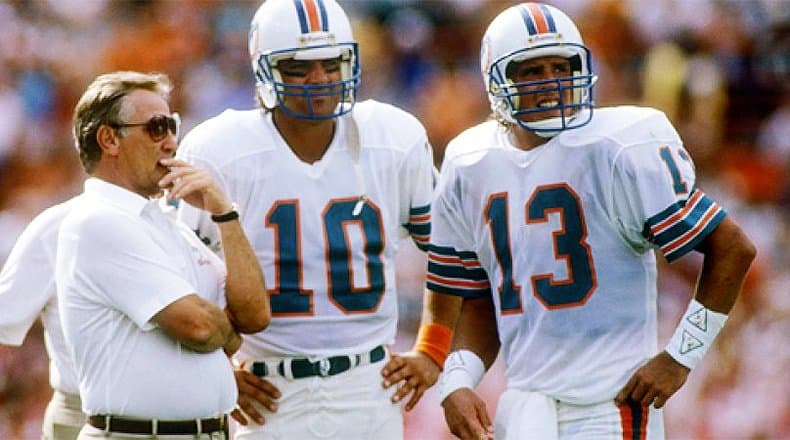 So it is with this Don Shula story. It's still a wonderful story, apocryphal or not. I want it to be true, in the name of that great iron jaw and the laser focus behind it, which generated 347 NFL wins, more than "Papa Bear" George Halas, more than anyone else, including even Bill Belichick, today's resident football genius, as if there is only one.
You know, there really was football decades ago, and football geniuses, before Belichick, before Tom Brady even. Brady wasn't even alive 48 years ago, for Shula's finest hour. God, was anyone?
Anyway, Shula is at Dolphins practice one day in the mid-'80s, completely zeroed in on the task at hand. Nothing new there. A Dolphins aide comes up with someone who wants to meet the head coach. It was actor Don Johnson, who at the time was shooting on South Beach for the hit police show Miami Vice. Everyone in America knew who Johnson was.
So he shakes hands with Shula, whose mind was on Marino or Duper and or Clayton. Shula only hears Miami Vice, law enforcement, so he turns and thanks Johnson for all his good work keeping everyone safe. Johnson smiled.
"You should come out when we're shooting," Johnson said.
Shula smiled, then went back to his job.
Pretty soon, he pulled an assistant aside.
"Who the hell are they going to shoot?"
Shula won his last NFL game a quarter ago. He might seem a period piece from a time long ago. Kids today know the name, then dive back into their busy fantasy teams.
Shula had a fantasy team once. It won all 14 games during the 1972 season, as the city of Miami became zinc-oxide center of the football world. Then the Dolphins won three more games in the playoffs, including the Super Bowl.
The perfect season, then, now, forever.
Here was a man about the game. His head coaching career began in Baltimore in 1963. He was 33. He lost Super Bowl III to Joe Namath and the Jets, the upset that transformed the NFL and football in general.
Shula kept going, no shooting script. He just won.
He won two Super Bowls and made four others. He won with Unitas in Baltimore. He won with running games, backs like Larry Csonka and Mercury Morris following beefy offensive lines. He won with defense, no names or not, He won with quarterback Bob Griese and he won in 1972, perfectly won, after Griese went down with an injury. Later, he went to the air, and then some, behind the right arm of Marino and receivers everywhere. Shula won and won.
It was noted that in all the NFL seasons that followed, when the last undefeated team fell, Shula and his 1972 crew would celebrate, sometimes with champagne corks popping, including when Belichick and Brady's perfect 2007 season, 18-0, crashed at the Super Bowl in Arizona. If it seemed slightly brash, well, Shula and his players didn't seem to care. 1972 belonged to them.
Pride. That was Don Shula. He had a loving family, which produced football sons, coaches. One of them, Mike, coached with the Bucs. Don Shulan had good business sense that went far beyond the football field. You could watch him do commercials for weight loss systems or bite into a thick steak at one of the restaurants that bore his name. Shula had a mighty heart, which he involved in charitable causes or most anyone who ever played for him. He was proud of them.
Back when pride still mattered, you know, before it didn't, Don Shula won more than anyone else. There was no secret to it.
"Who the hell are they going to shoot?"
Here's to The Jaw.
Login To Facebook From Your Browser To Leave A Comment