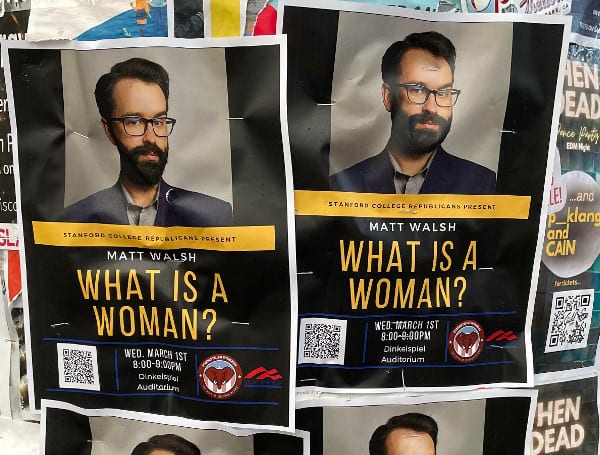 Eventbrite shut down an event page for Young America's Foundation's (YAF) upcoming Matt Walsh speech at Stanford University because the event violated its terms & conditions, a record obtained by the Daily Caller News Foundation revealed.
The Stanford University College Republicans will partner with YAF to host Walsh on campus Wednesday night to discuss his documentary "What is a Woman?" which breaks down gender ideology and transgenderism, according to the chapter's Instagram.
The event was promoted on Eventbrite, an online ticketing platform, however the page was deleted because the event "expresses views that are in violation of our Community Guidelines and Terms of Services," a screenshot of a message sent from Eventbrite to YAF explained.
In the news: Rep. Scott Perry Demands Answers From Witness On COVID Origins, Wuhan Lab Leak Theory
"We do not permit events, content, or creators that promote or encourage hate, violence, or harassment towards others and/or oneself," the message read.
The event had more than 600 people registered before it's listing was deleted, Michael McGonigle, YAF director of public relations, told the DCNF.
Tickets, which are free of charge, are now being offered through a university server.
"Evenbrite did not provide us with a specific reason for pulling the plug on the event, other than a generic 'violation of terms of service.' But the event will still proceed as planned," McGonigle told the DCNF.
"This is yet another example of the left doing everything in its power to suppress the truth about transgender ideology," the chapter wrote on Instagram Tuesday. "This is proof that this event truly challenges the left in a manner they find so threatening they cannot accept it. When you receive this level of resistance, you know you are over the target."
In the news: Florida Man Wins $1 Million On Lottery Scratch-Off Ticket After Stop At Lee's Discount Beverage
The Stanford campus has responded strongly to Walsh's expected appearance, YAF reported. The chapter posted screenshots on Feb. 17 of several flyers advertising the event being lit on fire.
Eventbrite removed a listing posted by the Western Kentucky University Turning Point USA chapter advertising its "What is a Woman?" watch party in September 2022 because the event violated its Community Guidelines and Terms & Conditions, TPUSA Field Representative Maggie Fuchs shared on Twitter.
Walsh wrote on Twitter that Eventbrite has been "banning screening events for my film for the past several months."
Android Users, Click Here To Download The Free Press App And Never Miss A Story. Follow Us On Facebook Here Or Twitter Here. Signup for our free newsletter by clicking here.
Login To Facebook From Your Browser To Leave A Comment