Existing-home sales continued to trend upward in October, marking five consecutive months of month-over-month gains, according to the National Association of Realtors. All four major regions reported both month-over-month and year-over-year growth, with the Midwest experiencing the greatest monthly increases.
Total existing-home sales completed transactions that include single-family homes, townhomes, condominiums, and co-ops, increased 4.3% from September to a seasonally-adjusted annual rate of 6.85 million in October. Overall, sales rose year-over-year, up 26.6% from a year ago (5.41 million in October 2019).
"Considering that we remain in a period of stubbornly high unemployment relative to pre-pandemic levels, the housing sector has performed remarkably well this year," said Lawrence Yun, NAR's chief economist.
While coronavirus-induced shutdowns hindered virtually all markets, Yun says the housing industry has mounted an impressive rebound.
"The surge in sales in recent months has now offset the spring market losses," he said. "With news that a COVID-19 vaccine will soon be available, and with mortgage rates projected to hover around 3% in 2021, I expect the market's growth to continue into 2021." Yun forecasts existing-home sales to rise by 10% to 6 million in 2021.
The median existing-home price for all housing types in October was $313,000, up 15.5% from October 2019 ($271,100), as prices increased in every region. October's national price increase marks 104 straight months of year-over-year gains.
Total housing inventory at the end of October totaled 1.42 million units, down 2.7% from September and down 19.8% from one year ago (1.77 million). Unsold inventory sits at an all-time low 2.5-month supply at the current sales pace, down from 2.7 months in September and down from the 3.9-month figure recorded in October 2019.
"Homebuilders' confidence has soared even though the actual production has not," Yun said. "All measures, such as reduction to lumber tariffs and expansion of vocational training, need to be considered to significantly boost supply and construct new housing."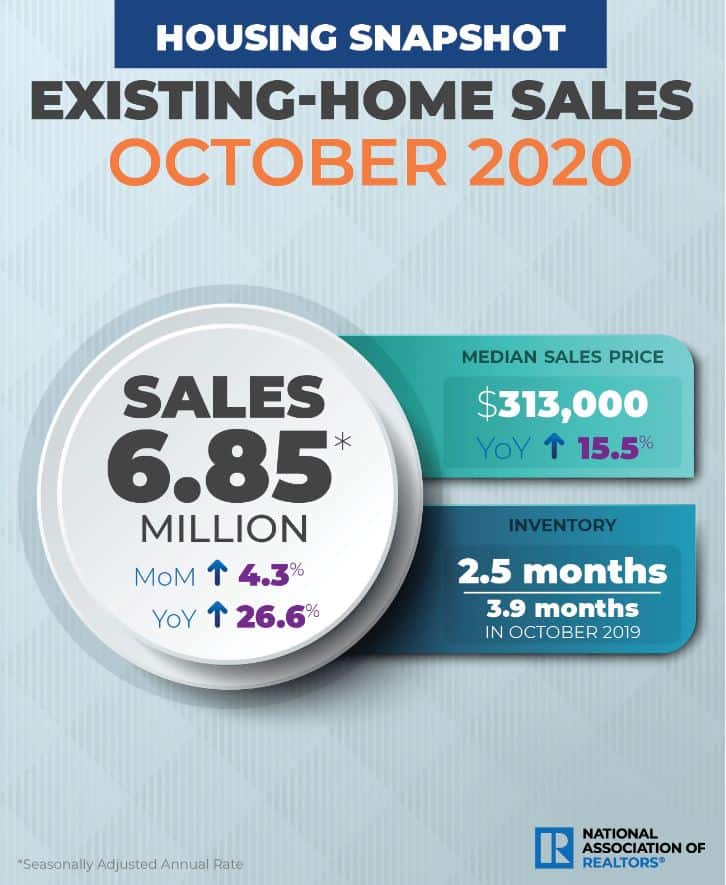 Yun's call for an increase in newly built homes comes on the heels of NAR's quarterly Metropolitan Median Area Prices and Affordability report, which found that single-family existing-home prices rose in all of the 181 metropolitan areas NAR tracks. Sixty-five percent of those metros show double-digit price increases. Yun says replenishing the short supply of homes would help decelerate rising costs and improve market affordability. 
Properties typically remained on the market for 21 days in October, seasonally even with September and down from 36 days in October 2019. Seventy-two percent of homes sold in October 2020 were on the market for less than a month.
First-time buyers were responsible for 32% of sales in October, up from the 31% in both September 2020 and October 2019. NAR's 2020 Profile of Home Buyers and Sellers – released last week – revealed that the annual share of first-time buyers was 31%.
Individual investors or second-home buyers, who account for many cash sales, purchased 14% of homes in October, a small increase from the 12% figure recorded in September 2020 and equal to October 2019. All-cash sales accounted for 19% of transactions in October, up from 18% in September but unchanged from October 2019.
Distressed sales – foreclosures and short sales – represented less than 1% of sales in October, equal to September's percentage but down from 2% in October 2019.
"Faced with many uncertainties in 2020, the real estate industry has been able to meet surprisingly strong homebuying demand and help lead our country's economic recovery," said NAR President Charlie Oppler, a Realtor® from Franklin Lakes, N.J., and broker/owner of Prominent Properties Sotheby's International Realty. "As we continue to help consumers secure housing and property, we will also remain vigilant in working to expand housing options, equality and affordability for all who are entering the marketplace."
According to Freddie Mac, the average commitment rate for a 30-year, conventional, fixed-rate mortgage decreased to 2.83% in October, down from 2.89% in September. The average commitment rate across all of 2019 was 3.94%.
Single-family and Condo/Co-op Sales
Single-family home sales sat at a seasonally-adjusted annual rate of 6.12 million in October, up 4.1% from 5.88 million in September, and up 26.7% from one year ago. The median existing single-family home price was $317,700 in October, up 16.0% from October 2019.
Existing condominium and co-op sales were recorded at a seasonally-adjusted annual rate of 730,000 units in October, up 5.8% from September and up 25.9% from one year ago. The median existing condo price was $273,600 in October, an increase of 10.3% from a year ago.
Regional Breakdown
Median home prices increased at double-digit rates in each of the four major regions from one year ago.
September 2020 saw existing-home sales in the Northeast climb 4.7%, recording an annual rate of 900,000, a 30.4% increase from a year ago. The median price in the Northeast was $356,500, up 20.2% from October 2019.
Existing-home sales jumped 8.6% in the Midwest to an annual rate of 1,640,000 in October, up 28.1% from a year ago. The median price in the Midwest was $243,500, a 16.7% increase from October 2019.
Existing-home sales in the South increased 3.2% to an annual rate of 2.91 million in October, up 26.5% from the same time one year ago. The median price in the South was $272,500, a 15.7% increase from a year ago.
Existing-home sales in the West inched up 1.4% to an annual rate of 1,400,000 in October, an 22.8% increase from a year ago. The median price in the West was $467,800, up 15.1% from October 2019.
Publishers Note: While The Free Press will always be free for our readers, and ad-supported, we are asking our loyal readers to consider a monthly donation of $3 to maintain our local journalism and help us grow, as we ramp up ad sales locally.
We thank you all for your consideration and for supporting local journalism.
Login To Facebook From Your Browser To Leave A Comment