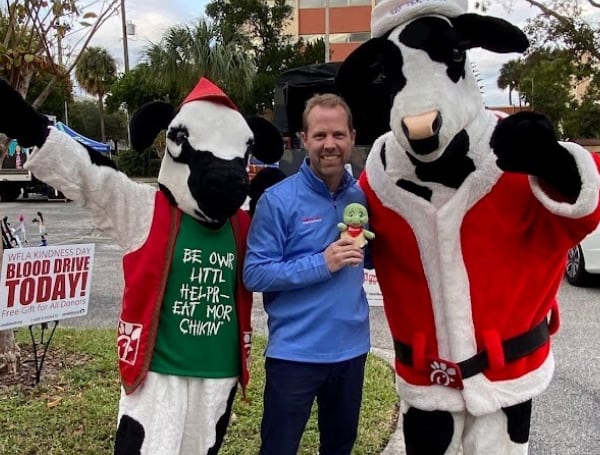 TAMPA, Fla. – WFLA News Channel hosted its 14th Annual Kindness Day, and there was no shortage of spreading holiday joy and cheer.
Kindness Day supports five Tampa Bay charities; Feeding Tampa Bay, OneBlood, Toys for Tots, Hillsborough Education Foundation, and the Tampa Rough Riders. 
Over 700 people drove to the WFLA studio parking lot to drop off donation items to Toys for Tots, stuffed animals for the Rough Riders, food items for Feeding Tampa Bay, and school supplies for the Hillsborough Education Foundation. 
The Bloodmobile was also on hand for people to give blood while they were attending the event.
Along with many other great local businesses, Famous Tate sponsored a special campaign to promote the one-day event so that Tampa Bay area residents would be aware of the opportunity to join in.
"Being able to further the efforts of WFLA's 8 on Your Side team to help these great organizations means so much to us at Famous Tate," says Jason Horst, Director of Marketing. "While we strive to help local charities, groups, and schools throughout the year, the Christmas season is a great time to focus on giving in our community." 
This was the 14th annual Kindness Day event held by WFLA and is just one of the many great efforts made to help those in need in our area.
Feeding Tampa Bay President and CEO Thomas Mantz told WFLA that extra donations are always in need around the holidays.
"Folks are struggling as much as they were during the pandemic. Think about that, right? So with food prices up 30%, rent and prices for gas are making it challenging for families we serve. People are having a much tougher year than they did last year," Mantz told the outlet.
"You might want to travel, and that can be expensive to go see family. You might want to put some gifts under the Christmas tree. What we're trying to do is make sure there is food on the table during the holiday season and take that stress out of a family's life," Mantz said to WFLA.
The event was held on Friday, Dec. 16. from 6 a.m. to 5 p.m.
Android Users, Click Here To Download The Free Press App And Never Miss A Story. Follow Us On Facebook Here Or Twitter Here. Signup for our free newsletter by clicking here.
Login To Facebook From Your Browser To Leave A Comment