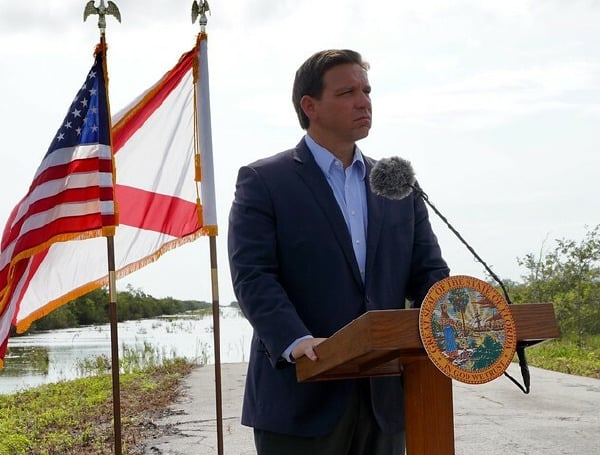 A federal appeals court has dealt a blow to an activist judge's attempt to stop Florida's new voting laws from taking effect.
In a decision rendered Friday, the 11th U.S. Circuit Court of Appeal determined that Florida's law with new regulations on voting drives, "drop-boxes," and petitioning voters on Election Day could go forward.
In March, U.S. District Judge Mark Walker, appointed to the bench by former President Barack Obama, torpedoed Florida's law.
In a mammoth 288-page ruling, the judge accused Florida Republicans of a "grotesque history of racial discrimination in voting" and said racism had motivated the bill.
The main parts struck down by Walker, according to court records, mandated that drop boxes could only be used during early voting hours unless the boxes were in an elections supervisor's office and that they had to be guarded at all times.
The law also required third-party groups hosting voter registration to submit those registrations in the counties where the voters actually live and to inform them of situations regarding the timing of the approval of their forms. It also barred "solicitation of voters" within 150 feet of a voting booth or a dropbox.
"At some point, when the Florida Legislature passes law after law disproportionately burdening Black voters, this Court can no longer accept that the effect is incidental," Walker wrote. "Based on the indisputable pattern set out above, this Court finds that, in the past 20 years, Florida has repeatedly sought to make voting tougher for Black voters because of their propensity to favor Democratic candidates."
Walker also decreed that Florida must re-enter "pre-clearance" status, meaning it needed a federal court's approval for any voting law for 10 years because the state has "repeatedly, recently, and persistently acted to deny Black Floridians access to the franchise."
Walker regularly rules against Republicans. When he issued his ruling in March, GOP Gov. Ron DeSantis said he expected the appellate court would overturn the decision.
A three-judge panel, all appointed by former President Donald Trump, did just that on Friday.
For one thing, the court found that Walker's slap-down of Florida's law violated guidelines from other court rulings on how close to an election that new regulations can be blocked.
But as the gist of Walker's rant about racism, the judges stated, "We find the district court's historical-background analysis to be problematic."
"We have been clear that 'old, outdated intentions of previous generations' should not 'taint [a state's] legislative action forevermore on certain topics.'" the decision said. A "'historical background' factor should be 'focus[ed] . . . on the 'specific sequence of events leading up to the challenged decision'" rather than 'providing an unlimited look back to past discrimination.'"
In other words, Walker's tirade about Florida's supposed racism began after the Civil War and continued right up to the present. Thus, the judges said, his ruling was not "appropriately focused or limited."
Secondly, Walker also showed that he bought into the left's narrative about Republicans' racism motivating the changes. That, the appellate court said, "failed to properly account for what might be called the presumption of legislative good faith." In short, the Supreme Court has advised judges that they should give lawmakers the benefit of the doubt when wondering about the motivations behind new laws.
Yet, the court added, "in its 288-page opinion, the district court never once mentioned the presumption. And while we do not require courts to incant magic words, it does not appear to us that the district court here meaningfully accounted for the presumption at all."
The appellate panel noted that Walker built much, if not all, of his opinion about Florida's racist past on the comments of one lawmaker. That, the judges said, was "insufficient to establish discriminatory purpose."
Finally, when they looked at Walker's rationale for gutting the 150-foot rule as "unconstitutionally overbroad and vague," the judges faulted Walker for not looking at the statute in its entirety.
While Walker focused on a provision that outlawed "engaging in any activity with the intent to influence or effect of influencing a voter" as the reason for funding the law too broad and vague, the appellate court noted that he ignored the context of the whole law.
Before it gets to the engaging clause, the law also bans "seeking or attempting to seek any vote, fact, opinion, or contribution; distributing or attempting to distribute any political or campaign material, leaflet, or handout; conducting a poll except as specified in this paragraph; seeking or attempting to seek a signature on any petition; selling or attempting to sell any item."
Against that backdrop, the "underlying merits" of Walker's reason for tossing the whole law "aren't 'entirely clearcut,'" the judges said.   
The views and opinions expressed in this commentary are those of the author and do not necessarily reflect the opinion of The Free Press.
Visit Tampafp.com for Politics, Tampa Area Local News, Sports, and National Headlines. Support journalism by clicking here to our GoFundMe or sign up for our free newsletter by clicking here.
Android Users, Click Here To Download The Free Press App And Never Miss A Story. Follow Us On Facebook Here Or Twitter Here.
Login To Facebook From Your Browser To Leave A Comment