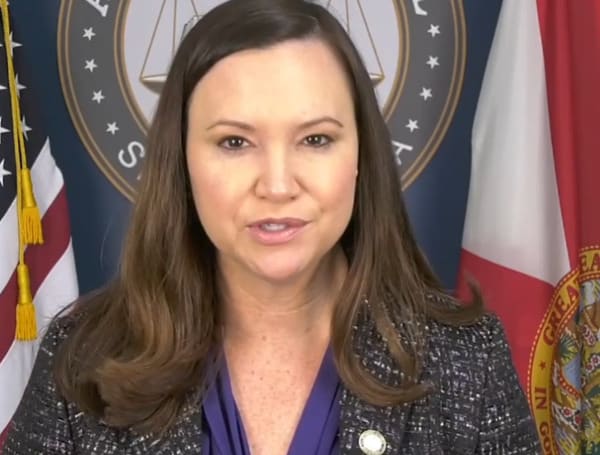 Saying Florida "cannot identify any direct injury caused by the challenged practices," the Biden administration on Monday urged a federal judge to reject a lawsuit filed by the state over the release of undocumented immigrants.
Attorney General Ashley Moody's office, meanwhile, contended that the state has "standing" to challenge federal immigration policies that Florida maintains are costing it hundreds of millions of dollars.
Lawyers in Moody's office filed the case last year, alleging that the Biden administration violated immigration laws through policies that led to people being released from detention after crossing the U.S. border with Mexico.
Gov. Ron DeSantis, who is seeking re-election this year and is widely viewed as a top contender for the 2024 Republican presidential nomination, has made the border situation a top issue, both as a candidate and as the state's chief executive.
U.S. District Judge T. Kent Wetherell in May rejected the Biden administration's request to dismiss the lawsuit, which alleges releasing undocumented immigrants affects Florida because of issues such as increased education, health-care and criminal-justice costs.
But in a motion for summary judgment filed Monday, U.S. Department of Justice lawyers argued, in part, that a policy the state is challenging doesn't exist and that Florida "cannot demonstrate any actual or imminent injury."
In the news: Hurricane Ian Death Toll Rises In Florida
"Florida's alleged harms stem from the unsubstantiated allegations that additional releases of noncitizens at the border increase the population of Florida. But Florida merely asserts that it provides social benefits to state residents and then speculates that costs will increase if its population increases. Indeed, months of discovery demonstrates that Florida cannot quantify alleged injuries caused by the presence of noncitizens who were released subject to the challenged practices," the Biden administration argued in the 61-page motion.
For example, the state alleged that it would have to spend more to educate immigrant students who were allowed to remain in the country. But Monday's motion pointed to a July deposition of Jacob Oliva, a senior chancellor at the Florida Department of Education, who said the state doesn't keep track of the citizenship status of students who are immigrants.
The Biden administration also argued that the state lacks legal standing to challenge the policies and wants the court to "second-guess discretionary decisions" by the U.S. Department of Homeland Security "about how to enforce immigration law most effectively and efficiently."
"This court should decline Florida's invitation to undermine the principles of federalism and separation of powers upon which the U.S. constitutional system is based," the Justice Department lawyers wrote.
But in another motion filed Monday, Moody's office argued that the state has shown it has been affected by the Biden administration's immigration policies.
Florida "can show that aliens are coming to Florida and would not be in Florida but for the challenged policies, and Florida provides and pays for services … such that there can be 'little doubt' aliens utilize those services," the motion said.
The lawsuit centers, in part, on what state lawyers call the Biden administration's "non-detention" policy.
The issue is rooted in a March 2021 decision by the Biden administration to release immigrants through the use of a "notice to report" to U.S. Immigration and Customs Enforcement within specified periods of time. The decision came amid a strain on processing resources caused by an influx of migrants at the U.S. border.
In November, the Department of Homeland Security replaced the policy with a process known as "Parole Plus Alternatives to Detention," or Parole+ATD, which allows the conditional release of immigrants who meet certain criteria.
That policy was rescinded in July, lawyers for the Biden administration said in their motion.
In the most recent guidance, Parole+ATD is only available for border patrol sectors after weekly determinations "under specific criteria that threshold overcapacity exists," they wrote.
Border patrol officials must assess each immigrant "on a case-by-case individualized basis to determine whether he or she is eligible for parole based on an urgent humanitarian reason or whether there is significant public benefit," the Justice Department lawyers wrote.
But the state's motion for partial summary judgment filed Monday argued that the Parole+APD policy is "merely one of several mechanisms the federal government is using to implement its general policy of releasing aliens subject to mandatory detention."
"A trial is necessary to prove that the non-detention policy exists," Moody's lawyers wrote in the 17-page motion.
The state also emphasized that Florida has standing to pursue its claims.
More than 100,000 "inadmissible aliens released since President Biden took office have likely settled in Florida. … And defendants cannot reasonably dispute that Florida spends money on inadmissible aliens – in fact, Florida spends hundreds of millions per year," Monday's motion said.
In Wetherell's May ruling allowing the case to move forward, the judge wrote that he was "unpersuaded by defendants' position that they have unfettered discretion to determine how (or if) to comply with the immigration statutes and that there is nothing that Florida or this court can do about their policies even if they contravene the immigration statutes."
"No one, not even the president, is above the law and the court unquestionably has the authority to say what the law is and to invalidate action of the executive branch that contravenes the law and/or the Constitution. Thus, if Florida's allegations that defendants are essentially flaunting the immigration laws are proven to be true, the court most certainly can (and will) do something about it," Wetherell, who was appointed to the federal bench by former President Donald Trump, wrote.
The lawsuit is among a series of actions Florida GOP leaders have taken in the clash with the Biden administration over immigration.
DeSantis last month took credit for sending about 50 asylum seekers, including women and children, from San Antonio, Texas, to Martha's Vineyard in Massachusetts. He tapped into $12 million Florida lawmakers earmarked in the state budget to transport undocumented immigrants.
State records show the Florida Department of Transportation has paid Oregon-based Vertol Systems Company Inc., which has an operation in Destin, more than $1.5 million for "relocation of unauthorized aliens."
Attorneys representing the asylum seekers, who were allegedly "tricked" into boarding the flights, filed a federal lawsuit seeking a nationwide injunction to block the governor from luring immigrants to travel across state lines.
State Sen. Jason Pizzo, D-North Miami Beach, has also filed a lawsuit in Leon County circuit court alleging that the governor lacked the authority to use the money for the flights.
Visit Tampafp.com for Politics, Sports, and National Headlines. Support journalism by clicking here to our GiveSendGo or sign up for our free newsletter by clicking here.
Android Users, Click Here To Download The Free Press App And Never Miss A Story. Follow Us On Facebook Here Or Twitter Here.
Copyright 2022 The Free Press, LLC, tampafp.com. All rights reserved. This material may not be published, broadcast, rewritten, or redistributed.
Login To Facebook From Your Browser To Leave A Comment