June 2, 2020
By: Martin Fennelly
Our country is on its knees, and not in a Colin Kaepernick kind of way. We are already reeling from a pandemic. Now our cities are burning from rioting and violence. America is off its game. An extra round of NBA playoffs isn't going to help.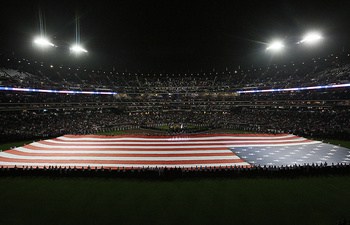 Confrontations in Minneapolis, tear-gassed protestors at White House fences, the aftermath of the death of George Floyd at the hands of rogue police, has a nation convulsing. A new baseball season won't change that.
Sports can mean so damn little. It couldn't begin to compete with what our president deemed the "invisible enemy." And it can't change how we continue to deal with the demons that continue to plague us.
No, sports can't make a difference. But it sure as hell can try. Many athletes have risen in anger after Floyd's senseless death. It makes me feel a lot better than the sight of looting and shooting. Terror never wins.
I miss sports more than ever. It fills our heads and hearts. Nothing seems more American than going to a ball game. Wouldn't it be a blessing if we were sitting around talking about Brady and the Bucs instead of our national wounds?
Of course, something will come of this. It is what makes a great nation great. We are not a frightened people. Put it in sports terms: There is no quit in this team. What makes America great is that we try to be greater. What's the point otherwise?
There is pain today. There is anger. But we are a people who can beat anything, no matter what the score is.
Look at the scoreboard. This is the country that once stood up to a king and empire and won. This is the country tested by fire, the country that nearly pulled itself to pieces in a civil war, but which preserved, on blood-soaked fields, the idea that all men are created equal. It is still an idea worth fighting for.
This is the country that went pillbox to pillbox in world wars to defeat tyrants who sought to hangs chains on civilization. This is the country that defeated polio and decided to go to the moon and went there. This is the nation that made civil rights a cause, a movement.
It seems silly to talk about sports these days. People are dying in this pandemic. And some people die when the law takes the law into its own hands. No one thinks what happened to George Floyd should be allowed to happen. Nor should our streets burn. All lives matter. We are better than this.
I miss sports. I miss it even as I know how little it means at times like these. I pray for a day when who the Lightning are playing in the playoffs matters again, when the Rays are chasing the postseason again. But let's be great ourselves first.
Take a look at the name of the country on your jersey. It says unite, not divide. It says being great is hard work. It is not a campaign slogan. It requires a toughness that doesn't come with clubs and chokeholds or boots on necks. It comes through understanding, with trying to be better. This is the United State of America. We are all on the same team. More than ever, the other games can wait.
Login To Facebook From Your Browser To Leave A Comment