July 10, 2020
By: Martin Fennelly
TAMPA, Fla. – For the longest time, we were able to push it out of our minds. The season was months away. Of course, there would be college football. Of course, there would be college athletics. Of course, we knew we can't have the latter without the former.
But we had time. We always had time. COVID began to wrap its virulent tentacles around this nation in March, and college sports shut down. But the all-important college football season, with its rivalries and tailgates and boosters and athletic budget underwiring, was in the distance, months away, with plenty of time to figure things out and get it done.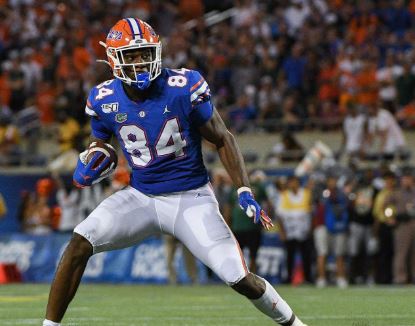 Well, we are nearly out of time.
And in a few short days this week, everything began to come apart.
Welcome to the new world. It looks nothing like Florida-Georgia.
Ohio State, with more varsity athletic programs than any school, put a hold on voluntary workouts for several of its programs because of COVID positives. Stanford, with the second-most varsity sports, the best all-sports program in the country, is dropping 11 sports at the end of the 2020-21 sports calendar. The Ivy League is canceling sports for the rest of the year. The Big Ten and ACC are going to play only conference games this upcoming football season.
It is a dark time, a chilling time. And it's only the beginning. Budgets will disappear. Sports will vanish. Jobs and scholarships will go by the wayside. I ask you, is this really the time to wonder what is going to happen to Notre Dame's football season? Or to any football season? Look up at the scoreboard. The pandemic is winning. It's covering.
We have more important things going on than whether we play college football, though I'm sure we are within texting distance of the president declaring that college football must go on, that fans need to return to stadiums, that all is normal in America, nothing to see here, just like his back-to-school schtick, brave words from someone who can hit a buzzer on the Resolute Desk in the Oval Office and three COVID tests show up.
Meanwhile, here on Earth, madness beckons. Perspective is down three touchdowns.
I could care less about college football at this point, even though it makes the world go around on college campuses. Look, we don't even know if our kids and teachers can safely go back to elementary, middle, and high schools and in-person learning, even as Florida's governor, king of the volcano, the new COVID epicenter, urges school systems to giddy-up. Another brave soul.
Who cares about whether Florida and Florida State play games? Who cares about the CFP?
Maybe some of you do. I don't know what to tell you, except enjoy your tailgates and remember to fill out your organ-donor cards.
The greatest potential here is that, at the very least, the hypocrisy of college athletics will be on display as never before. We have always known that it's about the money, not higher learning, that the concept of "student-athlete" is a rank illusion.
Budget cuts? How about slashing the salaries of overpaid coaches and putting the money into comprehensive testing programs and contact tracing for all students so they can return to campus? Instead, there is looming immorality, the idea that college students won't be allowed in their classrooms, that they'll be studying online, huddled in their off-campus apartments, while the school's football stars live in a protective bubble so they can run out Saturdays before 70,000 unmasked football fans, everything back to normal.
Nothing is normal. The virus has seen to that and will keep seeing to that. And if you think you're going to open college just long enough to hold football games, then I'm done with this college football season before it ever tries to begin. I might be done with it for good.
And I LOVE college football. I've always thought college football would be the test case for just how far we are willing to go to ignore the realities of COVID-19.
Well, it's test time.
I can think of a hundred thousand Alabama, LSU, and Tennessee fans who could care less about this pandemic if it means their Saturdays are empty. I pray that the SEC comes to its senses or, failing that, that stadiums are at least socially distanced, that everyone wears masks, that players wear visors. I'm already fully expecting college football to be Surge Central, all those young bodies smashing into each other, sweat and blood flying, all those fans squeezed together like sardines, goobers breathing on each other, pretending it's a First Amendment right, not naked selfishness.
I don't want one football game on even one college campus that is not open to in-person classes. Period. It really isn't that hard a concept. If jobs can be slashed, if scholarships can be slashed, if sports can be slashed (full disclosure: my daughter rows club at Florida State), if Dan Mullen and Mike Norvell can still make their millions, if universities dare make parents pay full-price tuition and fees for something not even close to a true college experience, we should at least have the decency to not rub college football in our faces this fall. If you can't treat everyone the same at your school, one bubble fits all, then to hell with it.
Yes, I'll miss college football.
But I'd miss my conscience even more.
If everyone is not safe, then none of us are.
We're all in this together. Let's act that way.
Publishers Note: While The Free Press will always be free for our readers, and ad-supported, we are asking our loyal readers to consider a monthly donation of $3 to maintain our local journalism and help us grow, as we ramp up ad sales locally.
You can click here to support us.
We thank you all for your consideration and supporting local journalism.
Login To Facebook From Your Browser To Leave A Comment