May 8, 2020
By: Martin Fennelly
If Tom Brady accidentally walks into your house this week (We checked, and it's your turn), you will have lots to talk about.
It's the offseason, the strangest of the strange in the middle of one the saddest chapters in American history.
But the Bucs are champions.
They continue to rack up wins this NFL offseason. What that will mean in six months remains to be seen and, really, there is no guarantee we will see anything at all.
But the Bucs right now have to be not seen to be believed.
They're No. 1.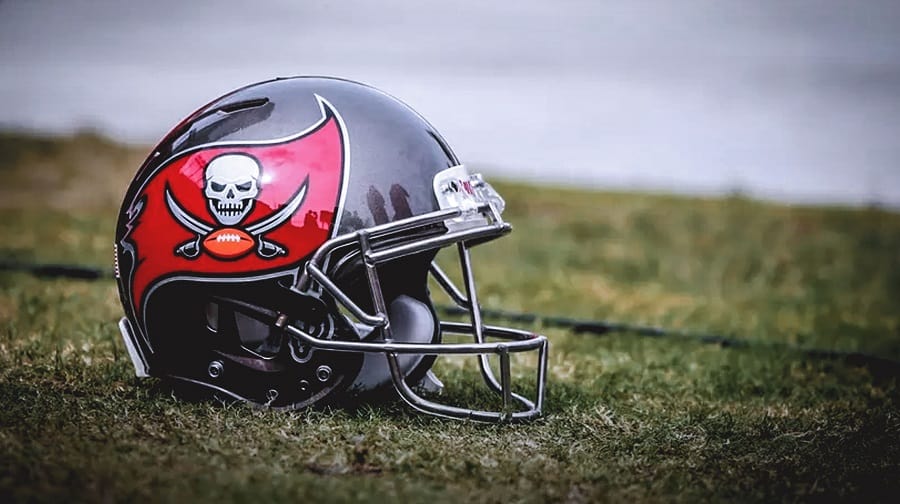 Used to be the releasing of the 256-game NFL schedule was something to sneeze at. Now it blows us away, never more so than Thursday night, as we again wrapped our heads around the sensation that is the Tom-pa Bay Buccaneers.
Granted, our heads have little else to wrap themselves around, what with COVID on the loose. We can only pray for those we've lost and be thankful for what we have. And what Bucs fans have, after a dozen years of misery, is a showstopper.
Put your pajamas on. The Brady Bucs will play at night, in prime time, on national TV, no less than five times in 2020, the most the franchise has ever played in nationally televised evening tilts in its history. Two Sunday nights, two Monday nights, one Thursday night. The Super Bowl champion Bucs didn't play this many prime timers in 2002, or the year after, and Sapp, Brooks, and that defense was quite the show.
But people want to see these Brady Bucs. They might be the biggest thing going in the NFL, when you throw in Gronk and B.A. and Shaq Barrett. They could be household names before this season is done, and naturally it ends in our house, at the Super Bowl in Tampa.
Dreamscape, anyone?
First things first.
And what a first thing it is:
Sept. 13: Bucs at Saints in New Orleans, Brady against Drew Brees, two of the best there have ever been, top cats in NFL all-time passing, head to head. If New Orleans coach Sean Payton was still into bounties, well, you know.
Pay no attention to that man with the clipboard and head sat on the Saints sideline: Jameis Winston.
It just gets better and better.
Look, we have known all along who the Bucs were going to play. The matchups were the matchups. Leave it to the NFL to gussy it up with a show all its own.
Throw in Brady and magic happens.
Like that three-week stretch in late October/early November, when the Bucs trip the lights three consecutive times, beginning with a trip to Las Vegas to meet the newly settled Raiders and Mr. Vegas himself, Chucky Gruden, the last coach to win a Bucs playoff game – 17 years ago.
Yeah, it does get better, doesn't it?
The following week, the Bucs take the show to New York to play the Giants on Monday before returning home to face Brees and the Saints the following Monday.
And there is a small matter of Nov. 29, a late afternoon game against the defending Super Bowl champion Chiefs and wunderkind Patrick Mahomes.
Better and better and better,
For all I know, the Bucs will be 0-1 after their opener at New Orleans.
Does it matter at this point, when there is nothing else going on, so much as one foot being set in Bucs headquarters?
Thursday was a gift to the self-isolated: The Bucs on a pedestal. How long they stay on it is the question.
There is that opener at New Orleans, a better team than the Bucs even in an empty stadium.
There is that third game, in the thin air at Denver, a trap if there ever was one.
There are the three short weeks in and around those night games of weekday contests, something the Bucs haven't had to deal with much, the bounce-back. Not even last year's 700-day road trip can match it.
Think beating the not-good Falcons and Matt Ryan twice in three weeks will be easy at the end of the season? Think at Detroit and a presumably healthy Matt Stafford will be a picnic?
There are all those quarterbacks Brady will have to beat. Brees. Mahomes. Aaron Rodgers. There are games against the rugged NFC North. Think beating the Bears on a Thursday night at Soldier Field is a given? Think the AFC West will be a walkover? Not even Gruden will roll over.
I mostly love what the Bucs did in the recent draft in the name of Brady. They picked a monster tackle in Tristan Wirfs out of Iowa and a three-down running back and outlet receiver in Ke'Shawn Vaughn from Vanderbilt. Protect No.12 and give him a safety valve for the rush pressure. Mission accomplished. But then there are all those monster pass rushes the Bucs will face.
Brady turns 43 in August. He might be 46 by the time Joey Bosa or Von Miller are through with him. Brady really hasn't been a true force in a couple of seasons. Repeating: 43. The Bucs will win their share of games, but their share might only be eight, or 10, though that should be enough to be in playoff contention. Their last playoff appearance was 13 years ago. But nothing is a given in the overloaded NFC, even with Brady, his bestie Rob Gronkowski, and all that winning Patriots pedigree.
But that reality is a long way from abject isolation, sitting in your house, watching ESPN and the replay of Clemson-LSU national title game for the 114th time (same final score), or, as I did one day, the national stone-skipping championship (seriously, commentators discussed one contestant who stepped into the water "without his pants legs rolled up" … Different technique there, Bob). Plus, most worrisome, I was actually beginning to agree with Stephen A every morning.
The NFL schedule rode to the rescue. Bucs fans can dream a little Super Bowl dream. That's what happens when the biggest star to ever hit Tampa Bay, hit Tampa Bay. Thursday night was just part of it.
Later this month, Brady will play a televised golf match with Peyton Manning, Tiger Woods, and Phil Mickelson. Must watch. Or maybe he'll get kicked out of another park or be seen over-inflating footballs with the air pump at a local gas station. Down the road lies the real action, and reality. Have fun while you can, Bucs fans. You are winning the offseason like mad. Drift along on those puffy clouds as long as you can.
Excuse me, but my doorbell is buzzing. I think it's Tom.
Login To Facebook From Your Browser To Leave A Comment