May 28, 2020
By: Tiffany Razzano
Over Memorial Day weekend, downtown Tampa received a new splash of color – the area's first intersection mural.
The Tampa Downtown Partnership commissioned Channelside artist Meaghan Farrell Scalise of Tada! Traditional and Digital Arts to paint a mural at the intersection of Franklin and Twigg streets.
The project was a collaboration between the TDP and the city of Tampa as part of the Lift Up Local Economic Recovery Plan, which is bolstering businesses throughout the city in different ways as the economy reopens. The mural also aligns with the city's Vision Zero policy, designed to eliminate traffic fatalities and injuries.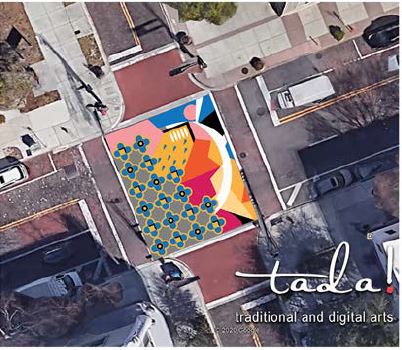 Franklin and Twiggs had already been shut down as part of the Lift Up Local plan, which called for temporary street closures in several neighborhoods to allow restaurants to increase their footprint and accommodate additional diners as they reopened. In fact, the TDP had assisted with this piece of the Lift Up Local plan, providing tables and chairs, umbrellas, planters and ambient lighting at Franklin and Twiggs "to enhance that space," said Ashly Anderson, TDP's director of marketing and design. "We tried to create this environment so that restaurants on that block could thrive again."
The TDP is contracted by the city to work on downtown projects like this through a Special Services District. This made it easy to turnaround the intersection mural quickly, she said. "We're able to get things done nimbly and fast. We're on the ground already. Downtown is our responsibility."
The TDP has wanted to commission a downtown intersection mural for some time. With the streets already shut down because of Lift Up Local, the timing was perfect last weekend, Anderson said.
"It was a great opportunity for us. The roads were closed, so we didn't have to do extra disruptions," she said. "We were also able to really stretch the dollar because we didn't have that road closure cost associated with (the project.)"
They also had a history working with Scalise, who has received TDP artist grants to paint downtown murals.
"She's done a ton of local work and has a great track record," Anderson said. "Picking her was an easy fit and she was able to execute it well."
Dozens of volunteers came out Saturday to help Scalise paint her mural, which is called "Lift Up Luck."
"The only request the Tampa Downtown Partnership had was to keep in mind the location," Scalise said. "Franklin and Twiggs, there's a lot of history on those streets. There is some beautiful historic architecture and I wanted that to be represented. I didn't want to put down a mural that was super ultra-modern or that clashed with the environment."
The mural is full of symbolism and nods to local culture, she said. She utilized the quatrefoil pattern, historically known as "a blessing or good luck symbol," from the nearby Tampa Theatre's entrance ceiling, "(breaking) it down into a more modern, simplified version" as a representation of the arts community affected by coronavirus.
Negative space around the quatrefoils creates a "stepping stones" effect, she said. "It's a play on the idea that our history is paving the path to our future."
The colors Scalise selected represent various aspects of the city. "Bright orange, hot pink and golden yellows" are used in association with the Lift Up Local initiative, she said, while "the blue used was in mind of the city of Tampa's logo. I didn't want to put any words down, but I did want them to be presented, so I pulled the color palette into the mural."
Five white ovals are each 6 ft. wide representing social distancing guidelines during the pandemic. Meanwhile, "another hidden gem" in the mural is the image of "simple raindrops" falling on what appears to be a house, she said. "That shows that every household felt the effects of this pandemic storm. The pink sun is rising on the horizon, though. Even with the world upside down, a new world will bring new opportunities and a brighter future."
Anderson said the design is "fun, but it's also functional." In addition to beautifying the area, it will also inspire drives "to pay more attention to their surroundings," she said, making for safer roadways.
She added, "Anytime there are more things to pay attention to, the slower they go and the more careful they are."
Login To Facebook From Your Browser To Leave A Comment