By PAUL CATALA
Since 1961, something fishy has been going on at this Gibsonton business.
On about five acres off Big Bend Road, tens of thousands of fish are kept in tanks before they are sent to more permanent housing in aquariums around the world. From pinky-sized rasboras to saltwater puffers which can stretch out to four feet; from the common livebearer fish to rare plecostomus; from the beautiful cichlids to the beautifully bizarre marine invertebrates, they can be found at Segrest Farms.
Although Ruskin, Gibsonton, and parts of Apollo Beach, have for decades, been known for tree farms, plant nurseries, and acres of produce, Segrest Farms is a thriving marine metropolis – a vibrant water world of tropical fish and water plants.
A short drive down a driveway off Big Bend Drive leads visitors to the Segrest parking lot and office in front of five buildings that make up the farm complex. There, fish from private fish farms across Florida are nurtured and cared for before being placed into holding tanks to be shipped across Florida, the United States and beyond.
The Gibsonton location – purchased for $60 million by Central Garden & Pet, Walnut Creek, California, in 2016 – is one of six Segrest facilities in Florida.
Shelby Stensrud, who has been Segrest brand manager for four years, says Segrest Farms has been one of the leading suppliers of wholesale ornamental fish to pet stores and public aquariums in the U.S. for 58 years. Those include freshwater tropical and cold-water fish, genetically engineered fluorescent colored GloFish, saltwater specimens, aquatic plants and reptiles such as snakes and lizards.
Stensrud said 95 percent of tropical fish in the U.S. are raised in Florida and the majority of those are hatched in Hillsborough County.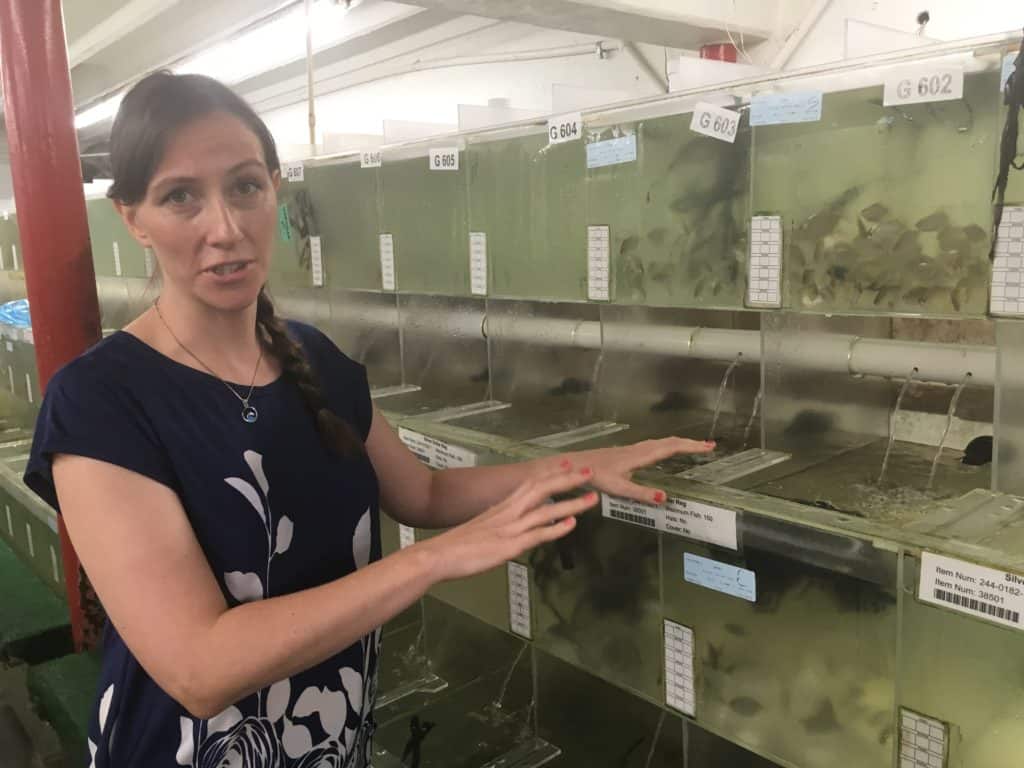 "We're always growing here. There's always an opportunity for growth and we want to continue to find ways to expand our company," she says.
In the past, Segrest provided fresh and saltwater fish for the Animal Planet TV show "Tanked," a reality show that ran from 2011 to 2018 and followed the operations of Las Vegas-based aquarium manufacturer Acrylic Tank Manufacturing. She says Segrest provided fish for the tanks, such as rainbows, tetras and bristlenose plecos.
John Guerriero, president of Tampa Aquarium Service in Plant City, a custom aquarium design service, says his company was featured on installations for the Florida episodes of "Tanked," servicing aquariums for Staint Leo University, Nate Morris from the music group Boyz II Men, former baseball player Prince Fielder and basketball legend Shaquille O'Neal.
"We have been using Segrest Farms as a livestock supplier since 2004. Variety and quality are second to none for both saltwater and freshwater species," Guerriero states in an email.
At Segrest, Stensrud said about a million fish of approximately 1,000 varieties are distributed each week, brought in from suppliers around the world. Those include small-scale breeders in Europe to fish sustainably collected from the Amazon rainforest, adhering to environmental laws and high ecological standards. Those fish are then supplied to more than 1,000 retail stores throughout the U.S.
Stensrud says Segrest uses systems to match the needs of the fish to reduce as much stress as possible, including computer-controlled acclimation of saltwater fish to dedicated soft water systems.
On-site laboratory technicians monitor the overall health, diet and water parameters of the fish.
"We don't want to do anything that's damaging to the environment and we're always practicing safe-handling practices for the well-being of the fish," Stensrud adds.
Throughout Segrest Farms, about 450 employees are constantly on the go, maintaining and cleaning aquariums, feeding fish, pulling fish for shipment, boxing and shipping them. The company also sells more than 300 varieties of ornamental aquatic plants.
Among the more popular fish Segrest sells and distributes are white albinos, leucistic fish with reduced pigmentation, such as grouper, and dark, melanistic fish such as gar. Stensrud says retailers have personal sales representatives who learn about the fishes' needs, customize service to particular types of fish and are available to solve any maintenance problems that might arise.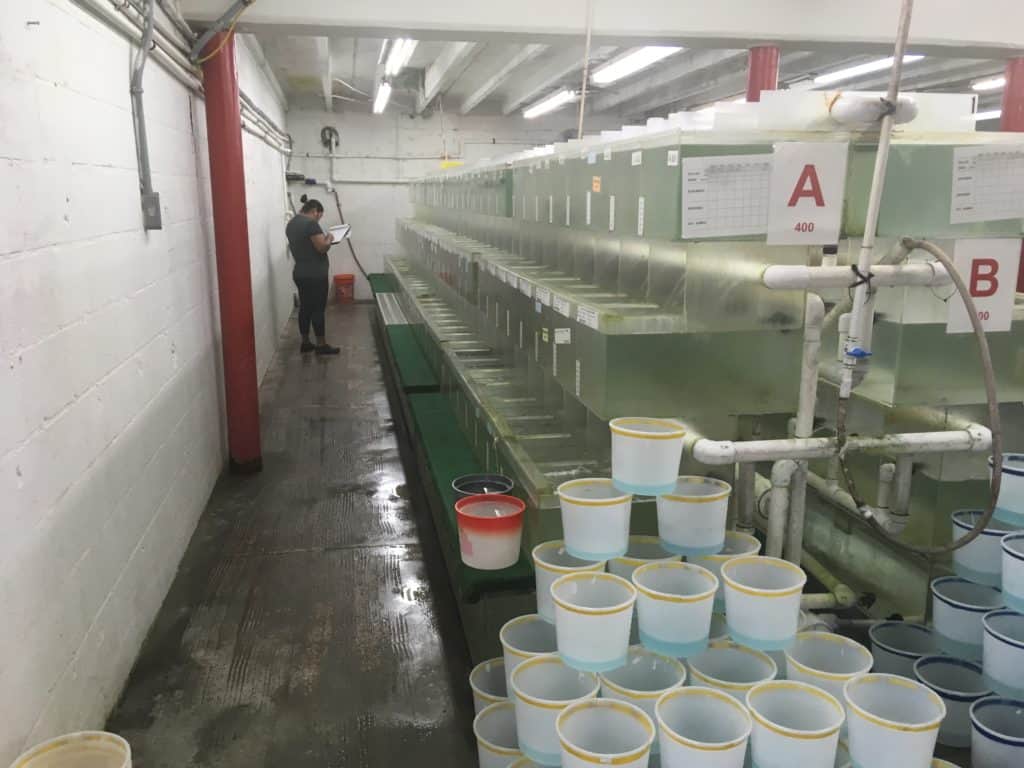 Segrest employees immerse themselves in complete care for the fish and the customers, says Mike Hennessy, customer service manager. He adds Hillsborough County is known as the primary production center for fish aquaculture in Florida and most of the fish farms are in the southern region.
Hennessy says family-run farms and local workers continue to grow the fish farming industry. Education about the industry has been established in local schools such as East Bay High School in Apollo Beach.
"The aquaculture program at East Bay is giving the kids some technical project experience," he says in an email. "The tropical fish industry continues to make its mark for the future of south (Hillsborough) county."
As part of its sustainability efforts, Segrest supports Project Piaba and its coral reef conservation program.
Project Piaba is a fishery initiative located on the Rio Negro tributary of the Amazon River in South America. The program promotes and researches sustainable aquarium pet fish collection and its impact on the environment.
Stensrud says Segrest supports fisheries for the project, which covers 52,000 acres of rainforest. Supporting thsse fishermen helps protect the habitat in the rainforest along the Rio Negro.
"The more we purchase back from them, the better their economy can grow," she says.
As for the fish in the Segrest Farms aquariums, Stensrud says from approximately 6,000 tanks, fish are taken and shipped 24 hours a day, four days per week.
During the winter season, about 15,000 bags of fish are shipped out for the day shift and 12,000 at night.
Stensrud says Segrest doesn't sell directly to hobbyists, but anyone interested in fish may tour its facilities. Tours are conducted each Wednesday at 9 a.m. Reservations are required through tours@segrestfarms.com or the company's website, www.segrestfarms.com.
"We're always busy," Stensrud says. "We want to continue to supply the nation with a large variety of high-quality animals and you can't do that sitting still."
According to the Florida Tropical Fish Farms Association, there are over 120 farms in Florida raising a variety of fish, aquatic plants and assorted invertebrates. The association states tropical fish is the number one cargo commodity out of Tampa International Airport, where 8,000 to 10,000 boxes are shipped weekly.
Login To Facebook From Your Browser To Leave A Comment