Florida Agriculture Commissioner Nikki Fried wrote to Governor DeSantis, strongly recommending that he mobilize Florida National Guard resources to coordinate the distribution of COVID-19 vaccines in Florida.
While Florida has received over 1.2 million doses of COVID-19 vaccine, only 146,160 vaccine doses have been administered – just 15 percent of available vaccine doses, and just 0.68 percent of Florida residents.
The state's decentralized vaccine process has been characterized as "very chaotic" and has left Floridians frustrated and local hospitals and county health departments overwhelmed with calls for information.
In the letter to DeSantis, Fried says, "According to media reports, the vaccine distribution your administration oversees has been characterized as "very chaotic," with a "lack of clear strategy to vaccinate the public," and healthcare professionals have "lacked clear direction from the state" on vaccination procedures. Instead of efficient, centralized distribution management by the State of Florida, distribution has been left to hospitals and county health departments. While you characterize this as "cutting out the middle man," vulnerable residents are left without answers or clear direction from overwhelmed local agencies on when, where, and how to receive the vaccine."
The letter to Governor DeSantis can be read in it's entirety here: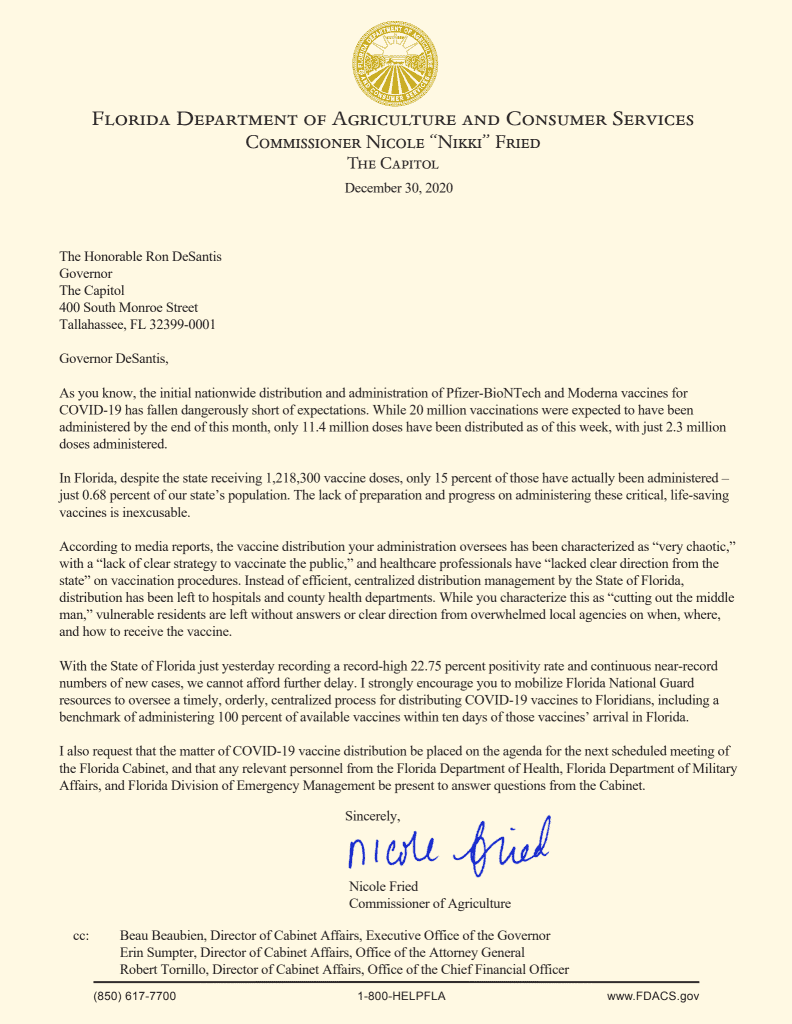 Login To Facebook From Your Browser To Leave A Comment