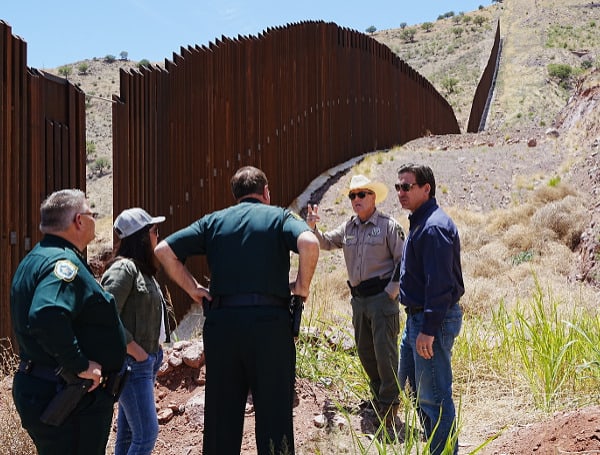 The conservative satire website Babylon Bee recently joked that President Joe Biden was deploying U.S. troops to the Mexican border to stop the state of Texas from actually securing the border.
But last week, the Florida Division of Emergency Management issued its latest report on what Florida authorities have seen in trying to help Texas and GOP Gov. Greg Abbott actually secure our southern border.
In a press release, FDEM noted that since Gov. Ron DeSantis sent them in May, teams from Florida have made contact with more 75,000 illegal immigrants and helped the Texas Department of Public Safety make more than 2,700 arrests.
In the news :Sen. Rick Scott Of Florida Wants Biden Admin To Fire "Disreputable" Disinfo Spreaders
Those arrests included felony charges for human smuggling, child endangerment, family violence, burglary, money laundering, drug charges and paraphernalia, unlawful carry of a weapon, terrorist threats, escape from federal custody, and a suspect with a capital murder warrant.
Florida's contribution to the border operation includes more than 700 Florida National Guardsmen, 40 Florida Department of Law Enforcement agents and eight support team members, 101 Florida Highway Patrol troopers, and 20 Florida Fish and Wildlife Conservation Commission officers.
Florida officials have "interacted" with illegals from more than 13 different countries, including U.S. enemies such as Iran, China, and Syria, FDEM said.
Within specific agencies, almost 200 FDLE agents have rotated into Texas since March. They have helped Texas authorities arrest violent felony suspects on charges of human smuggling, burglary, firearm violations, smuggling of persons with a firearm, child endangerment, escape from federal custody, and possession of controlled substances. Those drug arrests meant seizing cocaine, methamphetamine, marijuana, drug paraphernalia as well as guns and ammunition.
FHP personnel have made almost 15,000 traffic stops, including 80 DUIs, and inspected nearly 1,000 commercial vehicles. They have also been involved in 176 pursuits, one of which was a post-crash from a fatal accident that killed two people.
In the news: Trump Attacks GOP Rival Former South Carolina Gov. Nikki Haley, Calling Her A "Birdbrain"
Florida state troopers operating in Texas have also made more than 1,143 human smuggling/human trafficking arrests, and helped find the location of 9,546 illegal immigrants.
The Florida Fish and Wildlife Conservation Commission has sent a total of 308 offices and mechanics to Texas.
In a combination of both water- and land-based border patrol operations, FWC officers have helped their Texas counterparts arrest 168 people for various charges, FDEM reported.
Campaigning in California on Friday, DeSantis pledged that if elected president, he would declare the border situation a national emergency and work to deport every illegal immigrant who has entered the country on President Joe Biden's watch.
Android Users, Click To Download The Free Press App And Never Miss A Story. Follow Us On Facebook and Twitter. Signup for our free newsletter.
We can't do this without your help; visit our GiveSendGo page and donate any dollar amount; every penny helps
Login To Facebook To Comment