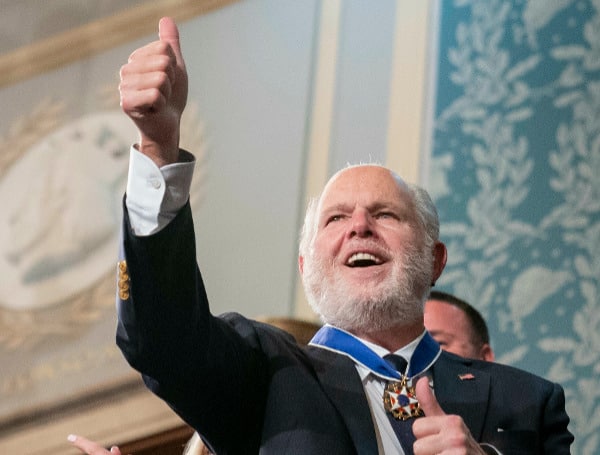 A plan to name a stretch of road in Hernando County for the legendary Rush Limbaugh had liberals fuming.
The Florida Standard reported on Thursday that Democrats objected after GOP lawmakers agreed to a name change to recognize the late conservative icon instead of former astronaut Sally Ride.
Limbaugh is easily the most famous person among the nearly two dozen identified in the bill as deserving of highway designations.
According to the bill, Cortez Boulevard in Brooksville between U.S. 41 and S.R. 50/50A will now be called "Rush Limbaugh Way."
In the news:Florida Lawmakers Lead Bipartisan Effort To Ban Sales Of Child Sex Dolls "CREEPER Act"
Limbaugh, who made conservative media into a force during a broadcasting career that spanned four decades, died in 2021 after a bout with cancer. He was 70.
Sen. Blaise Ingoglia, a Spring Hill Republican, advocated for the language to honor Limbaugh, the Florida Standard noted. GOP Rep. Tyler Sirois of R-Merritt Island argued limbaugh was deserving because of his "contributions to the community." Sirois noted Limbaugh donated millions of dollars to charitable causes.
According to Premiere Network, Limbaugh's broadcast syndicate, the talk-radio host's annual Leukemia & Lymphoma Cure-A-Thon, which ran for roughly 30 years, raised more than $47 million to fight the blood-borne cancers.
Limbaugh also once gave $2 million to the Tunnel to Towers Foundation, which used some of the funding to pay off the mortgages for the families of six men who were law enforcement officers, firefighters, or military personnel killed in the line of duty.
Still, Democrats in the Legislature were outraged that GOP lawmakers wanted to honor Limbaugh over Ride, the first woman to travel into space — even though the bill designated a new causeway along SR 405 over the Indian River in Brevard County, which leads into NASA, for Ride, who died in 2012.
In the news: FOX Demands Media Matters Remove 'Unlawfully Obtained' Unaired Footage Of Tucker Carlson In FOXLEAKS
As compiled by Florida Standard:
Rep. Anna Eskamani, D-Orlando, said in reference to Limbaugh, "Why are we keeping that in the bill?"
Rep. Yvonne Hinson, D-Gainesville, who said of the switch from Ride, "I want to know now, how did it get changed and how many people are in this thing?"
Rep. Bruce Antone, D-Orlando, said, "I started listening to Rush Limbaugh in 1991, during Desert Storm. The machine gun, the feminazis, the racist remarks. I've just got a real problem designating a road after a racist."
Rep. Rita Harris, D-Orlando, said, "We're going to honor this man? Nah."
Rep. Angie Nixon, D-Jacksonville, said, "Racism and wanting slavery to still be in existence is not a political issue, and if you think it is one, you need DEI training. The disrespect has to stop. I can't believe that we are honoring a racist. That's ridiculous in and of itself. And you wonder why we don't want to break bread with you all, because you want to support and endorse racism. That's ridiculous."
The Florida Standard noted that the bill passed 87–25 vote, which indicates at least a handful of Democrats supported it.
Gov. Ron DeSantis is expected to enact the measure.
Android Users, Click To Download The Free Press App And Never Miss A Story. Follow Us On Facebook and Twitter. Signup for our free newsletter.
We can't do this without your help; visit our GiveSendGo page and donate any dollar amount; every penny helps.
Login To Facebook To Comment