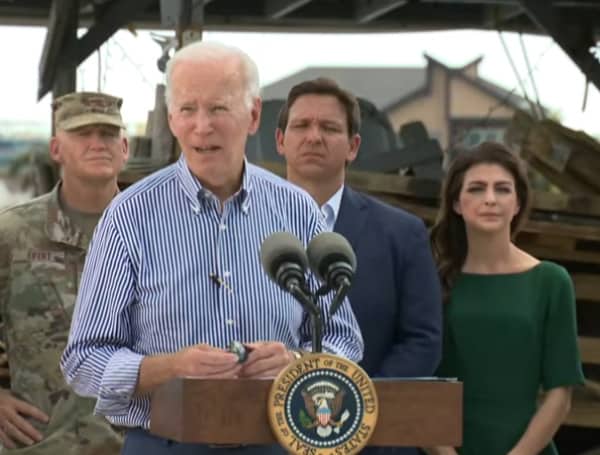 The U.S. Border Patrol reported that it has recorded the highest single-day apprehensions in its history, as the policy that allows the federal government to expel illegal immigrants without a hearing sunsets, opening the door for tens of thousands of illegals to cross.
In a remarkable display of lack of awareness, Homeland Security Secretary Alejandro Mayorkas on Thursday announced that America's southern border is not open, and that now, as the flood is set to overwhelm our security and law enforcement agents, the Biden administration would get tough on illegals.
"I want to be very clear: our borders are not open. People who cross our border unlawfully and without a legal basis to remain will be promptly processed and removed," Mayorkas told reporters.
In the news: Florida AG Moody Successful On 11th-Hour Attempt To Prevent Biden's Mass Release Of Illegal Migrants
Fox News reported that instead of Title 42, the law that allowed the government to boot illegals because of a public health emergency, the Biden administration would cite Title 8, whose provisions include a minimum five-year ban on re-entry into the U.S. and possible criminal prosecution.
"Do not risk your life and your life savings only to be removed from the United States," Mayorkas said.
While it seems highly doubtful that those illegals will heed Mayorkas' warning, considering the administration's policies to date, Florida Gov. Ron DeSantis asks a simple question: Where is President Joe Biden as what's left of the border crumbles?
During a press conference on Wednesday, the Republican governor alleged that the murderous Mexican drug cartels have tighter control of the border than the American government.
"Where's this president's energy? Where's his vigor? Where's his commitment to the cause?" DeSantis said.
In the news: Marine Veteran Daniel Penny Faces Charges In NYC Subway Death Of Jordan Neely
"He is just sitting around doing nothing of importance or nothing of note while the American people suffer."
"We're supposed to be the world's leading superpower, and yet we can't even maintain control of our own southern border?" DeSantis continued. "The Mexican drug cartels have more to say about what goes on at the southern border than our own U.S. government does."
"It's just chaos. … There is just no rule of law. It's been tossed out the window. And that's not what we want in a constitutional republic."
DeSantis also recalled how the wealthy liberal enclave Martha's Vineyard in Massachusetts hysterically removed 50 illegal immigrants last year. DeSantis had sent the illegals there so Martha's Vineyard could see the fruits of its sanctuary-city brand up close.
Within a day, he added, the illegals had been relocated. Yet liberal areas of the north expect border towns "to grin and bear it" as their communities are overrun.
In the news: Outlaws Member Arrested In Florida After Brutal Beating That Left Victim Permanently Disfigured
DeSantis denounced Biden for his impotence in the face of the anticipated onslaught, which, he added, will also mean more deadly fentanyl flooding the country, as America experiences more than 100,000 overdose deaths each year — more than gun and traffic fatalities combined.
The governor suggested Americans should expect that to continue so long as Biden remains in charge.  
Android Users, Click To Download The Free Press App And Never Miss A Story. Follow Us On Facebook and Twitter. Signup for our free newsletter.
We can't do this without your help; visit our GiveSendGo page and donate any dollar amount; every penny helps.
Login To Facebook To Comment