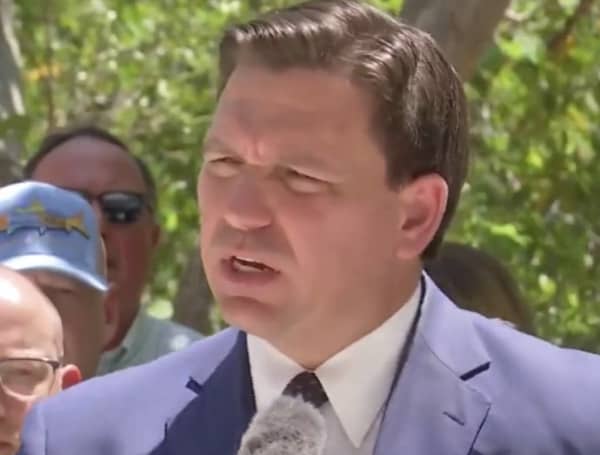 It didn't take long for the residents of Martha's Vineyard to show how they felt about the new neighbors sent to them by Florida Gov. Ron DeSantis.
While social media lauded the wealthy elites on the exclusive island for scenes showing them providing the 50 illegal immigrants with supplies and trying to raise money for them, the reality was that within roughly 48 hours of their arrival, the state of Massachusetts rounded the illegals up and whisked them off to a military installation on Cape Cod, where they would be aided and watched by the National Guard and presumably no longer burden the "sanctuary city" of Martha's Vineyard.
The irony of liberals complaining loudly and publicly when this issue hits home after advocating for a more porous border and demanding that southern states shoulder the burden of millions of illegals pouring across the border has not been lost on DeSantis.
In recent days the Republican governor has ripped liberals for their hypocrisy on illegal immigration.
At a Panhandle workforce training event on Thursday, DeSantis said Florida has developed "innovative" ways to protect Floridians and deal with President Joe Biden's failure or unwillingness to deal with the border crisis.
In the news: After Seeing Hunter Biden Movie, Rep. Gaetz Calls On Conservatives To Challenge The Left Even More
"If you have folks that are inclined to think Florida is a good place, our message to them is we are not a sanctuary state and it's better to be able to go to a sanctuary jurisdiction," he added. "And yes, we will help facilitate that transport for you to be able to go to greener pastures."
He also pointed out Biden would fly illegal immigrants around the nation and "dump" them in the "middle of the night" as part of "farming" them out – all without warning.
"All those people in [Washington] D.C. and New York were beating their chests when [former President Donald] Trump was president, saying they were so proud to be sanctuary jurisdictions, saying how bad it was to have a secure border. The minute that even a small fraction of what those border towns deal with every day is brought to their front door, they all of a sudden go berserk and they're so upset this is happening," DeSantis added.
"It just shows you, you know, that their virtue-signaling is a fraud. They are supporting policies that are just frankly indefensible," he continued. "Every community in America should be sharing in the burdens. It shouldn't all fall on a handful of red states."
On Friday, at an appearance at Embry-Riddle Aeronautical University in Volusia County, DeSantis said he was "perplexed" that Biden and his Cabinet were "scrambling" to address "the fact that you have governors who are helping relocate illegal aliens to sanctuary cities."
The governor noted Biden did not "scramble" when millions of illegals crossed the border, when 53 illegals died in trailer truck in Texas after being "neglected" by the federal government, when Americans are victimized by criminal aliens that "he let across the border," nor when "we hit record fentanyl deaths, which that fentanyl is coming across his open border."
"It's only when you have 50 illegal aliens end up in a very wealthy, rich sanctuary enclave that he decides to scramble on this," added DeSantis.  
In the news: California Universities And Local Libraries Host 'My Mom Had An Abortion' Book Event
"What we're continuing to do is use every tool at our disposal to insulate the state of Florida from the negative ramifications of his reckless border policy, and yes that involves helping with the transport" of illegal immigrants.
"By the way, they already bussed them out. They're gone. They said, 'We want everyone, no one's illegal,' and they're gone within 48 hours."
DeSantis also noted that there were more "corporate journalists" in Martha's Vineyard after the planes from Florida landed than have ever been at the southern border. He encouraged the media to head south to get the true picture of what is going on.
The governor also defended the policy as more humane than what the Biden administration has done. In addition to dumping them in the middle of the night, the Biden administration has been "abandoning" them to hitchhike or pay smugglers to move.
Biden, he added, "has given a false promise that the border is open, luring people to come here for political purposes and then basically cutting these people loose and leaving them high and dry."
And now, in Martha's Vineyard, as in Washington or New York, liberals "get bent out of shape" when they must bear the consequences of policies they advocated, DeSantis said.
Now, he added, "These sanctuary jurisdictions can put their money where their mouth is."
DeSantis also promised to protect Floridians by spending "every penny" of the $12 million provided to him by the Legislature for this issue.   
In the news: Report: Working Class Latinos Are Fleeing The Democratic Party
As for those illegals dispatched to Martha's Vineyard, USA Today reported on Friday that Joint Base Cape Cod was a "temporary" stop for the illegals. It was not immediately clear what would happen next.
Yet while on the island, the paper noted, the illegals "will find respite in dormitory-style accommodations. Emergency management officials said there will be spaces both for singles and families, and that families will be kept together."
"Besides having a place to sleep, they will be provided with clothing and toiletries kits, and food. They will have access to legal and health care services, as well as mental health and crisis counseling services. Interpreters will be on hand to assist with communication."
Visit Tampafp.com for Politics, Sports, and National Headlines. Support journalism by clicking here to our GiveSendGo or sign up for our free newsletter by clicking here.
Android Users, Click Here To Download The Free Press App And Never Miss A Story. Follow Us On Facebook Here Or Twitter Here.
Copyright 2022 The Free Press, LLC, tampafp.com. All rights reserved. This material may not be published, broadcast, rewritten, or redistributed.
Login To Facebook From Your Browser To Leave A Comment