POLK COUNTY, Fla. – Florida Gov. Ron DeSantis, in the company of Polk County Sheriff Grady Judd, announced a crackdown on violence, looting, and support for law enforcement.
DeSantis said. "I'm proud today to be able to announce what will be a focal point of the next legislative session a legislative proposal which we're calling the Combating Violence Disorder and Looting and Law Enforcement Protection Act. That will probably be the boldest and most comprehensive piece of legislation to address these issues anywhere in the country."
DeSantis said the 'Combating Violence, Disorder and Looting and Law Enforcement Protection Act' is in response to the nationwide violence that has stemmed from anti-police protests.
DeSantis says the bill lays out "clear and predictable penalties"
"We are going to impose criminal penalties for violent or disorderly assemblies on that will be a third-degree felony. We will also require a felony if you incapacitate any of the roadways. We see people take over interstates that is absolutely hazardous. It's not fair to motorists who may get caught up in that. That will be unacceptable, " said DeSantis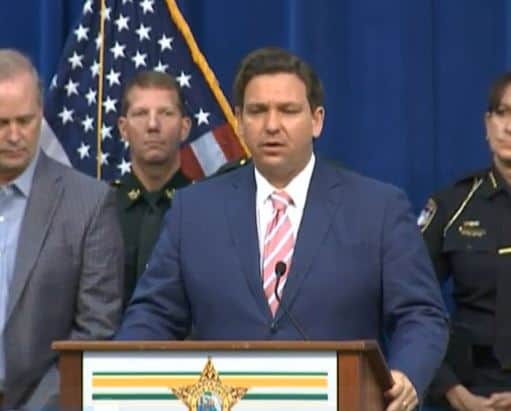 "Also, we have a prohibition on destroying or toppling any type of public property, including monuments. That's not the way to go about it, and we will hold you accountable also have a prohibition on harassing innocent people in public accommodations. You see these videos of these innocents people eating dinner, and you have these crazed lunatics just screaming at him and intimidating them on a public accommodation. You're not gonna do that here in the state of Florida," said DeSantis
Sheriff Grady Judd added, "This is looting. If you loot, the next thing you can try to steal is something off of your food tray at the county jail because you're going, to jail. That's a guarantee. And we're gonna enjoy taking you down there."
"Some people are slow learners. This is a peaceful protest. This is violence. It's not acceptable, I truly believe, and is our God-given right and our constitutional right, to speak openly and freely to address our government. "I've also watched across this country when law enforcement officers who put their life on the line, were told stand down, allow him to burn the precinct, allow him to rob and loot," said Judd.
Publishers Note: While The Free Press will always be free for our readers, and ad-supported, we are asking our loyal readers to consider a monthly donation of $3 to maintain our local journalism and help us grow, as we ramp up ad sales locally.
We thank you all for your consideration and for supporting local journalism
Login To Facebook From Your Browser To Leave A Comment