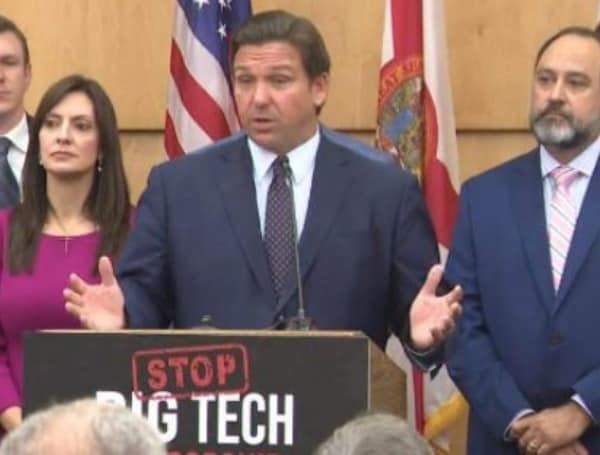 Florida Gov. Ron DeSantis on Wednesday proposed the "Digital Bill of Rights" to protect Floridians, especially children, from Big Tech's overreach.
The Republican governor's proposal would allow people to have "private, in-person conversations with Big Tech surveillance."
The plan also stops "unfair censorship" in online platforms, which more often than not, target conservatives.
DeSantis also proposed shedding more light on how Google and other web-access providers manipulate search-engine results, empowering people with stronger control over their personal data, and protecting children from online threats.
In the news: Florida Lottery Scratch-Off Player Claims $1 Million Win On 500X The Cash
TikTok and other tech firms with links to China would be banned from government devices,, and public employees would face sanctions for coordinating with a Big Tech company to "police or censor" protected speech.
"We want to protect your right as a Floridian to have private, in-person conversations without Big Tech surveilling you," said DeSantis, who added the plan would shield state residents from "Big Tech harms and Big Tech overreaches."
"This is helping parents, and this is of course, part of a larger effort that we've done to support parents' rights in the state of Florida," DeSantis said during a press conference in Palm Beach County, where he unveiled the initiative.
Looking at the issues individually, the governor noted that private companies "could just potentially" listen to conversations through your cellphone.
In the news: Sen. Rubio, GOP Lawmakers Seek To Control Illegal Immigration By Stalking "Coyotes"
"So we're going to put a roadblock into that and say they can't do that without your express authorization," said DeSantis.
As for "unfair censorship," the governor said, "We want free speech. We want more speech, not less speech."
As for search engines, DeSantis said the plan would provide "transparency" so people could "evaluate whether that's the search engine that you want to use, or maybe you want to take your business elsewhere."
DeSantis also said the state would prohibit "unauthorized" data collection and retention of "real-time information" about cellphone users through hoovering information such as GPS locations, biometric data, and info that identifies someone's personal habits and characteristics.
"You have some of these massive companies that have huge amounts of power to control the discourse, control what you see, use your personal information, and even collude with the government itself," DeSantis noted, "but we've got to fight back and provide protections for individual Floridians – and so that's what we're doing today."
Android Users, Click Here To Download The Free Press App And Never Miss A Story. Follow Us On Facebook Here Or Twitter Here. Signup for our free newsletter by clicking here.
Login To Facebook From Your Browser To Leave A Comment